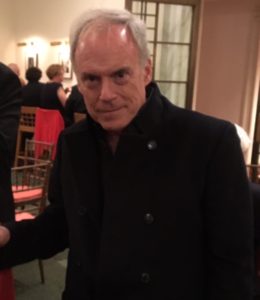 Life in the newspaper world these days can't help but feel like Russian Roulette.
With every wave of layoffs, my position has seemed that much closer to its end. And I'm surprised that I lasted as long as I did. But as of December 8th, after 17-plus years, I will no longer be on the Philadelphia Inquirer fine arts staff.
I will continue to freelance for the Inquirer, but how much, and what that looks like, remains to be seen.
I've seen this day coming for years – that's one reason why I moved back to my old, 1990s home in Brooklyn two years ago and have been commuting to Philadelphia ever since. Losing a job of 17 years is tough, and on when it happened I wanted to be among my home community.
Luckily, my commitment to WQXR's blogs has been growing, and Opera News magazine has me profiling singers such as Iestyn Davies and Klaus Florian Vogt.
That doesn't mean I'm cleaning out my Inquirer desk with a smile.  No no no.
The current fine arts staff at the Inquirer is first-class; these professional associations are some of the best in my history there. I will still be working with them, but not like before.
And my departure wasn't exactly by choice. The company announced that it was offering buyouts, with a quota of 35 or so; if that quota wasn't met, layoffs would begin, without the settlements that come with a buyout. Early on in this process, I was told by our union that I was on the list of people most likely to be laid off were the quota not met. The message: Jump or be pushed.
The Inquirer isn't necessarily de-valuing its arts coverage. That could not be – ever. The Philadelphia Orchestra and Philadelphia Museum of Art are as much a part of the city's identity as the sports teams. The paper is clearly having to make tough choices about its allocation of resources.
From a distance, one could conclude that the Inquirer has two classical music critics – Peter Dobrin and me. Close up, we are two busy guys on distinctly different paths. Yes, we both review classical-music concerts, but he does a huge amount of institutional reporting – not just on the orchestra and the Kimmel Center, but also the Pennsylvania Ballet, the Museum of Art, music in the Philadelphia schools, and so on.
I focus, along with reviews, more on interviews and features; I sometimes double as a theater critic and reporter and have a particular emphasis on opera. (Note that Philadelphia has become a serious opera city with the arrival of Opera Philadelphia's O17 festival.) I've also made a point of getting beyond the Kimmel Center, covering both early and cutting-edge new music.
Amid shrinking resources, the newspaper industry is moving towards being the kind of information hub that can be can be accessed by smartphone. Arts coverage can be a part of that, but not in the way that it was when newspapers were predominantly a print medium. Your typical staff writer is becoming an independent producer. These days I write my own headlines and often shoot my own photographs and even video.
The future – both for me and for newspapers – feels opaque. I've worked on a few documentary films – including David Amram: The First 80 Years – and I'd love to do more. My radio voice is in good shape. Or maybe I'll become a hospital chaplain (I do well with sick people). As for the news industry, it's often speculated that newspapers must go away before The Next Thing emerges. And when it does, I will be ready.