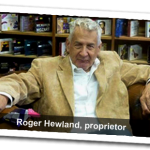 London can be just about anything to anybody, but for collectors of classical recordings, whether CDs, LPs or 78s,  it's Mecca, equalled possibly by Paris (if only because French recording artists tend to stay home more, so their work has been less-often exported).
But during my summer trip to London, the usual haunts had been disappointing. There had been some excellent LP discoveries at Oxfam thrift stores both in Canterbury and Hampstead. In my internet searches, Gramex kept coming up, highly recommended, in a location conveniently near Waterloo Station at 104 Lower Marsh Street.
It was there exactly when I needed it – on a day that was not shaping up very well.
A morning business-related courtesy call to a magazine I work for was marred by broken-down subways. Upon arrival, there was an atmosphere of awkwardness, as if my colleagues and I didn't know what we were all doing in the same room. Lunch came. Everybody went their separate ways. Upon making my way through Waterloo Station afterward, I ran into a man I knew from Philadelphia – having seen him only weeks before and, at one point, had courted him as a spiritual adviser of sorts. But he had no memory of me. None. Had I become a ghost in my own life?
Proceeding on to Gramex, I discovered it had recently moved, though only across the street. The new quarters looked a bit raw. Nothing up on the walls. Just a lot of card tables with lots of CDs stacked on them. The proprietor Roger Hewland had conked out on an easy chair so decisively (and was sleeping so quietly) I feared that he had been there for a few days and wondered what was London's version of 911. His fresh-starched shirt assured me he was alive and had been sleeping only a matter of minutes.
I began looking through the stacks and seeing lots of things I would be jumping for joy to find – had I not already owned them. Lots of good re-masterings of live Metropolitan Opera radio broadcasts. Some Testament-label things that never turn up in collector shops.
The proprietor woke up. and directed me to a table of new arrivals, claiming that they were particularly interesting. And he was seriously right. Before long i had a formidable stack and he heartily approved of everything. A live Queen of Spades recording with Sena Jurinac. Peter Maxwell Davies concertos for instruments so diverse you had to hear how he did it.
"I might already have this," I said.
"Bring it back if you do."
"I may not be back for a few years."
"Bring it back then."
A regular customer rolled in, full of energy and dying to know where the 78s live. We all repaired to the basement that had many comforts of home. A microwave to heat up your lunch if the collecting urge run rampant over your plunging blood sugar. A bathroom. And lots of 78s and LPs. I found a French LP with a particularly ornate label and a performance of Poulenc's Stabat Mater that I wanted to hear.
"Take it," said Hewland, amid high-velocity repartee laced with periodic disclaimers that we were all perfectly welcome to be as rude as we wished, knowing that it meant nothing serious. We'd all been to the same Wigmore Hall recital the night before and were relieved to realize that we all thought Alice Coote, who had sung brilliantly, also looked mildly demented during unguarded moments. The pianist Christian Blackshaw was on an exceptionally high spiritual plane. Who was he? Why do we not know him? (A disc of Mozart piano sonatas recently came out on Wigmore Hall Live!)
Gossip flew. And so did the time. I needed to leave for the theater district – with a stack of recordings that weren't just desirable but deeply interesting. Gramex gave me the loveliest afternoon of my week.
"Send us your enemies!" said Hewland as I went out the door.
No doubt because he could handle them. Probably in his sleep.