SHANGHAI – Mysterio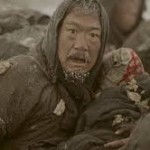 us indeed was the delayed China opening of Quentin Tarantino's film Django Unchained. It finally arrived on Mother's Day weekend, in a limited way, after a delay of approximately a month, when the film was announced for wider release but got only a few hours into its first screenings before being abruptly pulled by censors with little warning and, of course, no explanation.
A revenge parable about a pre-Civil War freed slave in the Deep South trying to find his lost wife, the film had already run the gauntlet with Chinese censors; a few things got snipped and the movie seemed to be ready to go. Then, suddenly, it wasn't.
Even by Tarentino standards, Django is brutal – partly because it's a period piece, and thus a genre in which one doesn't expect to see people dismembered by a pack of vicious dogs as outwardly genteel Southern aristocrats enjoy the view. The re-edited-for-China Django reportedly had a few more minutes of violence and nudity removed, but it appears to have had its commercial potential stunted by the false start and the vague air of disfavor hanging around the film.
Censorship is a way of life here – as I've been discussing anecdotally with Chinese natives, one of whom patted the Chinese translation of diplomat Nicholas Platt's new book China Boys, about the 1972 alliance between China and the U.S., and said, "I wonder what the differences are with the English edition …"
Yet on the flight to Shanghai for the first leg of the Philadelphia Orchestra's tour of China, one of the more heavily promoted films was a Chinese epic titled Back to 1942, a film about famine in China brought on by drought and made worse by the government's decision to give what grain was available to the soldiers fighting the war against Japan –  a conflict which China, at that point, was clearly losing on numerous fronts.
Based on the Liu Zhengyun novel Remembering 1942 and directed by Feng Xiaogan, the film – with its frank depictions of starvation and dithering bureaucrats who could solve the problem but get lost in political power games – is more difficult to take than Django Unchained. Among Back to 1942's several intertwining plotlines are an American Time magazine journalist who braves the front and exposes what the Chinese government barely wants to acknowledge to itself, and a Chinese missionary who won't stop upbraiding his countrymen for not converting to Christianity, even as he buries them.
It's a great film with everything an epic needs, including masterful aerial sequences when the Japanese bombers attack the hapless refugees. What makes it powerful is that all sides of the story are presented with a clear sense of psychology. We even see the pilots' view down to the ground as they observe how many soldiers are mixed in with the refugees – and decide that it's their duty to annihilate them all.
The difference?  However brilliant he is as a film maker, Tarentino often depicts brutality with a sense of cruelty that's indifferent to human suffering – and an extra frigid streak that suggests the cruelty can be enjoyed, certainly by the characters inflicting it and maybe by the audience, even if we know that all that blood onscreen was manufactured by Karo and Hershey's.
The Chinese film censorship system is a left-over from the years of more extreme Communism. Remember that Western films – in what is now the second-biggest movie market in the world – weren't seen there at all until The Fugitive starring Harrison Ford in 1994. And censors are allowed to be mercurial. They're under no obligation to explain themselves. Andmy guess is that even if they don't like a film on some visceral level, rules will be invoked to obstruct it, with nobody to argue with them.
The feel-good payoff with Django is the ultimate, justified revenge of the film's conclusion. But is revenge really sweet? In Back to 1942, nobody is thoroughly condemned or justified – an approach that gives the film a certain humanitarian core. It tells you that a situation like this should never happen again, while actually showing how it could. And who would want to censor that?