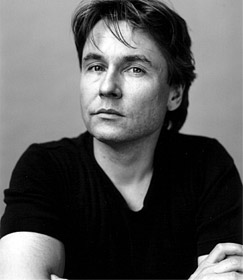 Amid the polite veneer of the symphonic world, composer/conductor Esa-Pekka Salonen's unmediated honesty can be one of the more delightful sources of provocative wisdom.
With the x-ray vision of a composer and the irreverent viewpoint of an outsider (he's Finnish), Salonen has long cut through the sanctimoniousness of serious music and says what few people could with his level of insight.
Example: In a recent hour spent with the former Los Angeles Philharmonic music director during a guest-conducting engagement with the Philadelphia Orchestra, he talked about going to hear Luigi Nono's ultra-modernist and politically Maoist opera, Al gran sole carico d'amore, at the 2009 Salzburg Festival, and came away calling it "a period piece," a point of "nostalgia," and went so far as to say it's "cute." Anybody else would risk being called a traitor to modernism. But isn't Salonen's music like that, too? Cheeky, concise, serious, smart and explosive when need be, but generally wearing itself like a loose garment?
The conversation's starting point was his 2009 Violin Concerto, which had its Philadelphia premiere on March 29 – a witty, neatly-wrapped witty piece until the final movement, in which the violin soloist (to borrow the words I used in the Philadelphia Inquirer) becomes a monologuist somewhat in the manner of Shostakovich and Schnittke. It ends with the composer quietly searching into the future.
So we started at the end.
Q: You dared to conclude your Violin Concerto quietly.
A: Well, it just happens to go a place where you cannot end with a bang in any way. You know I wrote it in 2008, early '09. That was my last season in LA, and the 17th year, and it was a very bewildering time. Every concert, every week I worked with the orchestra became very emotional: it's the last time we do this together, the last time we do that together. In a way, the concerto became a narrative, in a way that's different from my previous music.
I agonized over the title of the last movement and decided to call it "Adieu" because that's what it is. It became a farewell to my past, in a way. And then the last chord shares no material with anything else in the piece that happened previously. It's a metaphor of the future. And what do we ever know where it leads and what happens?
Q: It's been one of your most successful works. Did you know what you had from the beginning?
A: You cannot judge the quality of what you've done until much later. The first rehearsal is usually a very confusing time. You have to deal with lots of things within a short space of time. If it doesn't sound the way you hoped it would, whose fault is it? My fault as a conductor? Composer? The acoustics? You have to make a lot of decisions very quickly because of the limited amount of rehearsal time. In this case (violin soloist) Leila (Josefowicz) had learned the piece from memory in the first rehearsal. I had a very strange feeling that this is something that has existed before. That was not my usual experience with a new piece of mine. Like an old soul in a new body. I changed some cosmetic things. Structurally I changed nothing.
Q: In the final movement, was there any hesitation about revealing yourself in such a personal way?
A: To some degree you do it anyway whether you intend to or not. No matter what you put on paper, it's your reflection on what the world is. If you don't want to reveal anything you shouldn't be in the arts at all. The idea of a very personal narrative a la Mahler is very unfashionable these days. When you think of a piece like the Symphony No. 6 of Mahler, you really get the sense that all of this is really happening to him as he's telling the story.
The post-war European avant-garde eradicated that sort of thinking from music. After one of the greatest disasters of mankind, I can see that composers wanted to base music on abstract principles, to make a clear break from the German ideas that, in their minds, were connected with the demise of millions and millions of people. For a composer in 2012, why would we be still bound to same principles? Yesterday I realized it was the 86th birthday of Pierre Boulez. The European avant-garde movement has gone a long way.
Q: Boulez now refers to himself as a souvenir from the past.
A: He has a sense of humor. A couple summers ago I was in Salzburg, and I went to see a production of the big Luigi Nono spectacle. The Vienna Philharmonic was playing and there was a multi-media production … it was almost, well, nostalgic. I had lunch with Boulez the following day and said this Nono thing sounded kind of cute to me. We've come to a place where the thorny raspy avant-garde sounds vaguely pretty. I think it's fabulous.
Q: In my all of my years as a music critic, I've rarely run into a piece as difficult to describe as your Violin Concerto, even though it has a lot of familiar elements.
A: That's good. The problem quite often is that there has to be a word for everything, that everything has to be described and catagorized and organized in terms of language. It's a cliche, but it's very true: Music does exist beyond words. It's a difficult task for anybody who writes about it….and even for music lovers trying to talk about the concert. We know that the most miraculous and profound things are actually beyond the grasp of language, and that's the very language of music. But it's also annoying at times.
Q: Your music comes from a completely fresh context. I wonder if that contributes to its indescribability (assuming that's a word).
A: The simple principle that I have in my work is that I don't think I'm vastly different from anybody else. if there are things that excite me or move me or annoy me, it's highly likely that lots of people will feel the same way. The things that unite people are much more numerous than the things that separate people. And this principle kind of guides my decisions when I'm writing music. It's not so much about wanting to write music that people like, but more like wanting to establish a connection of some kind.
In Europe, it used to be the norm to say "I never think about the audience when I write music." For me, this is a totally irresponsible thing to say. Why are you doing it, then? Do you see yourself as some kind of a different species, something profoundly separated from the rest of mankind? My next birthday is my 54th. I've seen this transition from the bony intellectual tradition of Darmstadt into something more relaxed and communicative and more open. The idea of something being ideologically sound, that one way is right and one way is wrong…these guys like Thomas Ades write music based on the ideas of pleasure and communication and instinct.
Q: To those ends, your concerto employs a drum kit.
A: I didn't see it as a raucous or radical thing to do. The kind of percussion texture I had in mind, the kit was the best solution because of the speed. Everything is ergonomically arranged so you can go from instrument to instrument. The other reason is that I thought I would like to push the violin envelope, to place the violin in a context that's not often heard in a concerto context. And Leila enjoys that sort of thing anyway.
Q: How do the orchestra players take to a drum kit?
A: There's always one guy in the percussion section who loves playing it because it's a nostalgic trip from when they were students playing in garages and so forth. But sometimes it's the other way around when you have somebody who has only played timpani. And that becomes quite interesting. If you approach that drum part from a Brahms/Schumann point of view, there's a very special charm to it. And once I witnessed a real metal guy whacking the drum kit. So it works in a number of ways.
Q: You listen to pop music, don't you?
A: I'm not a huge consumer…but I don't want to pretend that I'm not in this world. That would be insane.
Q: You've admitted to listening to tacky Italian pop music at the gym. That takes guts.
A: I have a very legit explanation for this. I studied composition in Italy as a young man, and I took my suppers in an industrial suburb of Milan. I was having my beer and sandwich and the jukebox was blaring the young pop stars that are now in their 50s. That became a very nostalgic thing for me.
Q: You've gone on record saying that parts of, say, the Mahler Symphony No. 7 are pretty bad. You don't approach the great masters worshipfully.
A: I don't think it's healthy to only worship. There has to be some kind of dynamic even with a masterpiece. It's organic material, not something cast in stone. Everything is alive. And the whole point is that every generation approaches these pieces from their own point of view. Early classical-period music, we think we know how it goes. So did Klemperer and Stokowski and all the boys. I'm absolutely certain that the best-informed historically-oriented performance will sound a bit weird in a few decades. We have to keep re-assessing everything at all times. It's hard to find weaknesses in The Magic Flute or the Beethoven 7th, and why would we? But to be not allowed to say that some things are weaker than others…that would be crazy.
The greatest masterpieces, we sometimes love them to death. We forget their shock value. With Mahler, we listen to the street tunes and the klezmer tunes he incorporated into his symphonies and think it's pretty. But when you consider that Mahler brought street music into the Vienna Musikverein….
Q: I love the way you talk about Beethoven as a dialogue in symphonic form. If you look at Beethoven's 9th from that standpoint, his message of brotherhood starts sounding like a fairly bizarre piece.
A: What has disappeared in Beethoven performance is the humor. Some of these things are downright funny. Like the second horn in the scherzo of the 7th symphony: It really is like the the last drunk guy in the bar who can't finish his story and nobody wants to listen to him so he stumbles outside and tells the same story to the light poles. Sometimes when people hear it played that way they get royally pissed off.
I try to imagine how Beethoven's contemporaries felt when they heard these pieces for the first time. They wouldn't know what hit them – just from the standpoint of simple things, like the noise level. It's difficult for us to understand that the loudest man-made noise at that time was church bells. Traffic noise didn't exist. Amplified music didn't exist. You look at drawings and models of the halls where these things were performed for the first time. They must've been very live acoustically. The music must've been the loudest thing that people would hear in their lives.
Q: How would you use that insight in a performance? That could yield some incredibly loud Beethoven.
A: It's not good to recreate that. A lot of shock value evaporates after first hearing…What makes Beethoven so human is the struggle. Composing didn't come easy for him. You can witness and feel the struggle, and that's what also gives the music such a special energy.
Q: Let's talk about Debussy's La Mer, which you're also conducting here.
A: My journey with La Mer is a long one. I'm more and more interested in the elasticity of the material. Ideally every phrase should have its own shape and own space in time. It's a miraculous piece. I never get enough of it. No matter how many times you've looked at every note…it only sounds new. Which is a very rare thing. I heard Boulez conduct it in LA years and year ago, and it was wonderfully flexible and imaginative and I stormed into his room and said "That's the most flexible La Mer I've ever heard in my life." And he said, "You should've heard it when I first conducted it in Baden Baden in 1957. It was not flexible." He's very bad at taking compliments.
Q: Being a composer yourself must allow you to peer more deeply into other composers' works.
A: I guess. I try to retrace the steps of a composer when I study a piece. Ideally, I would like to get to the point where I understand why certain choices were made. Why this follows that. And in some cases I can see it very quickly. And sometimes it takes a very long time. If I get to that point after 20 years or so, and can say, "All right, that's how it goes," those are very satisfying moments.
Q: Can you give me an example of a piece that took that long?
A: Sibelius 7th. It took a long time to get to the point where I could let it happen. This is the most difficult thing in conducting anyway, to know when to Photoshop yourself out of the picture for a while and let the orchestra do their thing undisturbed.
Ideally, I would like to create the illusion that certain things happen in a certain way because they have to, and not because Mr. Salonen has decided that this is the way it should be. Even things like Eroica, speaking of Beethoven: Two weeks ago, I found the tempo relation between all the movements that I was happy with. It felt organic. It wasn't based on any kind of strategic thinking or some intellectual or theoretical model, but just something that locked in.  And still I was closer to his own metronome markings than before, but not right at them. And I've been conducting Eroica since I was 19 or something like that.
Q: You're in the thick of a Beethoven symphony cycle with your new orchestra, the Philharmonia of London. I thought you were going to take more time to compose, but it seems this job – which you started in 2008 – is bigger than you thought.
A: It became a little bigger than I expected. The sheer amount of conducting is huge sometimes. And I have only myself to blame. So the balance is not perfect at the moment. But times are tough for everybody in the business. On both sides of the pond. Some of my decisions are based on the fact that I can bring some good work, gigs, projects to the Philharmonia that keep them going.
Q: You once had plans to adapt the Peter Hoeg novel, The Woman and the Ape, into an opera. Will that happen?
A: I have a different opera at the moment and am developing it.
Q: Often, you have to go through so much before you actually start composing, like finding a property that hasn't been optioned by a film company.
A: The movie option is a big problem. The studios buy these options; anything that's vaguely interesting they have a tag on it. Most likely they never use it. But it blocks it from low-end financial activity like an opera. My project is an existing novel and I have the rights but the writer sadly died last year so I was left in limbo in terms of developing it. But it's going ahead.
Q: You and Michael Tilson Thomas seriously put the West Coast on the map, symphonically speaking. Does it feel a bit weird that your successor Gustavo Dudamel is standing on the shoulders of your 17 years of work and getting so much adulation?
A: No. First of all, I like him a lot. He's a very serious guy. A tremendous talent. I'm so pleased that things are going so well in LA. The orchestra is thriving and the organization is in robust health… at a time when most orchestras are going into a defensive position and being wary of the unknown. But those guys in LA, they just keep plowing on. When I left LA, I thought the last service as a music director was to make sure that the transition is smooth. I think it was pretty unique. In one rehearsal, first I said I'm stepping down and then Deborah Borda said that Gustavo was taking over.  In the same 20 minutes. So the orchestra never felt that it was drifting. Conductor searches can be problematic.
Q: Why did you step down?
A: There was no crisis or drama or anything behind the scenes that influenced my decision. I always felt that I will step down when things are still good. I didn't  want to wait until people said, "Oh, it's him. Good old E-P." I'll still go back as a senior citizen for any number of years in the future. And I felt the journey was kind of a full cycle in a way. I took over from Andre Previn. We managed to get the hall built and I was actually thinking of leaving a little earlier than 2009 but things were so enjoyable in the new hall and the orchestra was playing so well.
Q: Now that you're in London, you'll be one of the torch bearers at the Olympics this summer. How did that happen?
A: Somebody nominated me. I thought okay, why not, it's a mile. I've been running for decades myself – not fanatically but I do like running.
Q: Is there a place to run in LA where you don't get run down by motor vehicles?
A: In West LA, there's San Vicente Boulevard where everybody runs. You start from Brentwood and go all the way to the beach. You should try it! You can see all kinds of Hollywood life forms running on that strip.