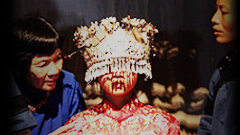 Chatting in the executive lounge of Beijing's Grand Hyatt on the edge of Tiananmen Square, composer and conductor Tan Dun recalls the effect the Philadelphia Orchestra had on him as a young man. In September 1973, he was living in a rural area of Hunan province when the orchestra made its path-breaking trip to China.
The Philadelphia Orchestra performs "Nu Shu" in Saratoga, New York on August 15. It will premiere in Australia at the OzAsia Festival in Adelaide on September 27 and in Europe on January 2015 in Amsterdam, with Tan Dun conducting on both occasions.
Mr. Tan was at work in a rice paddy in rural Hunan province when the speakers that usually blared Cultural Revolution propaganda crackled and began to broadcast highly unusual fare: Beethoven's Fifth Symphony, performed by the Philadelphia Orchestra under Eugene Ormandy.
"I was a country boy—a bit of a wild boy, listening to local opera and Buddhist chants," Mr. Tan says. "I knew the sounds of bamboo and silk strings. But when I heard the Philadelphia Orchestra, it was so seductive! I said to myself, I want to be that kind of musician!"
Mr. Tan promptly traded the most valuable thing he owned–his father's Korean War military uniform–for a three-stringed violin and began chasing the "classical dream" bequeathed him by the orchestra.
Given the profound impact that long-ago broadcast had on Mr. Tan, it is unsurprising that he called the Philadelphia Orchestra's recent China performances of his symphony "Nu Shu: The Secret Songs of Women, Symphony for Microfilms, Harp, and Orchestra" one of the most important moments of his musical life.
"I never could have imagined that the Philadelphia Orchestra would be bringing back my piece," Mr. Tan says after the May 22 performance in Beijing conducted by Maestro Yannick Nezet-Seguin at the National Center for the Performing Arts, with Elizabeth Hainen on harp.
After performing "Nu Shu" to a sold-out audience in Beijing, the Philadelphia Orchestra continued on to other major cities on its 2014 China Residency tour. In a first for a top foreign orchestra, it also went to the second-tier city of Changsha in Hunan, which is both Mr. Tan's home province and the source of the ancient "women's writing" that inspired the symphony.
The language of nu shu is a syllabic script once used exclusively by women in Jiangyong County, Hunan for communicating with female family members and "sworn sisters." It has between 1,800 and 2,500 characters—sometimes called "mosquito writing" because of their wispy, elongated quality—and was often embroidered on fans, handkerchiefs, and cloth booklets.
The origins of nu shu are unclear. Some scholars link it way back to pre-historic "oracle bone writing" while others believe it was created several centuries ago by women who were denied the right to literacy in "man's writing," or standard Chinese characters. One unverifiable tale credits a beautiful and educated Jiangyong woman named Hu Yuxiu, who was forced to become an imperial concubine; languishing in this undesired role, she created a script unintelligible to court eunuchs and used it to pour out her loneliness and grief.
Whatever its genesis, nu shu is a language of lamentation, commiseration, endurance, and empowerment. Women used it both to bemoan their lot as "useless branches" in patriarchal society and to better it, by educating and encouraging each other. The language is highly formulaic, composed in verse, usually with sentences of five or seven words, and is "read" by being chanted aloud or sung, straddling the border of oral and written culture.
Mr. Tan pays homage to this juxtaposition by composing what he calls a "soundscape monument for mothers, daughters and sisters" in which one can "see the music and hear the visuals." To do this, he undertook extensive ethnomusicological research over a five-year period, channeling his hero, the Czech composer Bela Bartok. He went to the villages of Jiangyong County to record 13 women versed in nu shu and explore the sounds behind their script.
"Melodically there is a lot of tri-tone," he explains. "It's very ancient, not typical pentatonic. It comes from the Yao (a minority group who live in the area)."
Mr. Tan decided to echo the tri-tones by creating what he describes as a counterpoint in three parts, with three screens showing probing, but respectful portraits of the women singing, chanting, and crying, alongside scenes from village life. He chose the harp because it has long been deemed a decorative, woman's instrument, but readdressed it as a powerful solo instrument that embodies and embroiders the ancient melodies the women so proudly sing.
Other of Mr. Tan's signature techniques—pairs of rocks and bowls of water in the percussion section, tapping of instruments and clapping by the entire orchestra—give life to the nu shu village environment and add joy to this stunning, documentary symphony. "The singing is very traditional, the orchestra is very avant-garde, and the harp is the bridge," Mr. Tan says. "Nu shu has vanished, but now it has a new form."
This article first appeared in The Asian Wall Street Journal:
http://online.wsj.com/news/articles/SB30001424052702304287704579645983674688924