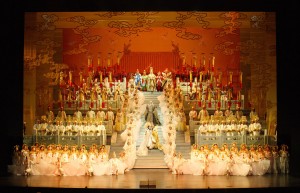 The great Chinese writer Lu Xun wrote, "History records the soul of China, pointing out the future. Yet because it is overwritten and laden with rubbish, it is hard to see what is actually there. Like the moonlight seen reflected on moss through the leaves of a tree, all you can make out are shifting shadows."
Lu Xun was thinking of the "Twenty-Four Histories," which he was reading at the time, but his words may be applied to pretty much any branch of history – and have perhaps rung even truer in the decades since his death, a period in which politics has so often trumped facts. His elegant words often come to mind when I study some aspect of China's past in an effort to understand its present, most recently as I sought to explore the origins of Western opera in China.
Western opera, of course, has burst onto China's arts scene in a big way in recent years. The first opera I saw in China, in the mid-1990s, was a production of Mozart's Cosi Fan Tutti that was sung entirely in Chinese, as had been the practice in the socialist era, by performers who looked slightly absurd in powdered wigs, hoop skirts, and make-up intended to make them appear Caucasian. Shortly thereafter, in 1995, I saw the first complete performance of Puccini's Turandot to be sung in Italian (by the China Central Opera House) – a production that was by many accounts also the first full foreign opera sung in its original language since 1949.   Just two years later, Puccini's opera – which is set in a mythical Peking – was performed again, this time under the baton of Zubin Mehta on the terrace of what was once the Forbidden City's Ancestral Temple, a star-studded spectacle that had opera lovers jetting in from around the globe.
The pace of opera development picked up from then on, accelerating even further after the National Center for the Performing Arts (NCPA) opened its doors in 2007 and established its annual opera festival in 2009. The festival, which is held each spring, will feature 10 different operas this year and has as its theme "Western opera is spreading while Chinese opera is blossoming." This is certainly true – yet whenever I have sought the earliest roots of this spreading and blossoming, I have run into Lu Xun's shifting shadows. Accounts of how Western opera came to China are frustratingly patchy and contradictory. As the culture critic Raymond Zhou noted in a 2013 China Daily piece, a production of Verdi's La Traviata by the China National Opera House in 1956 is generally said to be the first Western opera performed on a Chinese stage. "But," Zhou added, "that is inaccurate."
Indeed, it is – and thanks to a dissertation called "Travelling Opera Troupes in Shanghai: 1842-1949" by the Taiwan scholar Chun-zen Huang (written in 1997), I have finally been able to clear away some of the rubbish and get a better view of Western opera's early origins in China. Huang's paper – based on exhaustive research in Shanghai's pre-liberation newspapers – presents a fascinating overview of the scores of English, Italian, French, and Russian opera troupes that began to visit Shanghai regularly after the city's Amateur Dramatic Club (an all-foreign group) rebuilt its Lyceum Theater, which had been destroyed by fire, in 1874. These early troupes were small, pick-up companies with grandiose names, generally put together by opera singer-impresarios to tour the colonial settlements of the Far East. They would stay in Shanghai for a period of weeks or months and present an entire season of opera.
One of the earliest was Elcia May's Opera Company, which arrived in June of 1876 on the steamer "Teheran." Though it had only ten members, the company gave the Shanghai – and perhaps China – premieres of The Grand Duchess of Gerolstein, by Offenbach; Die Freischutz, by Weber; and Girofle-Girofla, by Lecocq. While none of these remain standard repertoire, they were quite popular at the time – Lecocq's work had been premiered in Brussels in March of 1874 and was still being staged to great acclaim in England when it was presented in Shanghai. The performance of Weber's opera is likely the first time an entire opera was sung in German in China. Although the staging was deemed a success – it even had fireworks exploding on stage – there was some criticism of the caliber of the singing. Indeed, since the company lacked male singers, two baritone roles had to be sung by women. Since it also lacked a chorus, one was put together from amateur German singers who lived in Shanghai but, in the words of a reviewer, "it was in fact almost impossible to distinguish the well-known [Huntsman's Song] amid the confusion of sounds."
In 1879 – the year the Town Band, predecessor of the Shanghai Symphony Orchestra, was founded – Shanghai was visited by Mr. H. Vernon's Royal English Opera Troupe and Augusto Cagli's Royal Italian Opera Company. The English company performed more than a dozen operas, including the Shanghai –premieres of Verdi's Il Trovatore and Donizetti's La Fille du Regiment. Like all the early opera companies to visit Shanghai, it did not have an orchestra – musical accompaniment was provided by two foreign residents of Shanghai who played violin and harmonium. The Italian company also performed Verdi – Il Trovatore, La Traviata , Rigoletto, and Ernani – and Donizetti, as well as Rossini's Barber of Seville and Gounod's Faust. Since all the shows sold well, the company came back in 1881 with a conductor named Melchiorre Vela – he stayed on in Shanghai, as conductor of the Town Band from 1882 until 1900.
Operetta – especially Gilbert and Sullivan – became very popular from the 1880s; The Mikado premiered in London on March 14, 1885 and in Shanghai on October 15, 1885; in one 1885 Gilbert and Sullivan production, the chorus was comprised of sailors from a British navy ship that happened to be in port. One unusual company that specialized in Gilbert and Sullivan was the Lilliputian Opera Company from Australia – it was comprised of several dozen children who ranged in age from 8-14. The company first came to Shanghai in 1897, but was so popular that it returned in 1903, 1904, and 1908.
As the years went on, the troupes became bigger and more professional, bringing with them small orchestras and choruses. Shanghai audiences developed favorites – anything by Verdi, and Gounod's Faust. Opera companies began to tour other Chinese cities – in 1905, the Calcutta-based Bandmann Opera Company visited Shanghai and then journeyed inland as far as Hankow (now part of Wuhan). In 1908, the Town Band – under its new conductor, Rudolph Buck – performed an entire concert of arias from Wagner operas to commemorate the 25th anniversary of the composer's death. By 1915, Shanghai audiences were able to attend 31 performances of 18 different operas, including the premieres of Verdi's Aida and Otello, as well as Puccini's Tosca, La Boheme, and Madama Butterfly.   Locals also began producing their own operas – in 1918, amateurs staged Tosca, Cavalleria Rusticana, and I Pagliacci. And, in a landmark 1919 season, Shanghai played host to the Russian Grand Opera Company – a group of 83 top-notch Russian artists, including principals, chorus, orchestra and ballet, who had escaped overland from the Bolshevik Revolution. The Russian company premiered Mussorsky's Boris Godounov; Bizet's Pearl Fishers; Tchaikovsky's Eugene Onegin; and Gounod's Romeo and Juliet.
While most of the early opera performances were done by and for foreigners, Shanghai's Chinese residents gradually became interested. The first recorded instance of a local government official attending an opera was in 1896, when the taotai, or Chief Magistrate, of Shanghai – Mr. Huang – went to the last performance of Gilbert and Sullivan's The Gondoliers. By 1925, Shen Pao – Shanghai's oldest daily Chinese newspaper (founded by a Chinese-speaking Englishman) – was reporting on opera performances and carrying articles like "Western Opera: Its Forms and Manners." The author of this article, Zhang Zuoku, went on to publish a Chinese-language book called "Opera ABC." In 1929, Shen Pao reported that Xiao Youmei, the musicologist who founded the Shanghai Conservatory; Zhao Yuanren, the renowned musicologist and linguist; and Tan Shuzhen, the first Chinese musician to play in the Shanghai Symphony, all attended a performance of La Traviata. And, finally, in 1937 the Shanghai Opera House presented a season of six operas – Faust, Eugene Onegin, Boris Godonov, Carmen, La Traviata, and Rigoletto. A milestone was reached in the Rigoletto, which included two Chinese singers, the soprano Mary Wang (Wang Wenyu) as Gilda and the bass Yu-kwei Sze (Si Yugui) as Count Ceprano, apparently the first time in history that Chinese singers appeared in Western opera.
The rest, as they say, is history – but it is a far more complex version than we usually hear about, and one well worthy of further study as China grows in importance as an operatic nation.