A Spirit for the Ages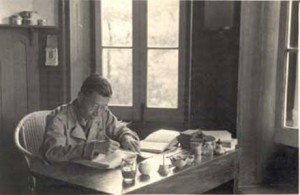 On a chilly day at the end of October, the cinerary urn that holds the ashes of Fu Lei – one of 20th century China's great intellectuals – was moved from a cemetery in Shanghai's Xuhui District to another in Nanhui, Pudong, where Fu was born. There it was reburied alongside the urn that holds the earthly remains of Fu's wife and intellectual partner, Zhu Meifu.
The posthumous reunification of the devoted couple is especially fitting because they chose not only to live together, but also to die together, by joint suicide on September 3, 1966. The stone that marks the new tomb is engraved with a line, written by Fu himself, that is a stellar summation of his life: "The loneliness of an innocent heart leads to the creation of a new world." Fu did indeed help to create a new world in China – at least in the realm of culture – and the impact of his contribution continues to this day.
Fu Lei was born in Shanghai in 1908, grew up in the stimulating turmoil of the May Fourth era, and went to study in France from 1928-32. While abroad, he attended classes at the University of Paris and the Louvre Academy of Fine Arts History, availed himself of the French capital's rich cultural offerings, and began translating short stories by writers like Alphonse Daudet from French into Chinese. At some point during his stay, he came across a copy of Romain Rolland's biography of Beethoven, an experience that proved seminal to the young Fu. As he described it, "I burst into tears and suddenly felt as if I had been enlightened by the divine light and gained the power of rebirth. From that time on, I wonderfully took heart, which was indeed a great event in my whole life." Fu henceforward devoted himself to art, music and literature with single-minded passion and near-unparalleled productivity.
Upon returning to China, Fu became a professor of French and art history at the Shanghai Academy of Fine Arts, which was founded by the artist Liu Haisu. He wrote Twenty Lectures on World Masterpieces for his classes, essays later published as a book that introduced a generation to great works of European art. Fu left his teaching job after only a year to concentrate on translating. He was thoroughly enamored with the works of Rolland – who won the 1915 Nobel Prize for Literature – and by the heroic, larger-than-life artists about whom Rolland wrote. He translated Rolland's biographies of Beethoven, Michelangelo and Tolstoy into Chinese and then tackled the author's magnum opus, the 10-volume novel Jean-Christophe, whose fictional hero Rolland described as "Beethoven in the modern world." Fu's translation of Jean-Christophe was more than a million words and included extensive prefaces and numerous footnotes in which he explained European culture – musical, religious, mythological – to his Chinese readers. (My husband found the work so inspiring that he still has the copy he read when it was re-issued after the Cultural Revolution.) This, together with the Beethoven biography, did much to instill the admiration of Beethoven and love for his music that remains so robust in China.
After the founding of the People's Republic in 1949, Fu continued to work as a freelance translator – the only one in the entire country, according to the scholar Tian Chuanmao. He concentrated on the works of Honore de Balzac, who remained acceptable under socialism because he was considered a "realist" and because Balzac's works had been admired by both Marx and Engels. Fu developed his own translation style, known simply as the Fu Lei Style. He compared the act of translating to painting and explained: "What is sought is not formal resemblance but spiritual resemblance." Fu's way with words was widely admired and influenced numerous writers. As time went on and the boundaries allowed to creativity and free expression grew ever narrower, Fu continued to do things his way. Indeed, the scholars Li Tuo and Geremie Barme have written of the "Mao style" or "Mao speak" that was imposed on spoken and written Chinese beginning in the 1950s, part of an effort not only to standardize the language, but to unify thinking and expression. But the scholar Nicolai Volland, who analyzed Fu's translation and re-translation of Balzac's Pere Goriot (from 1946, 1951 and 1963), argues that Fu resisted this linguistic conformity, continuing to emphasize rhythm and melody in his prose, to employ classical Chinese expressions, and thereby effectively "maintained a stylistic alternative to the officially endorsed mode of writing."
Fu Lei's passion for music remained a driving force throughout his life. His wife was an accomplished classical pianist and they raised their oldest son, Fu Cong (Fou Ts'ong) to become a pianist, too. Fu oversaw his son's many daily hours of practice, punishing the child for lack of diligence and ultimately pulling him out of school. He hired tutors to teach Fu Cong math and English, and educated him in the Chinese classics himself, focusing on narrative and pastoral poetry. When his son left for Poland to participate in a piano competition, Fu Lei wrote, "He knows that he has taken only the first step in a rich limitless world of artistic opportunity. My hope for him – as I told him before he left for Poland – is this: 'You must first of all be a man, then an artist, then a musician and lastly a pianist.'" Fu Cong went on to win a prize in the 1955 Chopin Competition – an astounding feat for a Chinese pianist of that era – and stayed in Poland to study. Fu Lei then began to write a series of 200 letters to his son, filled with his thoughts on life, and emphasizing the need to remain humble and innocent in service of great art.
Fu Lei devoted his life to art but could not escape politics. In 1957 he was declared a "rightist." His son feared the same fate and opted not to come home, leaving Warsaw for London and eventually becoming a British citizen. Premier Zhou Enlai enabled Fu to continue corresponding with his son, and there was even a phone call or two, but the family would never again be reunited. Fu Lei persisted in his translations, perfecting them late into the night, writing with ink and brush in the study he called Strong Wind and Swift Rain. But the brutal harassment and public humiliation that he and Zhu Meifu were subjected to by Red Guards in the early months of the Cultural Revolution proved too much and the couple hung themselves from the metal grill door frames of their bedroom with (according to Claire Roberts) lengths of hand-woven cotton cloth from Pudong. The ever meticulous and honest Fu left a package on his desk that included rent for September, payment for the housekeeper and a list of borrowed items that needed to be returned to friends.
Fu was posthumously rehabilitated in 1979 and his oldest son returned home to join his younger brother, Fu Min, in laying their parents' ashes to rest. Fu's letters were collected and collated by Fu Min and published in 1981 as the Fu Lei Family Letters. The book has sold well over a million copies and motivated generations of young people with its determined idealism, devotion to art and profound expressions of parental love that are perhaps best described as "the Fu Lei Spirit." Though the injustice done to Fu Lei and Zhu Meifu is heart-rending, Fu's passionate devotion to art, unyielding perfectionism and faith in humanity can serve as inspiration to us all. As he wrote in his translator's notes to Jean-Christophe, "It's not a lack of darkness that makes the day bright and it's not a lack of fear that makes one a hero. A hero fights with fear all the time … When you know that other people are suffering too, you will feel less pain and your faith will be reborn from desperation." 
 (First published in Caixin: http://english.caixin.com/2013-12-27/100622857.html)