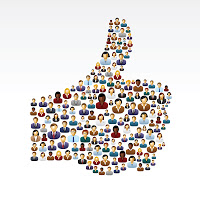 This is SUCH a great thought-provoking conversation, I'm thrilled for it to continue…
Again, delighted (and grateful) to share the wisdom of respected friends and colleagues on the question:
What is the meaning of the word "engagement"?  And how does an arts organization know if it is succeeding?
————-
Bob Booker – Executive Director of the Arizona Commission on the Arts
When two people make a statement of love, support, and promise to move forward in a relationship, we call it Getting Engaged.  Can we image that this simple example speaks to engagement issues in our industry?  Can we acknowledge that engagement in its basic form is a combination of love, trust, support, commitment and a drive to move forward together?
————-
Leonard Jacobs – Founder & Editor Emeritus of The Clyde Fitch Report
Audience engagement requires an acknowledgement that most art ultimately needs a dialogue between the work and its observers, and then choosing from a seemingly infinite set of strategies whose aim and result is the engineering of that dialogue. (It would seem that the one exception would be art that artists make purely for themselves—but even in that scenario, it's a dialogue of one.)
————-
In a post by Shoshana Danoff Fanizza of Audience Development Specialists on another platform – I found this just-published note:
"There seems to be some debate and attention (through various blogs and arts formats) about the term "audience engagement." I feel that we are splitting hairs about the term when it would be better to concentrate on what engagement can do to build our audiences.  Engagement is about getting your audiences more involved in ways that make them feel more a part of the art/organization. Once they feel more engaged, the likelihood of them becoming more supportive is real.
"Engagement could simply mean that they feel more involved during the event. When an event truly draws you in, the engagement level goes up. Engagement can also mean the extra efforts that surround your event to involve the audiences in a more hands-on fashion.
"We can debate about terminology all we want, but I rather see action oriented programs to get our audiences more involved to build happier and more loyal audiences overall. Let's talk about the solutions and steer all the energy that is going into the mumbo jumbo discussions into more action oriented inspirations."
Thanks for weighing in, Shoshana!  I just posted this reply:
The definition of "audience engagement" is neither a debate nor a "mumbo jumbo" discussion.
The series, "What is Audience Engagement?" appears this week on my Audience Wanted blog- www.artsjournal.com/audience – in order to explore the term's rich variety of meanings. The goal is to enable us all to be more mindful and purposeful in our audience development efforts.
As the saying goes… "If you don't know where you're going, any road will take you there."
———–
So, what is YOUR definition of "audience engagement"?  Please post your comments below!
Stay tuned – I'll post more tomorrow!