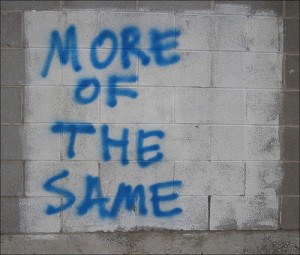 In springtime, a nonprofit's thoughts turn to thoughts of…  BUDGET.
In many organizations, the annual budget is an exercise of simply replacing the names of THIS year's performances, events or exhibitions with those of NEXT year. 
Sure, we'll lower revenue expectations for similar events that under-performed this season – and we'll raise projections for events that we hope will perform better next year.  And everybody agrees to hold the line on expenses.
Understandably, non-profit organizations need their budgets to advance stability.  Unlike Tarzan, we don't let go of one vine until we have a firm grasp on the next.   Without a dedicated long-term funding source and/or a guaranteed "blockbuster," our organizations are simply not set up to take bold or risks leaps of programmatic faith.
So, how does an arts organization resist the "more of the same" mentality?
The budget is an EXCELLENT place to start.  Here we can challenge ourselves to dedicate a portion to a project called, "NOT MORE OF THE SAME."  Start by carving out as little of 1 percent of your organization's budget.  Not enough to hurt.  But enough to start a habit.
Create a "NOT MORE OF THE SAME" task force – with new participants every year – and challenge & authorize them for the incredibly fun job to advance your organization's mission in some creative way – guided by the principle that their responsibility is to do "NOT MORE OF THE SAME."
Learn from their endeavors.  Celebrate their efforts.  Embrace the concept that the future holds more opportunities and options than you can imagine – and that your organization is opening itself up to them all.
And, finally, make it a habit to keep increasing the budgetary allocation for "Not More of the Same" by (at least) 1 percent annually.
Imagine how your organization will look 10 years from now, when you commit, today, to "Not More of the Same."
———
CATCH ME IF YOU CAN!  I'm traveling the country with my Audiences Everywhere™ workshop.  Check out where & when:   http://www.audienceavenue.com/appearances/
# # #