LEAP and SLOW DANCING
At Lincoln Center in July, David Michalek presented his scientific, commercially-styled video on three outdoor screens on Alice Tully Hall. The critical response reveals the disconnect between the disciplines in the arts. Michalek's website links to every article – all by dance critics. None of the critics seem to have any knowledge of the history of exterior projections or film/video installations.
I doubt this is Michalek's method, but if an artist wishes to be well-known, then take slick pictures of well-known people and show them only to people unfamiliar with the history of media. I like looking at HD video of colorful insects on the Discovery Channel as much as the next guy and I imagine the Michalek's slow motion is lovely, but such a high profile visual event should have some knowledgeable writing. Each critical response is exactly the same. Intro paragraph, quotes from the press release on the process and a desription of the writer's favorite dancer.
Just to name some obvious comparisons, some writers should have recalled Doug Aitken's Sleepwalkers at the MOMA last winter. Maybe Jaume Plensa's giant slow faces in Chicago's Millennium Park. If they follow public art, they would have noted LEAP by Chris Doyle, seven years ago at Columbus Circle a few blocks away. Not beautiful dancers in the commercial studio, but just common New Yorker's jumping in slow motion. Rather than using the Lincoln Center plaza like thousands of summer movies shows in amphitheaters and parking lots across the world, Doyle's leapers struggled to bring joy to the controlled chaos of the giant round-a-bout.
If you missed New York, the "west coast premiere" of Slow Dancing is in September in LA. But driving back you home, catch the opening of Doyle's new work in Kansas City titled "The Moons" with jumpers on trampolines. October 9, 2007 at the new Sprint Center.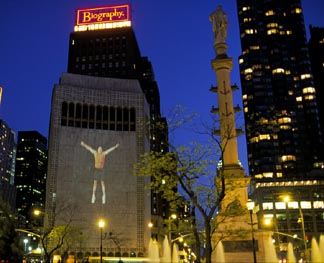 LEAP
Chris Doyle
April 27-30, 2000
At 2 Columbus Circle, New York, NY
From Creative Time website:
A celebration of hope and pure pleasure, Leap was a video project documenting various New Yorkers from all five boroughs jumping skyward. Using the subway infrastructure as a map for the project, Chris Doyle approached community groups at the end points of all the subway lines that stop in Columbus Circle in order to solicit participants for his project. In August and September of 1999 video shoots took place in each of these neighborhoods. At these shoots, four hundred and twenty New York residents and visitors were documented jumping as high as they could against a black backdrop. Edited and slowed down, the footage was projected onto a sixty-foot building in Columbus Circle.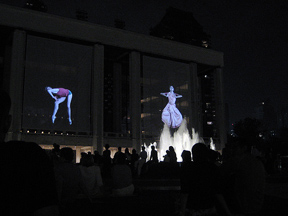 Slow Dancing Video by David Michalek at Lincoln Center, July, 2006

From The Music Center Website
Beginning September 18, The Music Center will present the West Coast premiere of David Michalek's Slow Dancing, an outdoor installation of larger-than-life, hyper-slow-motion video portraits of extraordinary dance artists and choreographers from around the world. High-speed – 1,000 frames per second — high-definition cameras recorded sequences with major figures that include Trisha Brown, Bill T. Jones, famed krumper Christopher "Lil' C" Toler, William Forsythe, Shen Wei, Wendy Whelan, Eiko and Koma, Allegra Kent, and Judith Jamison as well as dancers who are considered national treasures from Southeast Asia, the Pacific Rim and Africa. This combination of cutting-edge imaging technology and dance artistry gives viewers a unique glimpse into a secret world. This is an evening event taking place daily on the Music Center Plaza September 18-26, and is free to the public. Slow Dancing was commissioned by the Music Center
Each subject's movement (approximately 5 seconds) was shot on a specially constructed set with a high-speed, high-definition camera recording at 1,000 frames per second. The result is approximately 10-minutes of extreme slow movement–a motion portrait in which the dancer's unique artistic expression and technique are revealed as never before. According to The New York Sun, "The result is movement so slow that if you glance at the video, your eye initially perceives a photograph. But look at the image longer and it moves at a rate that allows you to watch the minutia of each step breath by breath… The slowness of the moving image allows us to see the steps with detail that is impossible to see in real time."