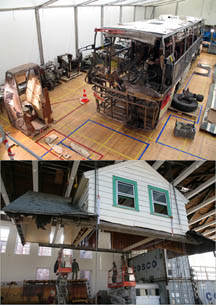 It is completely unfair to everyone involved at Mass MOCA to describe the removal of Christoph Buchel's exhibition an act of censorship this fall. No single human being unilaterally ordered the destruction of a work of art before it was presented to the public, but that is exactly what happened. (Just quickly, due to extensive cost overruns and schedule delays, Mass MOCA asked the courts of Massachusetts to permit the organization to remove and effectively destroy the artwork without the artist's permission. Buchel objected, but refused to finish the work. See the excellent statement by Tyler Green and his links. Buchel photos are Basel 2005 and Mass MOCA 2007)
Normally the actions of the Mayor of Edmonton, Canada, would be seen as an act of censorship by one human against the particular work of an artist. The artwork was removed from public view because of the Mayor felt that the content of the artwork was offensive to some citizens and should not be supported by the government of Edmonton. (Just quickly, Hindu Society of Alberta petitioned the mayor to remove the sculptures depicting the Hindu god, Ganesha. Hindu residents felt the artworks by Ryan McCourt were "disrespectful treatments" especially due to the god's nudity and decapitation in one sculpture. The artworks were removed on September 22, 2007 from the Convention Center.)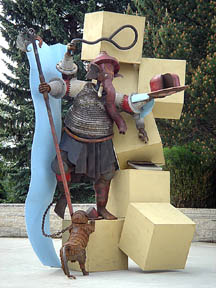 Destroyer of Obstacles, by Ryan McCourt, 2006
(The title is a typical Hindu phrase for Ganesha)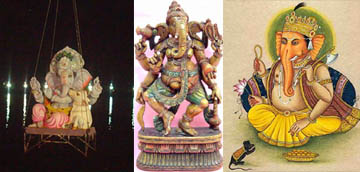 Sculptures and Paintings of Ganesha
Ryan McCourt's work continues the cycle of artists unintentionally insulting newly empowered group of peoples. The Canadian Hindu's are inventing artistic boundaries for the use of Hindu gods as I write. Despite McCourt's claims of innocence and support by many Hindus, he appears to me to be manipulating symbols that he does not know from a lifetime of experience. The symbols are abstractions of ideas as diagrammed in the Ganesha illustration and combined with a cartoon character energy – which I enjoy, but from a position ignorant of Hindu meaning.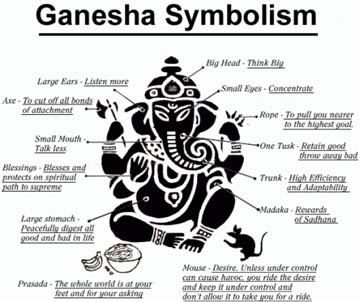 McCourt, the Mayor and the Hindu Society reminded me of the debates surrounding non-Native American artists making artworks with Native American iconography in NW North America. Just outside Seattle in the 1950s & 60s, Dudley Carter was a white, talented sculptor creating large wooden works with the traditional images from Native Americans in British Columbia and Alaska. By the 1970s, the Native Americans began to gain a stronger voice and complained in ways similar to the Hindus today. At first the mainstream culture had difficulty grasping the situation, but now as mature artists such as David Boxley of Washington State and Susan Point of British Columbia have achieved prominence, the difference between artists from the culture and artists inspired by a culture is very clear. The sense of respect for the traditions is very high as they make new unique works.
Unlike the last 30 years of public art by Native American artists, McCourt and the Hindu Society live in a visually connected globe. The public dialogue lives on electronically and helps find these boundaries of respectful interpretation that a government can support. Showing respect for all people may be the first rule of good democracy. McCourt is not censorship, but a step in a long process in which his personal views are now part of the history, not hidden from it.


Dudley Carter carving near Seattle from the 1950s and 60s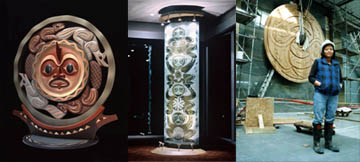 Susan Point, Coast Salish, Vancouver, Canada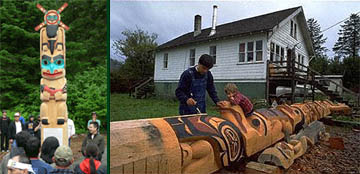 David Boxley, Alaskan Tsimshian, Washington State, USA


Digg it
…
Del.icio.us
…
Technorati
…
Stumble Upon
..
Reddit