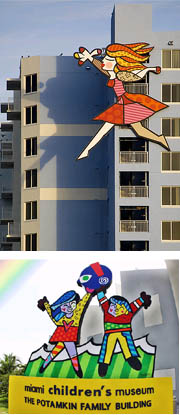 Romero Britto's Company is attempting to become the Dale Chihuly of Miami. Like Chihuly in Seattle, Britto is basically a local boy that is achieving worldwide artistic fame from home and thus emerges as an image for the City itself. Unlike Chihuly, the Britto Company ignores the museum circles or artculture. His team follows Peter Max nearly step-by-step minus some association with Rock and Roll or equal. Both Max and Britto Have sold on cruise ships, designed United Nations stamps, created imagery for international sports events, volunteered for good will fiberglass sculpture events and painted airplanes and cars. According to the New York Times, the company's 2006 revenues exceeded $12 million dollars.
Normally, the public art establishment would ignore Britto as they ignore the other mass producers of colorful or slightly sexual prints and small sculptures. The artculture still overlooks him until the President, Governor, Provost or Mayor proudly accepts one and places it at the entrance to some important non-museum building. A minor irritation.
Artbrokage.com is a good resource of this financial successful artists. The leading artists ranked by works for sales are: Erte (317 works for sale), Salvador Dali (307), LeRoy Nieman (299) and Peter Max (154) with good showing by Warhol, Rockwell, Wyethe and Haring. Many, many artists outside artculture are doing very well: Royo, GH Rothe, Ting Shao Kuang, Itzchak Tarkay, Oleg Zhivetin, Frederick Hart and Guillaume. Azoulay, Of these artists, I have only heard of Hart because he made the mandated figurative sculpture of three Vietnam soldiers for the Mall during the protest about Maya Lin's memorial.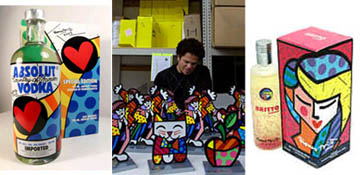 Mass Production: Vodka, Signed Editions of 1000, Perfume
Like the bronze sculpture establishment, the mass producing printmakers have an entirely independent system from artculture. The printmakers are very entrepreneurial and go directly to the customer through stores / galleries located where their customers shop. They have no patience to wait for the artculture system of artcenters, hip galleries, museum curators and art critics. The covers such as Life magazine (Max in 1969) or features on the person, not the art, is the focus of public relations team.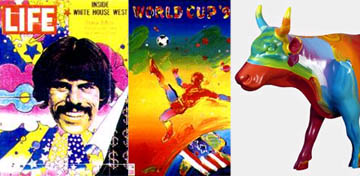 Peter Max Methods
For the printmakers, the sale of the original painting is a minority of income compared to the prints. And of course, the prints are cheap to produce. So depending on the prestige of the potential clients, originals or prints are almost given away. Britto's high contrast graphics look great in poster printing, even cheaper to distribute. When I first toured Miami Beach city hall in 2001, it appeared that every department lobby and several elected officials had a free Britto.
As Britto may have learned from Caribbean artist, Guy Harvey, printing art on anything – cups, T-shirts, fishing rods – has a positive effect on distribution of the imagery. The goal of the marketing is to familiarize a broad audience with the imagery and its appreciation by the rich and famous. Both Britto and Max (following Warhol) produced prints of some famous clients. (Harvey – a former Marine scientist turned artist – sticks to middle class sales among fisherman). Britto company by 2004 had licensed imagery for clothing by designer Nicole Miller, shoemaker Via Spiga and watchmakers Swatch and Movado



Guy Harvey: All Fish and Fishing All the Time
As a curse of marketing the imagery instead of the artist, the artist cannot change or modify. He is trapped for an artistic lifetime. (I use "he." I don't know a female success story)
Trapped in his imagery, Britto has launched into public art – A place the other mass producers have avoided. A diversity of public artworks provides Britto with a new direction and energy without threatening the now branded imagery. Even the Art Basel/Miami machine woke up in 2005 when Britto's relationships with real estate developers resulted in a proposed public sculpture in Miami Beach. An "Ocean Drive" article wonders if more Britto sculptures will turn the Art Basel crowd away from Miami Beach. What paranoia.
But the public projects in the last 24 months has solidified Britto as THE MIAMI ARTIST. Through his friends – perhaps Gloria Estefan – he designed imagery for the 2006 Superbowl Pre-Game Show. His cat sculpture appeared on the lawn of the Florida House in Washington DC due to the relationships with then Governor Jeb Bush. A 45 foot "Welcome" sculpture at the entrance to a huge Simon owned "Dadeland Mall". Various public spaces in Bar Harbor, Hollywood and Kendall have 10-foot Britto sculptures. This summer a Britto appeared at the Children's Museum on the Causeway to Miami Beach and directly on I-95 as tens of thousands of drivers enter and leave downtown Miami.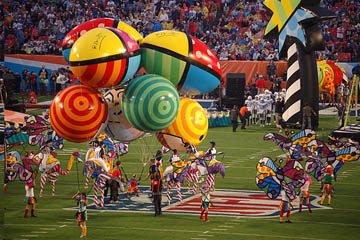 The Ultimate: 2006 Miami Superbowl with Cirque du Soleil

The Whole 9 Minute Superbowl Show with Cirque du Soleil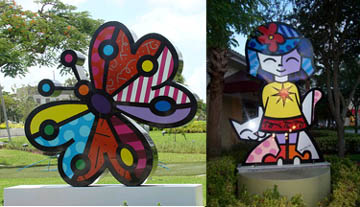 Public Art Spreads: Hollywood and Kendall, Florida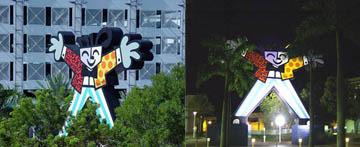 Public Art: The First Big One "Welcome"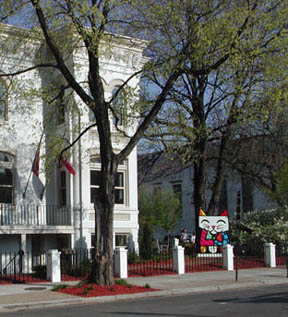 Jeb Bush brought Britto to Washington, DC in 2006.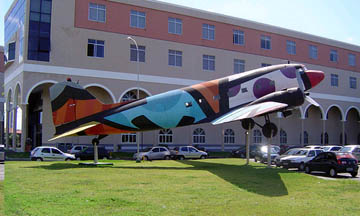 Brazilian Plane: Following Calder and Max



His 2nd and 3rd Cars: Volvo Car Show and Audi for Chicago Art Show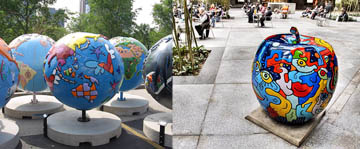 Fiberglass Public Art: Representing Miami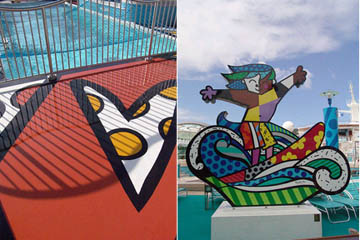 Learning from Peter Max: Royal Caribean Cruise Lines
For the public art world, none of his projects except the bus wraps at the Fort Lauderdale Airport were selected through any public process. This is especially annoying because some of the work has been financed in part with public dollars. The Britto Company goes directly to the politicians and department directors.
But this week, Britto hit a wall of private negotiations for the use of public space. The Miami Airport announced that it would like to have all its employees wear Britto designed shirts. An amazingly smart and arrogant move. Just as the Miami-Dade public art program is about to unveil millions of dollars worth of artist designed walls, ceilings and floors at the airport, Britto applies his imagery everywhere for a fraction of the cost. For the moment at least, the Miami -Dade Commissioners find the shirts "tacky" and unacceptable, but nothing in Miami politics is over, until it's over.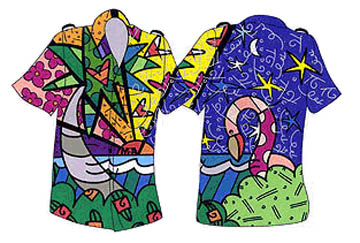 Proposed Employee Shirts for Miami Airport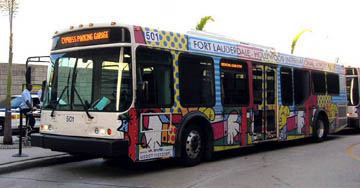 Buses at Fort Lauderdale Airport, (Public Art Selection Process)
At age 44, Britto will continue to find new bolder directions for the application of his work or he will quietly sell the prints and attend great parties. Chihuly had this choice his mid-fifties and developed the "Chihuly over Venice" installations. Combined with the Steve Winn's commission for the Bellegio in Las Vegas, Chihuly escaped the glass bowls and objects and embarked on his best work. The series of installations in gardens during the last ten years may be the most purely beautiful public art of the late 20th century. The Phipps Garden project is still open until November 11. Go. (Chihuly has an excellent website.)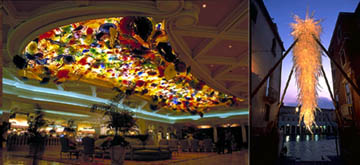 Chihuly First Installations in Las Vegas '97 and Venice '96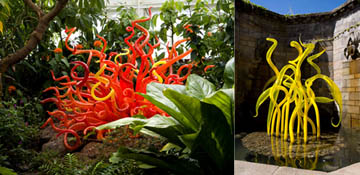 Chihuly at Phipps Gardens in Pittsburg until Nov 11, 2007. GO —-
On October 30, Britto opens his Pyramid in London. One pyramid was made with children and another by Britto himself. Britto goes international seeking new challenges for his black lines and primary colors. I will post the results when available.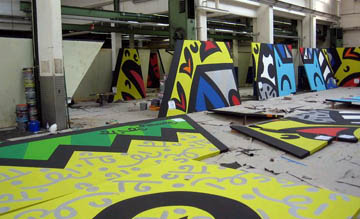 Parts of the "O2" Pyramid: Unveiled on Oct 30 in London
Thanks to Critical Art Miami Blog and Miamism for Help.


Digg it
…
Del.icio.us
…
Technorati
…
Stumble Upon
..
Reddit