Not to reveal too much, but I typed "public art" into the job search site, Indeed. The public art field and civic leaders have under-estimated the role of public art in job recruitment, especially among doctors and nurses. Many medical recruiters highlight the excellent quality of a city's pedestrian environment by listing public art. I wonder if the Creative Cities researchers have linked up this data.
Perhaps the recruitment is it part due to years of artworks in hospitals. As city and county art programs receive most of the credit for public art, hospitals and medical centers have been quietly commissioning public art through private donors and government funding. Frequently, courageous work is commissioned for hospitals after artists interview patients and staff. Concepts that might seem offensive to an outside observer turn out to be comforting to the people in the hospital. James Rosenquist's used Band-Aid on the children's hospital in St. Petersburg Florida is an example of normalcy among the medical staff and children that is strange to the general public.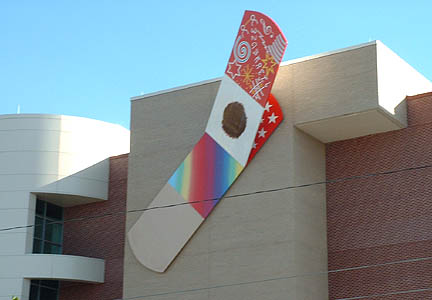 James Rosenquist, St. Petersburg, Florida
The medical advertisements state the value of public art to the average employee. These are not art supporters, but just regular people describing the quality of the space. Here are some examples:
….take a walk downtown to find public art at every turn.
A strong public art program helps to sustain and encourage downtown economic development.
A community that gets involved is shown throughout the city with the public art displays.
The Complex offers many amenities including 24 site-specific public art projects…..
Other institutions stressing public art are the universities and government campuses where public art has at least a 30-year history. Technology has a significant link to public art, as artists such as Cliff Garten need CAD operators to complete computer files for laser and other fabrication techniques. Interactive software designers recognize public art as a market. In the future, I will continue to check in on the employment websites to discover the attributes of value in civic spaces.
All the following are quotes from a variety of Internet advertisements.
Rhino/Maya/CAD Designer for Cliff Garten Studio in Venice, California
Nationally recognized artist's studio located in Venice, CA seeks responsible designer to provide design and documentation support for public art projects incorporating engineering, infrastructure, architecture, urban design and landscape architecture. Cutting -edge work with 3D digital design, modeling, and transferring unconventional forms into digital fabrication (laser, water jet, CNC, 3D printing) and conventional fabrication and construction techniques. Applicant should enjoy problem solving complex structural and visual designs. You must be fluent in graphic and 3D modeling and rendering digital programs- AutoCAD, Maya, Rhino, Photoshop, Illustrator, and possess excellent three-dimensional modeling skills. Experience in architectural office and Masters Degree are desirable.
Position responsibilities include:
•3D computer modeling and renderings used during the design process and for presentations, primarily in Rhino, AutoCAD and Maya
•Participate in concept design, design development and design drawing process
•Proven experience in the construction of digital files and models used to fabricate physical objects
•Supervise specific and specialized construction methods with fabricators using geometric data from computer and physical models, stereo lithography, CNC and water-jet cutting
•Produce fabrication and construction documents of completed designs
•Must know how to put together a good construction detail in Auto CAD, be inventive and communicate with fabricators, architects and contractors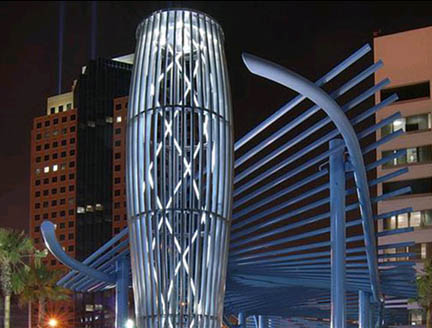 Cliff Garten Harborview
Immersive Media Software Engineer at Snibbe Interactive, Inc in San Francisco Bay Area
Snibbe Interactive is a fast-growing company that creates large-scale interactive installations for science museums, public spaces, corporations, and other public and private clients. Our work has unique characteristics of bringing joy, social engagement and meaning to the everyday lives of ordinary people. Our market is worldwide and includes clients in a number of vertical markets including science museums, branding, entertainment and PUBLIC ART. We have installed works worldwide including the United States, United Kingdom, France, Germany, Israel, Thailand, Japan and Korea.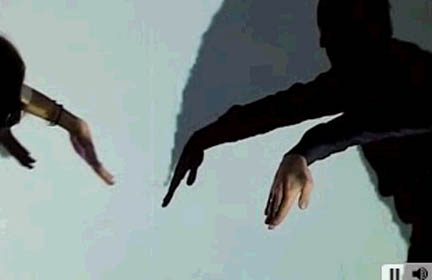 Still photo from Snibbe Interactive work
MEDICAL JOBS
Licensed Practical Nurse in Tacoma, Washington
The medical center is located in the vicinity of Tacoma, north of the Main Post of Fort Lewis, in the evergreen state of Washington. Nestled on the shores of Commencement Bay on the West Coast of the U.S., Tacoma is an international gateway to the Pacific Rim and the world. The city also serves as a gateway to some of the most magnificent natural wonders in the world such as Puget Sound, Mount Rainier National Park and the Olympic Peninsula. From art galleries to actor guilds, museums to music groups – Tacoma is serious about arts and culture. There is something for everyone. Catch a local performance, meander through a museum, or TAKE A WALK DOWNTOWN TO FIND PUBLIC ART AT EVERY TURN. There´s more to Tacoma than meets the eye – from odd architecture like Bob´s Java Jive to wonderful events that got their start in the city like the American Cancer Society Relay for Life. The Far Side cartoonist Gary Larson and old-time crooner and movie star Bing Crosby along with some of its infamous history such as the 1940 collapse of the Tacoma Narrows Bridge, or Galloping Gertie.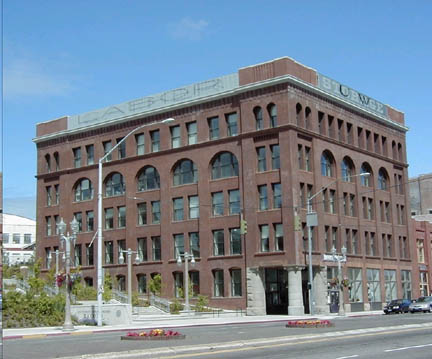 Buster Simpson in downtown Tacoma
Physician in Mesa, Arizona
This Phoenix suburb is a great place to live, with a highly attractive lifestyle. Events, activities, dining and shopping keep its residents and its surrounding communities busy all year long. Some key attractions are: Arizona Museum for Youth, Arizona Museum of Natural History, Commemorative Air Force Aircraft Museum , Concerts, Dobson Ranch Golf Course, Hohokam Stadium – Spring Training with Chicago Cubs, Mesa Arts Center, PUBLIC ART, Riverview Golf Course There are solid reasons why more than 450,000 people live here: low costs of doing business, reasonable tax structure, skilled and well-educated workforce, low crime rate, superior schools, affordable housing and an excellent quality of life.
Physician for city in Colorado
This area offers some of the most spectacular recreation opportunities available in the United States. There's something here for everyone. A family destination for both young and old alike and you're sure to find fun for everyone.
1. Outdoors – Blessed with 300 days of sunshine a year, it is a lively city with a great love of the outdoors: a brand-new urban kayak course, bike trails, rivers and lakes for fishing and sunny golf courses
2. Events – From car rallies to historic tours, there is activity all-year round
3. Families – Families can enjoy an award-winning Children's Museum, quarter rides at the City Park or the Zoo
4. Culture – This area boasts cultural amenities including art galleries, PUBLIC ART PROJECTS and a variety of theatre offerings
5. Nightlife – From diverse dining opportunities to an energetic live-music scene, the nights are full of entertainment and options
Radiologists for Southwest Nevada
Radiologists seeking Interventional Radiologist to join group of six. Excellent Compensation – Excellent Location – Excellent Vacation Allowance – Position based at 2007 Distinguished Hospital of Excellence! The community is experiencing huge, fast growth. This city is a leader in arts and culture. The community has a rich variety of special events, historic buildings, performing arts and galleries. A STRONG PUBLIC ART PROGRAM HELPS TO SUSTAIN AND ENCOURAGE DOWNTOWN ECONOMIC DEVELOPMENT. Cultural diversity and history are embraced and interwoven within the fabric of the city. Art galleries, Ice skating rink, skiing, hiking, and golfing are just a few of the activities you can expect throughout the community.
Physician for Chicago
Seeking physician to join group as an employee with a salary of $310,000. No sub-specialties are required for this position and general is preferred. Full benefits will be included with this offering and will equal to about 27% of your salary. This is a very exciting major metropolitan city that has evolved over the years into a place where all should at least visit to experience what it has to offer. A COMMUNITY THAT GETS INVOLVED IS SHOWN THROUGHOUT THE CITY WITH THE PUBLIC ART DISPLAYS. ONE OF THE DISPLAYS IS THE RIVERWALK GATEWAY PUBLIC ART DISPLAY WHICH ARE SEVERAL MURALS THAT DEPICT THE HISTORY OF CHICAGO AND ARE DISPLAYED IN AN OPEN AREA ALONG THE RIVER. There is so much to see and do within this great city.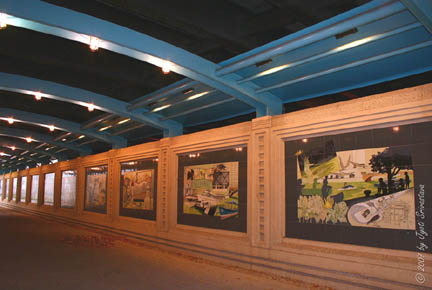 Chicago Riverwalk. Photo by Jyoti Srivastava at Chicago Public Art Blog
Nurse for Tucson, Arizona
A top-notch facility in Tucson, Arizona is looking for a qualified Nurse Practitioner that specializes in Internal Medicine and they are offering top benefits and great wages.
Tucson truly has something for everybody. Whether you're looking for history or high tech, local artists or the masters, shopping 'til you drop or quality family time. Discover our fabulous array of museums, galleries, PUBLIC ART, concerts and theater. Tucson offers a mild climate and about 350 sunny days a year, our outdoors is always open.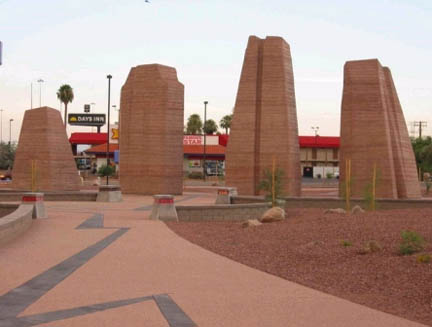 RVL Arts in Tucson, AZ
Public Art and Design Manager for Business Improvement District
The Times Square Alliance (formerly the Times Square Business Improvement District), founded in 1992, works to improve and promote Times Square so that it retains the energy, edge and distinctiveness that have made it an icon for entertainment, culture and urban life for almost a century. In addition to providing core services with 50 Public Safety Officers and 50 Sanitation associates, the Alliance promotes local businesses, co-coordinates numerous major events in Times Square like New Year's Eve and Broadway on Broadway, manages an Information Center and advocates on behalf of its constituents with respect to a host of public policy, planning and quality-of-life issues.
UNIVERSITY JOBS
Director of Blanton Museum of Art of The University of Texas at Austin
While it supports teaching and research activities throughout the University, the Blanton Museum is part of the College of Fine Arts. The College also includes the Department of Art and Art History, the School of Music, the Department of Theatre and Dance, and the Performing Arts Center, a nationally leading performing arts presenter and production facility. The Museum serves and collaborates broadly with Art and Art History on exhibitions, public lectures and events, arts education programs, and more recently on the creation of a Museum Studies curriculum, an emerging research center for Latin American Art, and A CAMPUS-WIDE PUBLIC ART PROGRAM.
Secretary II for University of Central Arkansas
The person hired will be the first line of contact for inquiries regarding the College of Fine Arts and Communication, either by regular mail, email or telephone, therefore the ability to work well with the public is essential. This individual will also be responsible for and/or assist with the following: file maintenance (personnel, purchasing, accounting, etc.), travel requests, purchase orders, administration of the Artists in Residence Program and PUBLIC ART INITIATIVES…………..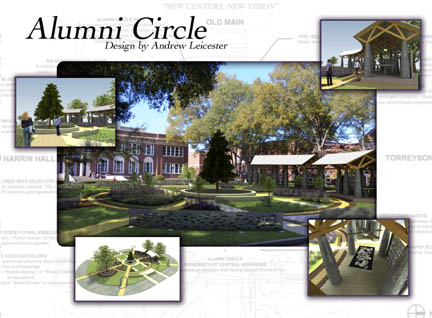 Winning design by Andrew Leicester for Central Arkansas
Assistant Professor Art/Sculpture for University of Nevada Las Vegas
Qualifications include MFA in Sculpture or related field and expertise in a wide range of three-dimensional practices. Applicants engaging new practices are encouraged. The candidate must demonstrate an OUTSTANDING EXHIBITION/PUBLIC ART RECORD with national exposure and have teaching experience
STANDARD GOVERNMENT JOBS
Office Technician (Typing) General Services for the State of California
The East End Complex, located in Region IV in Sacramento, California, includes five state-of-the-art structures ranging in height from five to seven stories. THE COMPLEX OFFERS MANY AMENITIES INCLUDING 24 SITE-SPECIFIC PUBLIC ART PROJECTS, an auditorium and conference center, an on-site child care facility, a full service restaurant, and a firm commitment to sustainable practices and energy efficiencies.
Associate Dean for Digital Futures, Information Technology and Technical Services at the King Library in San Jose, California
The King Library is a collaboration of San Jose Public Libraries and San Jose State University Library. Our King Library is the largest, all-new library west of the Mississippi, an innovative collaboration which has created an invaluable community resource open and free to all. A FEAST FOR THE MIND, AS WELL AS THE EYES, THE KING LIBRARY BOASTS A COLLECTION OF ROUGHLY 1.5 MILLION ITEMS AS WELL AS DELIGHTFUL PUBLIC ART INSTALLATIONS AWAITING YOUR DISCOVERY ON EVERY FLOOR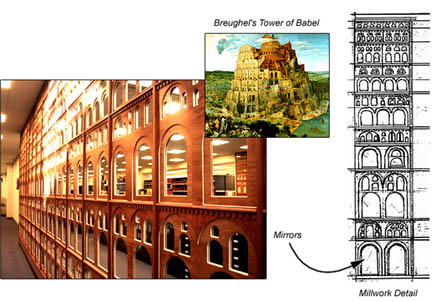 Babel by Mel Chin for the King Library
Landscape Architect for the New York City Department of Parks & Recreation
Preferred Qualifications: Knowledge of any/all of the following specialized disciplines: brownfields, landfills, sustainable/"green" design, ecological restoration, conservation, ADA/universal design concepts, horticulture, urban design, PUBLIC ART and architecture.
New York City is entering an unprecedented period of growth and development as part of Mayor Bloomberg's PLANYC2030-the most sweeping plan to enhance New York's urban environment in the city's modern history. By 2017 we plan to plant an estimated 220,000 street trees with over $200 million in funding. Parks & Recreation is the steward of almost 29,000 acres of land–14 percent of New York City–from Yankee Stadium to Central Park to community Gardens and Greenstreets.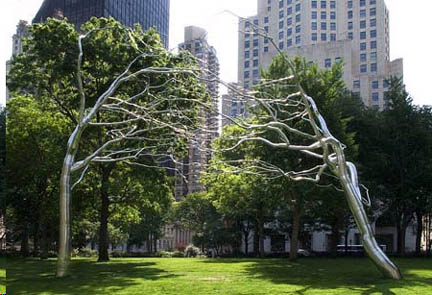 Roxy Paine in Madison Park, NYC
TEACHING ARTISTS
Learning through an Expanded Arts Program (LEAP) in NYC
Energetic and experienced teaching artists needed to work with NYC public school classes K-12, integrating arts into academic subjects. URGENT NEED for: Visual Arts, Science, Slam Poetry, PUBLIC ART/Murals, Dance (Hip Hop), and for experience with Special Needs students.
Public Art Effort of LEAP
Students face more obstacles and issues today than ever before. Through Leap's new Public Art program, eighth graders in ten schools across New York City will have the opportunity to actively voice their feelings and ideas about social issues in their communities through the creation of public art.
The Public Art program will involve 700 students who will participate in 15 sessions with a professional artist. Together they will explore social issues in their communities, examine the history and practice of public art, and create original public art works.
The students' final creations will be displayed in parks and public spaces throughout New York City during the summer of 2008. Through the public art program, the students will recognize the importance of their own ideas and learn how to communicate them in creative, constructive, and effective ways.