Let's put mosaics and ceramic murals on the public art table.    For permanent, community-based public art – nothing is better.   And as a very beautiful artform in the hands of experts and craftspeople.    You can visit and walk-on Roman mosaics almost 2,000 years old.  The tiles of Persians, the Ottomans and other Asian Islamic cultures glow with the blues and greens and reds in the 500 year old mosques.   Moroccans can still make giant geometric patterns of small tiles.    Here around the Caribbean and Gulf of Mexico, skilled artists include Beth Ravitz, CERO, Carlos Alves, Dixie Friend Gay, Michelle Weinberg and MOCAH.  In Seattle, one of favorite artists – Ann Gardner.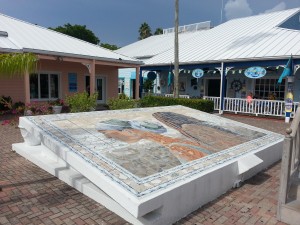 Two weeks ago, I stumbled on the new ceramic mural by Jacki Boss working with other Bahamian artists and more than 30 community members.   Located in the Port Lucaya Marketplace, Freeport, Grand Bahama, the mural depicts the profiles of a man and woman.  The central image was composed by Boss, while the edges were made by volunteer Bahamians.
Unique in my experience, the mural is raised on a tilted 16 ft x 10 ft concrete platform similar to a museum display for historic carpets.    A tiny stair leads to a tiny view platform.  For years, I have advocated for these informal guides for the general public to enjoy public art.
The central image is made from a combination of lowly floor tiles and luscious colored tiles.  I especially like the use of the fake wood and marbleized tiles that bring memories of working class homes.  Boss reinforces my emotional connection with the 1 x 1 pattern of the standard floor tiles so typical in my neighborhood in Florida.
The marketplace is main colorful shopping area for tourists on the island to buy handmade Bahamian products.  As a result, some of the shopkeepers have complained that the man (especially a man in dreadlocks ) and woman do not represent the Bahamas.  The local paper quotes "We are not rastas … that does not represent us." or  a "satellite of Jamaica."     Boss argues the work is "Caribbean".  When a community has almost no public art, the sensitivity to self-identity becomes very high.
For better or worse, the dreadlocks and the woman's hair bun contain the most beautiful patterns.  The Grand Bahama Port Authority, Port Lucaya Marketplace and Bahamians should be proud of this new addition.
I