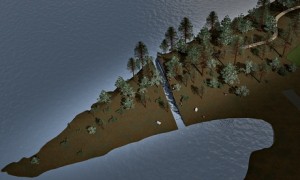 Norwegians select "Memory Wound" by artist Jonas Dahlberg. The 43-year-old artist has sliced a three-and-a-half-metre-wide slit into the Sørbråten peninsula, which faces the island of Utøya where Anders Behring Breivik killed 69 people in 2011. It marks a "symbolic wound" in the landscape.
I like the memorial as a sculptural reminder.  Simple metaphor of damage landscaped and damaged nation.  What is unfortunate is the access to the memorial through a window in the rock wall.  As my discussion, the path to memorial needs to be a part of experience and the destination needs to be a place.  Clearly to me, the path should be along the water edge and then lead into the cut space itself.  I want to be in the space with water lapping at my feet and a view back to the island and out to sea.
But the work is a sculptural symbol, not a place of emotion.  The artist could not bare the thought of disrupting the crisp image of the reflecting water and polished walls.  Like the best teachers, the success should be in the learning of the students, not in the beauty of the lecture.   Of the great teachers and artists, do both.
[contextly_auto_sidebar id="mdmTtjceQAH2E4oqTVsIEPpSZrnM97tt"]