My latest Wall Street Journal "Sightings" column is about Lennox Berkeley, an English composer whose music is all but unknown in this country and deserves much wider recognition. Here's an excerpt.
* * *
I've been "binge-listening" to the music of Lennox Berkeley (pronounced BARK-lee), whose work was all but unknown to me a year ago. Not that there's anything surprising about that: Berkeley's elegant yet excitingly vital scores are rarely heard in the U.S., where Ralph Vaughan Williams, William Walton and Benjamin Britten are the only modern English classical composers who get performed with any regularity. Yet Berkeley, who died in 1989 at the age of 86, was both prolific and widely admired in England….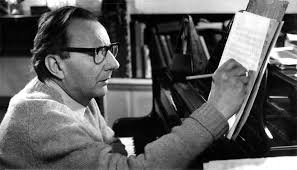 I suspect that the main reason why Berkeley's music has failed to travel outside his native land is that it sounds nothing like what you expect to hear from an English composer. A student of Nadia Boulanger, the great French composition teacher whose best-known pupils included Aaron Copland and Darius Milhaud, Berkeley was strongly influenced by such French composers as Maurice Ravel and Francis Poulenc—both of whom he knew personally—as well as Igor Stravinsky, Boulanger's idol, whose crisp middle-period idiom he learned from her. Unlike Vaughan Williams and Britten, whose music is deeply rooted in English folk song and other English musical traditions, he was a European-style neoclassicist through and through….
Not only was Berkeley a marvelous composer, but he led an intriguing private life, one chronicled to extremely readable effect in "Lennox & Freda," Tony Scotland's 2010 dual biography of the composer and his wife, who married in 1946, had three sons and were by all accounts the happiest of couples. Everyone who knew Berkeley in his youth was startled by this development, for his previous relationships had all been with men and he moved in elite gay circles (he was often to be seen at Somerset Maugham's villa on the French Riviera, a resort that Maugham himself wittily described as "a sunny place for shady people"). At the same time, he was also a deeply religious man with a mystical streak who converted to Roman Catholicism in 1929, and he appears prior to his marriage to have had considerable difficulty reconciling the two sides of his nature….
* * *
Read the whole thing
here
.
Laura Snowden plays Lennox Berkeley's Guitar Sonatina:
Stephen Cleobury and the Choir of King's College, Cambridge, performs Berkeley's "I sing of a maiden":