In today's Wall Street Journal "Sightings" column, occasioned by the unsealing of a crate of love letters sent by T.S. Eliot to Emily Mann, I write about artists who have sought to use posthumous publication to shape the way they are viewed by posterity—sometimes successfully, sometimes not. Here's an excerpt.
* * *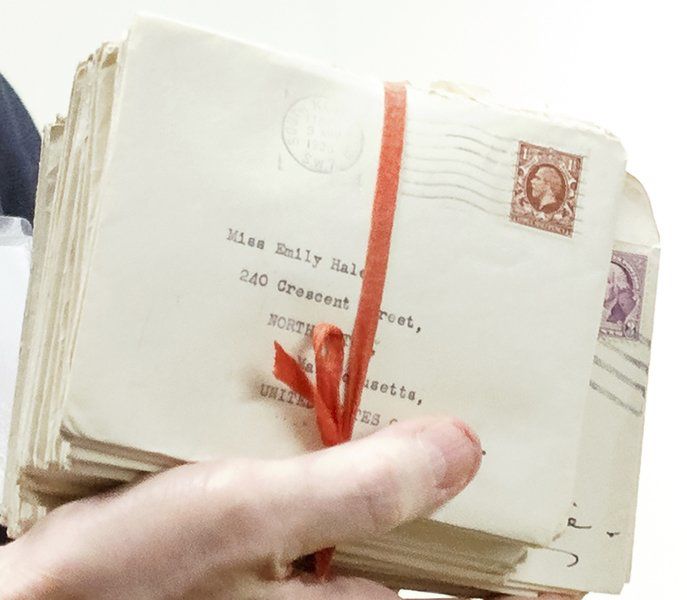 Earlier this month, the contents of a crate of love letters written by the most famous poet of the 20th century and sealed for the past half-century were finally made available to researchers by Princeton University. The crate contained 1,131 letters sent by T.S. Eliot to Emily Hale, the woman whom the author of "The Waste Land" was long thought to have loved prior to and during his marriage to Vivienne Haigh-Wood, which ended when Haigh-Wood died in a mental hospital in 1947. Simultaneous with the opening of the letters, which were left by Hale to Princeton on condition that they not be made available for public viewing until 50 years after she and Eliot had died, Eliot's estate released a frigid letter in which he sniffily informed posterity that Hale had neither loved nor had "sexual relations" with him. Moreover, he added, she was "not a lover of poetry" and "was not much interested in my poetry," claiming that she "would have killed the poet in me" had they married after Haigh-Wood's death.
As literary time bombs go, Eliot's letter, which he wrote specifically to be opened when and if Hale's letters became public, is more than a little bit catty. But his determination to put Hale in what he took to be her place is hardly unprecedented. Artists of all kinds have gone to considerable trouble to sound off from beyond the grave. H.L. Mencken, for example, left behind a stack of autobiographical manuscripts, including a 2,100-page diary and a pair of book-length memoirs, "My Life as Author and Editor" and "Thirty-Five Years of Newspaper Work," that he bequeathed to Baltimore's Enoch Pratt Free Library and placed under a 35-year time seal at the time of his death in 1956. Published between 1989 and 1994, these works amounted to an extended attempt by Mencken (in his words) to rewrite "the literary history of the United States in my time," depicting such celebrated contemporaries as Theodore Dreiser, F. Scott Fitzgerald and Sinclair Lewis "precisely as I saw them."….
* * *
Read the whole thing
here
.