In today's Wall Street Journal "Sightings" column, I offer some further thoughts on the wider implications of the James Levine scandal. Here's an excerpt.
* * *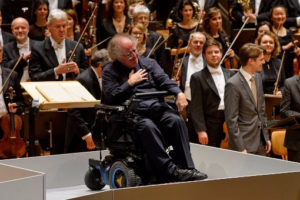 Few doubt that Mr. Levine's performing career is over, regardless of whether he is in legal jeopardy. But what of his artistic legacy? Will his musical achievements be forgotten as a result of his disgrace? Not only has he recorded extensively for the past four decades, but audio and video recordings of his broadcast performances with the Met continue to be widely available. Will this continue to be true—and should it? Or is Mr. Levine's work destined to vanish into the memory hole?…
It is mostly taken for granted by aesthetes that the creative achievements of a morally flawed artist can and should be judged separately from his offstage conduct. (Two words: Pablo Picasso.) According to William Faulkner, "If a writer has to rob his mother, he will not hesitate; the 'Ode on a Grecian Urn' is worth any number of old ladies."
Laymen have always been understandably uncomfortable with this belief, for the very good reason that it encourages us to treat great artists as privileged creatures inhabiting a moral realm above and beyond that of the rest of us. For me, Faulkner's oft-quoted apothegm is at the very least arguable—but with one essential caveat: No matter how beautiful or profound the results may be, the artist who robs his mother should do time for it. He must be subject to the inexorable operation of the moral law.
Consider the case of Herbert von Karajan. He was one of the greatest orchestral conductors of the 20th century. He was also in his youth a member of the Nazi party, which he joined in 1933 to further his career. How should that affect our feelings about his work?…
* * *
Read the whole thing here.
James Levine and the Metropolitan Opera Orchestra perform the overture from Verdi's La Forza del Destino:
Herbert von Karajan and the Berlin Philharmonic perform the same work: