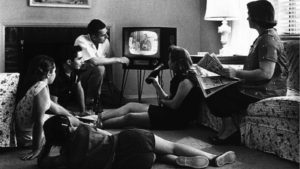 TV commercials rank high among the clearest and most vivid memories of my boyhood. One reason why this is so should be obvious: I saw many of them repeatedly. In many cases, they also stuck in my mind because of their deliberate, purposeful banality. (Few things are as hard to forget as a simple-minded jingle.) On occasion, though, the music for a commercial was so well-written and well-executed that it lodged forever after in my consciousness.
My untutored but sensitive ears always pricked up, for example, at Hertz Rent a Car's "Let Hertz put you in the driver's seat" commercials, and years later I found out why. It turns out that they were written by Richard Adler, whose other credits include the scores for Damn Yankees and The Pajama Game, and sung by the Hi-Los, the hippest of all jazz vocal groups:
No less catchy was "The Disadvantages of You," a wordless tune with a sexy south-of-the-border beat that was used to hawk Benson & Hedges cigarettes. It was the work of Mitch Adler, who later moved over to Broadway from Madison Avenue to compose Man of La Mancha:
But those Benson & Hedges commercials, lest we forget, were also funny. Indeed, the late Sixties and early Seventies were a great time for commercials that were not infrequently funnier than the sitcoms they interrupted. For sheer looniness, it'd be hard to beat this once-ubiquitous pair of ads:
The best of them were clever enough to be worthy of the talents of such legendary comedians as Bert Lahr:
Many were the work of Doyle Dane Bernbach, the ad agency whose Alka-Seltzer ads, in particular this exercise in postmodernism avant la lettre, are very likely the best-remembered commercials of the period:
Doyle Dane Bernbach also put Volkswagen on the map with its print and TV ads, of which this one, created by Roy Grace, is at least as familiar to my fellow baby boomers as "Spicy Meatball," another of Grace's one-minute gems:
What is most striking in retrospect about DDB's commercials is their comic sophistication. They were fully as clever as the sketch comedy of such classic variety series as Your Show of Shows and The Carol Burnett Show. Stan Freberg's commercials, by contrast, were equally ingenious but funny in a different, zanier way:
It was Freberg who wrote and directed what was at the time the most expensive sixty-second spot ever filmed, a mini-musical starring Ann Miller that, once seen, can never be forgotten:
Watching these commercials, it's easy to see what my mother meant when she said, as she often did, "You know, the commercials are some of the best things on TV." So they were, and I very much wish that she were alive to watch them again on YouTube. I suspect that they would fill her with the same affectionate nostalgia—and the same delight—that they now give me a half-century after the two of us first saw them together.