In today's Wall Street Journal "Sightings" column I write about a delightful souvenir of the popular side of a great American classical pianist. Here's an excerpt.
* * *
Byron Janis, who turns 89 this week, was one of what Gary Graffman, his colleague and contemporary, called the OYAPs—the great generation of "Outstanding Young American Pianists," as they were customarily described by journalists, who crowded the concert halls of the world in the years immediately following World War II. Mr. Janis, Vladimir Horowitz' first pupil, ranked high among the OYAPs, and to hear the stupendous recordings of Franz Liszt's "Totentanz" and Richard Strauss' "Burleske" that he made in the '50s with Fritz Reiner and the Chicago Symphony (both of which are still available on CD) is to be left in no possible doubt of his immense talent….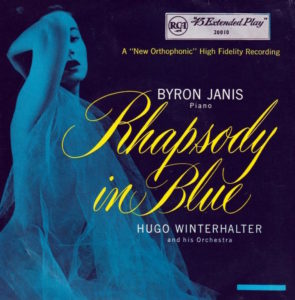 Mr. Janis's musical interests have long ranged beyond the classics. "Byron Janis Live: On Tour," a soon-to-be-released collection of previously unissued live performances of pieces by Chopin, Haydn and Liszt that were recorded between 1979 and 1999, also includes solo-piano arrangements of several of Mr. Janis' songs, thus reminding us that he is also a highly accomplished popular songwriter who, among other surprising things, has written the score for a musical version of "The Hunchback of Notre Dame."…
The biggest surprise, however, is the encore, a piano duet called "By and Cy—More Paganini Variations." On this track, Mr. Janis and Cy Coleman, a classically trained Broadway composer who wrote the score for "Sweet Charity" but started out as a jazz pianist of note, join forces to improvise on Paganini's A Minor Caprice, the familiar solo-violin piece on which Brahms and Rachmaninoff produced their own sets of variations. Mr. Janis was a celebrated exponent of Rachmaninoff's Rhapsody on a Theme of Paganini, and he also made an impressively idiomatic recording of George Gershwin's "Rhapsody in Blue" in 1953. But to hear him and Coleman blend the two pieces together (so to speak) into what Mr. Janis calls "clazz" is something else again. Taped in 1978 before an audibly delighted audience, "By and Cy" is by turns witty, bluesy, wickedly clever and staggeringly virtuosic….
* * *
Read the whole thing here.
Byron Janis peforms Rachmaninoff's Rhapsody on a Theme of Paganini with Louis de Froment and the Orchestre Philharmonique de l'ORTF in 1968:
Cy Coleman sings and plays his "Why Try to Change Me Now" on an 1957 episode of Art Ford's Greenwich Village Party: