In today's Wall Street Journal I review a Chicago revival of Leonard Bernstein's Wonderful Town and the Broadway premiere of a new stage version of Irving Berlin's Holiday Inn. Here's an excerpt.
* * *
Why isn't "Wonderful Town" more popular? It's a fizzy, festive champagne cocktail of a musical about a pair of small-town girls who come to New York to chase their dreams. The music is by Leonard Bernstein, the lyrics by Betty Comden and Adolph Green, a triple-barreled guarantee of quality. The original 1953 Broadway production ran for 559 performances, and the 2003 revival, in which Donna Murphy took over the starring role created a half-century earlier by Rosalind Russell, was similarly successful. So why doesn't it get done as often as "West Side Story"? What's not to like? Judging by Mary Zimmerman's glorious new Goodman Theatre production, the only possible answer is: not a damn thing. Flawlessly cast, wittily staged and delightfully designed, this "Wonderful Town" is good enough to hop a plane to see—and once it closes in Chicago, it deserves a Broadway run of its own.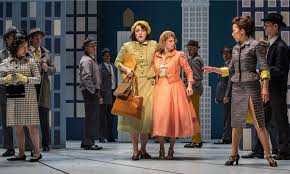 "Wonderful Town" is all about Ruth and Eileen Sherwood (Bri Sudia and Lauren Molina), two not-a-bit-alike sisters from Ohio who rent a grimy basement apartment in Greenwich Village and discover the magic of Manhattan. Ruth is a sharp-witted fledgling writer whose brains scare off men: "Just throw your knowledge in his face,/He'll never try for second base." Not so the unselfconsciously dizzy Eileen, whose charms are so potent that no one gives Ruth a second glance. That's the conflict, such as it is, and just because you know from the start that they'll both live happily ever after doesn't mean you won't love finding out how it comes to pass.
Ms. Zimmerman has directed "Wonderful Town" in the manner of her pared-down 2015 Oregon Shakespeare Festival revival of "Guys and Dolls." While the funny parts are really funny, she's fully alive to the hopeful sweetness that keeps "Wonderful Town" perpetually fresh, and her stars are on the same wavelength….
"Holiday Inn, the New Irving Berlin Musical" (that's the official title, which tells you all you need to know) is less a show than a cash machine, a cynical repurposing of the beloved 1942 Bing Crosby-Fred Astaire film that exists solely to make as much money as possible for the Roundabout Theatre Company. It's slick, synthetic and soulless, a musical full of robotic jokes and devoid of genuine romance…
* * *
To read my review of Wonderful Town, go here.
To read my review of Holiday Inn, go here.