In today's Wall Street Journal I review the Broadway transfer of Deaf West Theatre's revival of Spring Awakening and the Chicago transfer of the Aaron Posner-Teller production of The Tempest. Here's an excerpt.
* * *
It's been twelve years since Hollywood's Deaf West Theatre brought its sublime staging of "Big River," the 1985 musical based on "Adventures of Huckleberry Finn," to Broadway. I couldn't imagine going in how a mixed cast of deaf and hearing actors would manage to make theatrical sense out of a musical, but I was cheering my head off by evening's end. So I'm not at all surprised that the Broadway transfer of Deaf West's revival of "Spring Awakening," directed by Michael Arden, makes an impression that is, if anything, even more overwhelming than "Big River."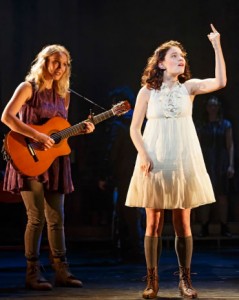 I say this even though I'm not a fan of the Steven Sater-Duncan Sheik rock-and-roll version of Frank Wedekind's 1891 play about pubescent sexuality, which I found cloyingly sentimental when it opened in 2006. Few things in theater are rarer than a production so fine that it cries out to be seen in spite of the show, but that's the case with Deaf West's "Spring Awakening": It ranks among the most emotionally charged renderings of a musical to come to Broadway in the past decade, one that all who love the genre should rush to see….
Mr. Arden's work is new to me, but I think it's safe to say that he's going to be big, not least because he has triumphantly solved the problem—so well that it no longer seems problematic—of fusing deaf and hearing actors into an indissoluble whole. Every word of "Spring Awakening" is also "spoken" in American Sign Language, sometimes individually and sometimes in chorus, and Mr. Arden has found a seemingly endless number of ways to use this convention to stunningly beautiful, almost ballet-like effect….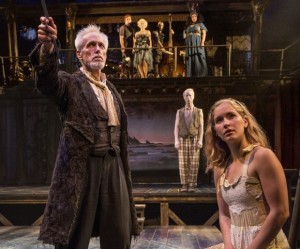 Chicago Shakespeare Theater has remounted the magic-show staging of "The Tempest" by Aaron Posner and Teller (better known as the quieter half of Penn & Teller) that I saw last year in Cambridge, Mass., and praised as "fanciful, mysterious and full of cheerily broad comedy….It is—in a word—magical."
Why review it a second time? Because American Repertory Theatre's original production featured a troupe of youthful actors who weren't quite able to make magic out of Shakespeare's verse. Not so this much more strongly cast version, in which Prospero, Shakespeare's vengeful sorcerer, is played by Larry Yando, the Chicago-based performer whose appearances in Writers Theatre's "Dance of Death" and Chicago Shakespeare's "King Lear" established him as one of this country's foremost classical actors. Once again Mr. Yando outdoes himself, giving a performance in which the sardonic rasp of rage gives way to the quiet voice of reconciliation….
* * *
To read my review of Spring Awakening, go here.
To read my review of The Tempest, go here.
The trailer for Spring Awakening:
The trailer for The Tempest: