In today's Wall Street Journal "Sightings" column I hold forth on the rise, fall, and temporary return of the Broadway musical-comedy overture. Here's an excerpt.
* * *
If you're under the age of 50 and you somehow manage to score a ticket to Lincoln Center Theater's revival of "The King and I," get set for a surprise at the top of the show. Here's what happens: The lights go down. Ted Sperling, the conductor, steps into the pit, raises his baton and gives the downbeat. The 28-piece orchestra starts playing…and nothing else happens. No singing, no dancing, no explosions. Instead, you hear a medley of tunes from the show that you're about to see, and when it's over, you're so worked up by the thrilling music and brilliant playing that you give Mr. Sperling and the orchestra a huge round of applause.
Then the show starts.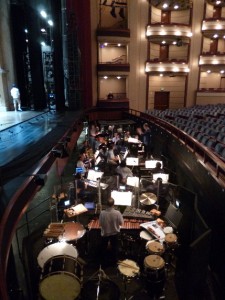 If, on the other hand, you're older than 50, you won't be surprised in the least by what I've just described. That's the way pretty much all Broadway musicals used to begin—with an extended orchestral prelude called an "overture." Most musical-comedy overtures consist of a string of instrumental excerpts from the songs of a show, played in a continuous sequence with the curtain down and orchestrated in a cymbal-crashing style designed to whip the audience into a frenzy of expectancy. And that they do, on occasion spectacularly so, as in the raucous overture to "Gypsy," whose climax is a shrieking take-it-all-off trumpet solo that never fails to bring down the house….
Broadway overtures started going out of fashion in the '60s and were all but extinct a decade later. Just as Hollywood directors of that era preferred to plunge straight into the action of a film in advance of the credits, so did prominent musical-comedy director-choreographers like Jerome Robbins ("On the Town," "West Side Story") and Michael Bennett ("A Chorus Line") decide that it was more dramatically effective to cut to the chase. Younger audiences suckled on today's faster-moving TV shows are even less likely to want to sit around for five minutes waiting for the show to get going.
But there's more than one way to start a musical. Christopher Wheeldon's "An American in Paris," for example, begins with an extended dance number that contains no dialogue, while Cy Coleman's elaborate overture to "On the Twentieth Century" is "accompanied" by equally elaborate stage action. And when you've got a full-size synthesizer-free orchestra in the pit, as is the case with "The King and I," even clock-punching millennials will surely be disarmed by the sheer beauty of its playing….
* * *
Read the whole thing here.
Leonard Bernstein leads the London Symphony in a 1989 live performance of his overture to Candide: