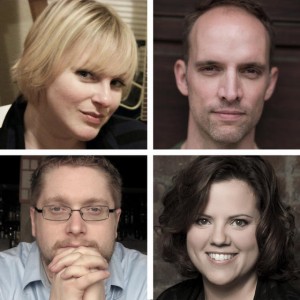 The best jazz vocal group I've ever heard just made its New York debut.
Vertical Voices began life five years ago as a collaboration between Julia Dollison, a singer of phenomenal talent, and Kerry Marsh, an arranger of exceptional skill and imagination. Inspired by the Singers Unlimited, the now-legendary studio-only vocal quartet that performed the unprecedentedly complex charts of Gene Puerling, Julia and Kerry recorded an album of big-band compositions by Maria Schneider in which they used overdubbing to sing all of Maria's original horn parts, a staggering feat of technical wizardry.
I wrote the liner notes for Observatory, Julia's 2005 debut album. Since then I've watched her blossom into an artistic maturity that even I couldn't have foreseen when I first heard her sing a decade and a half ago. I attribute this transformation to her partnership with Kerry, whose challenging charts bring out the best in Julia and whose own fine singing has grown exponentially in finish and self-assurance since they started working together.
The only thing missing from Vertical Voices: The Music of Maria Schneider was the high-wire excitement that comes from the galvanizing stimulus of live performance. So when I learned that Julia and Kerry had joined forces with Jennifer Barnes and Greg Jasperse, two talented singers of similar background and style, to perform both on record and in public, I had no doubt that something very, very good would come of it—and it has.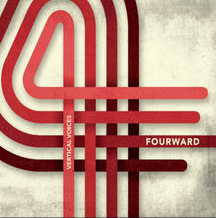 First came Fourward, a newly released CD on which Julia, Kerry, Jennifer, and Greg sing a wide-ranging, engagingly varied program of songs and compositions by everyone from Johnny Mandel to Pat Metheny, whose music, like that of Maria Schneider, has been an "integral part" (as they put it) of the inspiration for Vertical Voices. Then the quartet started appearing at vocal jazz festivals, and on Saturday Vertical Voices came to New York to sing a one-nighter at Subculture, a newish Greenwich Village nightclub that shares space with the Culture Project's Lynn Redgrave Theater, which I occasionally visit in the course of my duties as a drama critic.
Needless to say, vocal groups have come a long way since the Swing Era, but I've never heard anything like Vertical Voices. Yes, the Singers Unlimited specialized in arrangements of then-unprecedented harmonic richness, but they never dared to sing them in front of an audience, nor did they venture beyond the well-worn standards and pop tunes that were their stock-in-trade. Not so Vertical Voices, whose repertoire is unambiguously contemporary—Kerry sees to that—and which is capable of tossing off edge-of-the-seat live versions of charts that are demanding almost beyond belief. The performance of "The 'Pretty' Road" heard on Vertical Voices: The Music of Maria Schneider was laid down one track at a time in a recording studio and carefully polished to a high gloss. The version that I heard on Saturday night, by contrast, was done without benefit of headphones, overdubbing, pitch correction, or multiple takes: Vertical Voices simply stood up in front of a rhythm section and sang it, and did so with the go-for-it punch of a nineteen-piece big band. That's virtuosity.
Mere perfection, of course, is only the starting point of a great performance. It takes something else, something personal and ultimately mysterious—though the "secret" of Vertical Voices is in fact no secret at all. It's highly unusual for a close-harmony vocal group to feature a lead singer as individual-sounding as Julia. As I wrote in my liner notes for Observatory, her voice is
warm, airy, dappled with summer sunshine, technically bulletproof from top to bottom….Yet she never coasts on her chops. Instead, she sings like a horn player in love with lyrics, the way Lester Young knew all the words to every ballad he played. Her solos are pointed and meaningful, little musical stories that take you to places you've never been.
While Julia is perfectly capable of stepping back and blending with her colleagues whenever the music calls for it, her unique sound adds a personal color to all of the group's ensemble work, and each time she solos, the whole room sits up as one and takes notice. Yet Vertical Voices really is a group, not a solo act in disguise: Jennifer and Greg are first-class singers (and arrangers) in their own right, and Kerry's gorgeous charts, with their wide-spaced harmonies and tingling dissonances, are as good as postmodern vocal-group writing gets. The result was an exhilarating evening of jazz that will echo in my memory for a long, long time to come.
When the cheering stopped, I made the slow return trip to my apartment in upper Manhattan, thinking about what I'd heard all the way home. Middle age is full of discontents, but one of its consolations is that you get to see what happens to gifted young artists as they press their promise against the hard grindstone of experience. Most falter and fail, while others hold steady, but the best ones keep on growing until, somewhere along the way, they suddenly become themselves. That's what's happened to Julia Dollison and Kerry Marsh: at long last, they are everything I hoped they'd be.
* * *
To order or download Fourward, go here.
Pat Metheny's "Travels," performed by Vertical Voices. The lyrics are by Julia Dollison and the arrangement is by Kerry Marsh: