In today's "Sightings" column I write in praise of George Grossmith's Diary of a Nobody. Here's an excerpt.
* * *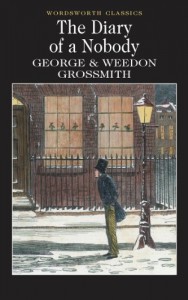 Life's hardest lessons are often learned most easily when taught with a smile. Crash Davis, the over-the-hill catcher in "Bull Durham," taught his girlfriend, a believer in reincarnation, a priceless lesson in the vanity of human wishes by asking her this teasing question: "How come in former lifetimes, everybody is someone famous?" George Grossmith, the author of "The Diary of a Nobody," put his finger on a similarly hard truth—most of us, no matter how well we may think of ourselves, are unimportant to the rest of the world—with equally diverting results.
Grossmith's book, published in 1892 with deadpan illustrations by Weedon Grossmith, the author's brother, is a fictional chronicle of the life of Charles Pooter, an obscure London clerk. He begins by asking the reader a rhetorical question worthy of Crash Davis: "Why should I not publish my diary? I have often seen reminiscences of people I have never even heard of, and I fail to see—because I do not happen to be a 'Somebody'—why my diary should not be interesting." What follows is a brilliant one-joke comedy in which an infinitely and ingeniously varied number of changes are rung on the same note. In addition to being a "nobody," Pooter is humorless and self-important—yet he thinks himself a great wit and a man of consequence. As a result, he is forever falling victim to comical embarrassments produced by his inability to see himself as he really is.
What I find most striking about "The Diary of a Nobody," though, is the cumulative pathos of Pooter's serial humiliations, with which it is impossible not to empathize. Yes, he's both preposterous and pitiful—but as you chortle at him, you're likely to ask yourself whether you might look just as ridiculous to the rest of the world….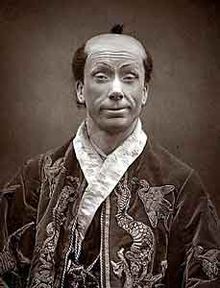 Grossmith, by the way, was better known in his own time not as a writer but as the D'Oyly Carte Opera Company's patter-song specialist, in which capacity he created the role of Ko-Ko in Gilbert and Sullivan's "The Mikado." He is explicitly portrayed as a morphine addict in "Topsy-Turvy," Mike Leigh's 1999 film about the making of "The Mikado," and the portrayal is based on 19th-century backstage gossip that appears to have been accurate. Because he died in 1912 without making any recordings, we can "know" him only from "Topsy-Turvy" and, far more important, from "The Diary of a Nobody." It's a minor masterpiece of satirical comedy, and like many other such masterpieces—as well as, one suspects, its drug-dependent author—it is also very, very sad….
* * *
Read the whole thing here.
To read The Diary of a Nobody on line, go here.
A scene from Topsy-Turvy in which George Grossmith (played in the film by Martin Savage) sings "Behold the Lord High Executioner!" at the first performance of The Mikado::