In today's Wall Street Journal drama column I review two Latino-themed productions, GableStage's abridged version of Hamlet and the New York premiere of Quiara Alegría Hudes' Water by the Spoonful. Here's an excerpt.
* * *
How do you make Shakespeare's plays more easily accessible to potentially interested people who feel intimidated by their high seriousness and high-flown rhetoric? Turning them into big-budget movies with big-name casts doesn't hurt, but it's been a decade and a half since Baz Luhrmann's "Romeo + Juliet" rang the box-office gong, and it's far from clear that such films actually persuade many of those who view them to try seeing a Shakespeare play onstage. My guess is that the only way to make the sale is to lure the customer into a theater for a live performance. So what's the best way to bring that about?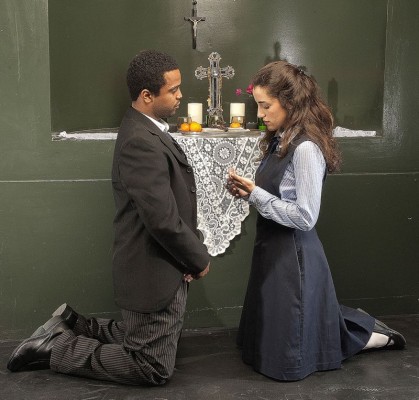 GableStage, a lively and accomplished company located in Coral Gables, a suburb of Miami, is putting on a "Hamlet" specifically designed to do the job. Originally created by Tarell Alvin McCraney for London's Royal Shakespeare Company, it's a multi-racial modern-dress version that runs for 90 intermission-free minutes, nearly three hours shorter than an uncut production. The unhappy Dane is played by a Latino actor, Edgar Miguel Sanchez, who carries a knife in a shoulder holster and is in love with a jumper-clad Ophelia (Mimi Davila). Fear not, though: Mr. McCraney isn't trying to turn the most admired of all classical verse dramas into "2B or Nt 2B." Except for a sprinkling of Spanish-language lines, this "Hamlet" is devoid of high-concept gimmickry. What's more, it's acted on an Elizabethan-style stage by a cast of eight performers–and it moves fast.
It stands to reason, of course, that a 90-minute "Hamlet" can't be poetic other than in passing. The members of Mr. McCraney's cast reportedly refer to his production as "Hamlet, the Action Movie," and that's pretty much what it is, except that the dialogue is a lot better and nothing blows up. The staging is satisfyingly spare and direct. The occasional touches of slapstick don't work very well, but otherwise it's played straight down the center, ending with a sensational fight scene….
The first ten minutes of "Water by the Spoonful," Quiara Alegría Hudes' Pulitzer-winning play about recovering drug addicts who hunger for a sense of community, contains phrases like "dial the digits" and "tappin' some extra on the side" and references to Whole Foods, quinoa, recycling, and texting, at the end of which we find ourselves in a chat room for crackheads. Rarely will you see a serious play–and this one is deadly serious–that tries so hard to sound up to the minute. Once you get used to the constant rattle of contemporaneity, though, you'll likely find much of "Water by the Spoonful" to be genuinely involving. Be forewarned, though, that it's a little bit sentimental and more than a little bit earnest, at times to the point of outright humorlessness….
* * *
Read the whole thing here.