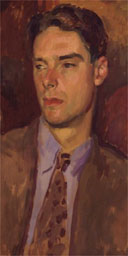 If you visit this blog more than occasionally, you've been encouraged numerous times to read A Dance to the Music of Time, Anthony Powell's twelve-volume roman fleuve about twentieth-century England, which was originally published between 1951 and 1975. In 2004 I wrote an essay about A Dance to the Music of Time for the New York Times Book Review in which I praised it in the strongest possible terms.
Should you need a stronger push, Levi Stahl, an accomplished litblogger who works for the University of Chicago Press, advises me that effective today, all twelve volumes of Dance will become available as e-books and will be marketed on all existing e-book platforms. What's more, A Question of Upbringing, the first volume in the cycle, can be downloaded for free. No catch: it's yours. The eleven other volumes will cost you eight bucks apiece.
This is, in my opinion, an absolutely brilliant piece of marketing, and I cannot commend it to you too enthusiastically. For more information, go here and here, then get cracking. You won't be sorry.