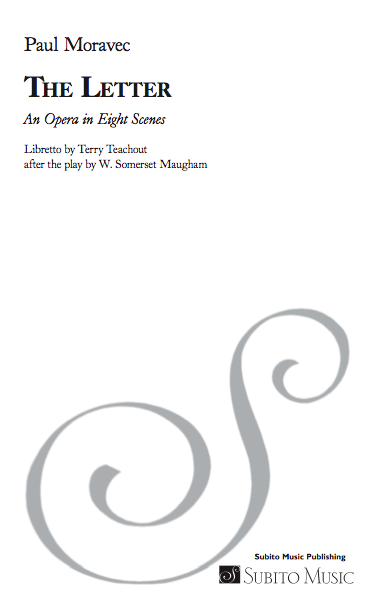 This is the cover of the orchestral score of The Letter, which will be published by Subito Music. Paul Moravec and I are still proofreading what's inside, but we passed the cover for publication on Tuesday.
I've written or edited seven books in the past twenty years–Pops: The Life of Louis Armstrong will be the eighth–and one of the many things I've learned along the way is that few things in life are more exciting than seeing the dummy of a dust jacket that has your name on it. For me, at any rate, that's the first moment in the publishing process when a book starts to seem real.
The Letter, by contrast, has seemed real to me ever since the Santa Fe Opera workshopped the first six scenes in front of a live audience last March, and it became realer still in December when Paul and I got our first look at Hildegard Bechtler's set designs. Yet my heart still beat a little faster when I opened up the e-mail from David Murray of Subito Music that contained the cover design for The Letter. No, it's not especially fancy, but it seems to me both elegant and suitable. And…real.