DECEMBER 31 Mrs. T and I loaded our car late in the afternoon and drove through a slippery snowstorm from rural Connecticut to LaGuardia Airport, where we holed up in a just-adequate hotel. We were still quivering with retrospective anxiety as we fell into our rock-hard beds. No part of our four-hour journey was pleasant.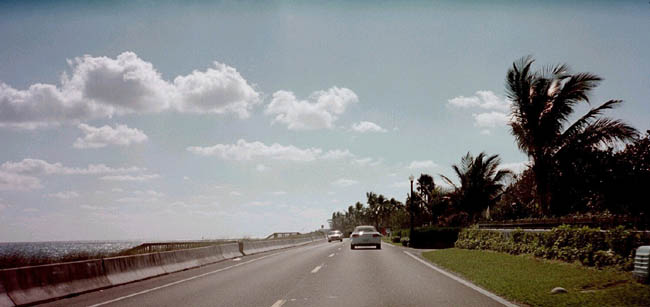 JANUARY 1 After breakfast we crossed the Grand Central Parkway, staggered onto a waiting plane, and embarked on the first leg of my first reviewing trip to Florida. I've never flown from New York City to Palm Beach in January (or at any other time, for that matter). It was an instructive experience. The temperature was 20 when we got on the plane and 71 when we got off it.
We spent the afternoon driving up and down Ocean Boulevard, the sometime home of Rod Stewart, whose hedges were pointed out to us by our host, a New York City Ballet dancer who hung up his slippers to become a dance photographer. We goggled at the villas and the view, noting the close resemblance of everything we saw to everything that Donald Westlake described in Flashfire, a Parker novel that takes place on Billionaires Row, the richest, snootiest part of Palm Beach.
After dinner we returned to our borrowed apartment on Ibis Isle, where I checked my e-mail and discovered that Westlake had died the night before. A line from Champagne for One, the Nero Wolfe novel that I was reading, popped into my mind: "In a world that operates largely at random, coincidences are to be expected, but any one of them must always be mistrusted."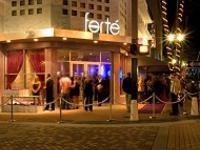 JANUARY 2 A late sleep, a late lunch, a leisurely walk on Midtown Beach (open to the public!), a drive across the Southern Boulevard Bridge to Palm Beach Dramaworks, where we saw Eugène Ionesco's The Chairs in an eighty-four-seat theater, followed by a late supper around the corner at Forté di Asprinio, where the food and décor are soooo trendy but the staff is both friendly and obliging. Mrs. T took a bite of my pappardelle, which was very tasty, and announced that it was the first time she'd eaten rabbit. "No more bunnies for me," she said firmly.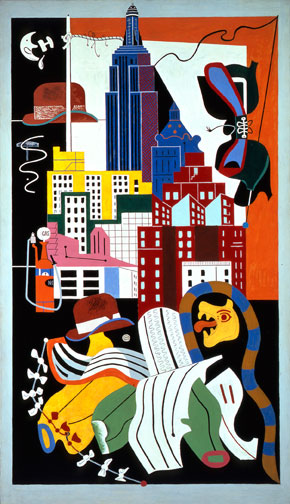 JANUARY 3 To Coral Gables by way of the Norton Museum of Art. One of the nice things about smallish regional museums is that they tend to have most of their best pieces on display, so we got to see Stuart Davis' "New York Mural." Davis is one of my favorite American painters–I own a copy of his last screenprint–and this canvas, painted in 1932, is a choice example of his mature style. Surrounding it were equally fine pieces by Charles Demuth, Arthur Dove, Marsden Hartley, John Marin, and Charles Sheeler, and a gorgeous 1962 Richard Diebenkorn painting called "Mission Landscape" hung in the next gallery.
Our final destination was the palatial Biltmore Hotel, whose Web site discourses at length on its glory days:
In its heyday, this Miami luxury resort played host to royalty, both Europe's and Hollywood's. The hotel counted the Duke and Duchess of Windsor, Ginger Rogers, Judy Garland, Bing Crosby, Al Capone and assorted Roosevelts and Vanderbilts as frequent guests. Fashion shows, gala balls, aquatic shows by the grand pool and weddings were de rigueur as were world class golf tournaments. A product of the Jazz Age, big bands entertained wealthy, well-traveled visitors to this American Riviera resort.
Today the Biltmore is, among other things, the home of GableStage, which is giving the regional premiere of Adding Machine, whose off-Broadway production I reviewed in The Wall Street Journal last February:
This Chicago-to-Off-Broadway transfer, adapted by Jason Loewith and Joshua Schmidt from the 1923 play, takes Elmer Rice's once-iconic, now-forgotten story of a beaten-down bookkeeper who hates his wife and murders his boss and turns it into a one-act techno-minimalist opera of near-arrogant sophistication. Would that Mr. Schmidt's score were as memorable as it is slick, but the small-scale production, directed with awesome self-assurance by David Cromer, is so effective that you almost forget how forgettable the music is. Every other piece of this brainy little show, from cast to sets to lighting, is as close to ideal as you can get. While I never quite managed to shake the impression that I was seeing a graduate project of genius rather than a fully mature work of art, don't let that stop you from heading downtown to see "Adding Machine." It may be heartless, but it's the opposite of dull.
One of the frustrating aspects of my job as a drama critic (there aren't many) is that I rarely get to see good shows twice. Even though I had my doubts about it, Adding Machine made so strong an impression on me that I wanted to see it again as soon as I possibly could, which was one of the reasons why I opted to spend the first part of January covering theater in Florida.
I was also amused by the contrast between the cultural reputation of south Florida, which isn't exactly eggheady, and the decidedly intellectual tone of the three shows that I came here to see. You can't get much more highbrow than The Chairs, Adding Machine, and Brian Friel's Dancing at Lughnasa, which opens in Fort Myers on Friday.
(To be continued)