In this morning's Wall Street Journal drama column, I report on my recent visit to the Alabama Shakespeare Festival, where I saw two shows, The Count of Monte Cristo and Romeo and Juliet. Here's an excerpt.
* * *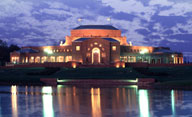 No sooner did Broadway close up shop for the season just past than I hopped a plane, rented a car and drove to ASF's unlikely home, a handsome cultural park plopped down in the middle of suburban Montgomery that you reach by driving past a Waffle House and turning left just before you get to the Best Buy. That's how the locals steer you to the Carolyn Blount Theatre and the Montgomery Museum of Fine Arts, which are located at opposite ends of a 250-acre plot of golf-course-green grass.
I was in town long enough to take in two of the company's three current offerings, and I freely admit that I wasn't there to see "The Count of Monte Cristo." To be sure, Alexandre Dumas' once-popular 19th-century tale of derring-do among the rich and venal has also had a long stage life, but no matter whether you take it in as a novel, a play or a movie, "The Count of Monte Cristo" remains a melodramatic period piece that, like "The Scarlet Pimpernel," is now mainly enjoyed by children of all ages. Little did I know that Charles Morey's 1998 stage version is an impeccably solid piece of theatrical work, and ASF is performing it so vividly that I ended up finding the whole thing thrilling from swash to buckle….
Mr. Morey, the artistic director of Salt Lake City's Pioneer Theatre Company, has squeezed Dumas' 1,400-page blockbuster into a shapely two-act play that rattles along at a near-cinematic rate of speed. His staging is notable for the complete absence of the self-parodic touches that you'd expect from a present-day production of a 19th-century costume drama. No eyes are winked, no mustaches twirled: Mr. Morey's cast plays it as straight as a stick, inviting us to experience "The Count of Monte Cristo" not as an exercise in postmodern sniggering but a heartfelt cautionary tale of how even the most heroic of souls can be shriveled beyond redemption by the desire for vengeance….
ASF is also offering a piping-hot modern-dress version of "Romeo and Juliet" jointly staged by Geoffrey Sherman (the company's artistic director) and Diana Van Fossen that is set in South Florida. Elizabeth Novak's "Miami Vice"-style costumes run to skin-tight jeans and stiletto heels, and the youthful cast wields daggers and Palm Pilots with identical aplomb. Such updated stagings are less common in the Deep South than elsewhere on the summer-festival circuit, and I heard a fair number of older folks expressing a certain amount of befuddlement at intermission. The youngsters in the audience, by contrast, had no trouble whatsoever getting the point, which is that Shakespeare is (A) exciting and (B) sexy….
* * *
Read the whole thing here.