In today's Wall Street Journal I review two very different shows, In the Heights and The Seagull. Here's a sample.
* * *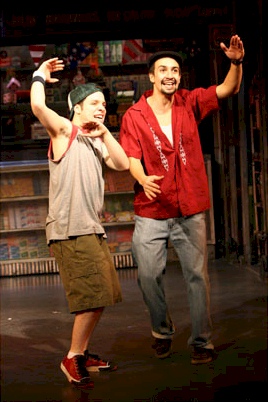 The hit of the year is here. "In the Heights," the Latino musical that tore up Off Broadway last season, has transferred to Broadway in a revised version that is without doubt the slickest show in town. This high-stepping tale of immigrant life in the Upper Manhattan barrio throbs with self-confidence, and its theatrical craftsmanship is gleamingly immaculate. If it's originality you want, go elsewhere on the double, but if all you require of a musical is an evening of ultra-familiar plot devices buffed to the highest possible gloss and revved up to hypersonic speed, you're in luck and then some….
If life were fair, Classic Stage Company's version of Anton Chekhov's "The Seagull" would move uptown, settle into one of Broadway's smaller houses, and run for a year. Instead, you have a month to catch it, so don't wait. It's been a long time since New York has seen a classical revival comparable in quality or immediacy.
Much of the strength of this engrossing production lies in the fact that it was staged by Viacheslav Dolgachev, who spent a decade as the leading director of the Moscow Art Theatre, the company with which Chekhov's plays are most closely identified. Yet except for Alan Cumming, who plays Trigorin, everyone in the cast is more or less American, and the play is performed in Paul Schmidt's clean, colloquial English-language version, which Mr. Schmidt aptly describes as "an American translation, not simply another 'English' translation." The blending of Russian emotionalism with American directness is what gives this "Seagull" its distinctive quality: It sounds American, yet feels Russian….
* * *
Read the whole thing here.