I was completely won over by Eran Kolirin's The Band's Visit. Unassuming but quietly wise, this little movie from Israel and France appears to have come and gone from New York already, but it opened in Chicago last weekend and one can hope it is playing in other cities now as well. If you get a chance to see it, don't miss out.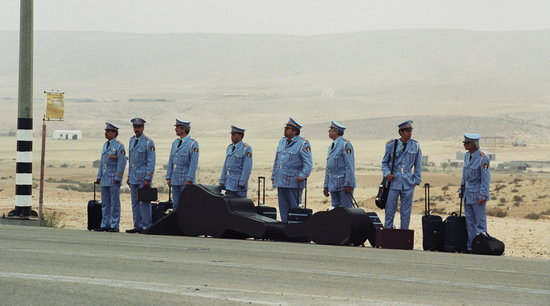 Eight Egyptian policemen, who comprise the Alexandria Police Ceremonial Orchestra, travel to Israel to perform at the opening of an Israeli-Arab cultural center. The opening scenes find them negotiating with difficulty but with dignity the challenges of a foreign airport, identically dressed in stately powder-blue uniforms. In the movie's signature image, they stand in a row in an empty landscape, waiting. Each carries a standard black suitcase and his instrument, from a large, curvy double bass case to a small, boxy clarinet case with many sizes and shapes in between. The dry comedy of this image–a little reminiscent, to me, of a William Booth cartoon–characterizes a good deal of the movie, in which the band gets lost on the way to their concert in a sort of fortuitous, or at least adventurous, detour.
The movie has its somber side, too, leavened but not dissolved by the gentle humor it finds in simply observing, with a certain patience, human behavior. There's much to be said about the delicacy with which it probes relationships, especially the particular intimacy that can take hold between two people who were strangers yesterday. But that's better experienced by you than broken down by me, and there's something else that I want to point to here: the film's capacious view of what it is to be an artist.
The men in the Alexandria Police Ceremonial Orchestra–which their leader, Tawfiq, refers to by its full name almost without exception–are a staid and well-ordered bunch. They are, after all, policemen. You might not see them, at first blush, as true artists. They're a far cry from being free spirits. But as the unfolding plot reveals–and the joyous last scene, in which they play gloriously for a crowd of delighted faces, confirms–they're most serious and passionate musicians underneath the regalia. Even that's not quite right, though: the very point is that they're serious and passionate musicians in their regalia. Their vocation and avocation aren't separate. Early in the movie, the incongruity of "Alexandria Police Ceremonial Orchestra" plays for gentle laughs. By the end, "Police" and "orchestra" coexist frictionlessly–they make perfect sense together.
Also surprising is the movie's treatment of what you might expect to be its central subject: friction between the Israeli characters and their Egyptian visitors. But political friction is not what this movie is interested in. To be sure, Kolirin acknowledges this tension in subtle, fleeting ways. But, though you're highly attuned to its possibility as the movie begins, by the end it's displaced by the spectrum of other, more interesting ways hosts and visitors have found to relate and react to one another.