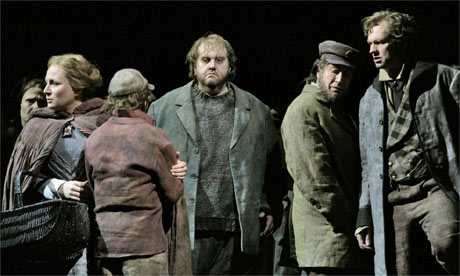 I'm in Cambridge, Massachusetts, and it wasn't easy getting there, either. Last week I saw Caryl Churchill's Drunk Enough to Say I Love You? at the Public Theater and Mark Morris' production of Purcell's King Arthur at New York City Opera. On Saturday morning I took a train to Philadelphia, where I met Ms. Household Opera for lunch, then took her to the Metropolitan Opera's high-definition closed-circuit live movie-house telecast of Benjamin Britten's Peter Grimes, which we viewed in an amusingly pretentious theater. (I'll be writing about the experience in my next "Sightings" column.)

As soon as the show was over, I headed straight to the Philadelphia airport and flew from there to Boston, then drove to Cambridge, where Mrs. T awaited me. Yesterday afternoon the two of us saw the production of The Tempest that I'll be reviewing in Friday's Wall Street Journal, then dined at the home of the jewelry designer who made the one-of-a-kind engagement ring that is now to be found on Mrs. T's finger. Not only is she a fabulous cook, but she has an excellent boyfriend to boot.
Later today we'll be heading back to our hideout in Connecticut, where I plan to spend the week sleeping late and working on Rhythm Man: A Life of Louis Armstrong, which got short shrift while I was preoccupied with my opera workshop. On Thursday we return to New York, on Friday Our Girl in Chicago pays us a house call, and on Saturday the three of us go to Baltimore to see CenterStage's production of Stephen Sondheim's A Little Night Music. Whew!
All this incessant activity is likely to slow my blogging for the coming week, but I'll do what I can, and CAAF and OGIC will do the rest.
See you in passing.