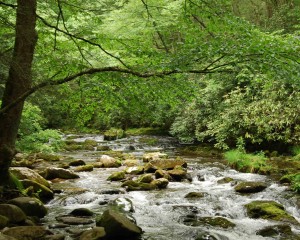 The New York Times has an 'Opinionator' series asking 'Is Streaming Good for Musicians?' It's a narrow question, since in any dispassionate analysis 'Is Streaming Good for People Who Listen to Music?' would also factor into the evaluation of this technology. That said, let me try to broaden the debate a little bit.
As a thought experiment, imagine a very, very large musicians' co-op, one that was able to deliver songs digitally to listeners, without separate companies called 'record labels', without 'distributors', without 'Spotify' or 'Pandora'. Also suppose that this co-op has worked out a way to share any revenues amongst its members (we will sort out this question later on). How should the co-op sell songs to customers? Should customers have the ability to sign on for free, but pay per every song or album download? Or should customers pay a monthly fee to listen to all the music they want? Or should there be something in between, some combination of sign-up fee and price per download, with the understanding that the more listeners are asked to pay per song or album, the less they will be willing to pay to sign up?
The picture I have just drawn is known in economics (and to my Arts Administration students!) as the two-part pricing problem, also called (by the late economist Walter Oi) the 'Disneyland dilemma': what do you charge people to enter the fairgrounds, and what do you charge per ride? The solution is (1) first solve the problem of pricing 'rides', to which the answer is charge per ride whatever is the marginal cost to you of supplying the customer with a ride, and (2) charge general admission according to the price that maximizes revenues (assuming there is no cost to you of letting an extra person into the fairgrounds), given the ride price you have set (remember, what people are willing to pay to get in depends on what price you charge for rides). If the cost to you of putting one more person on a ride is zero, then let rides be free, and charge the admission price that maximizes revenues given that rides are free (which is, in fact, what Disneyland does).
What is the logic? Suppose it doesn't cost you anything to put someone on a ride, but you charge $2 per ride anyway. Then whatever customers you get go home from the fair once diminishing returns have set in, and they are no longer willing to pay as much as $2 for one more ride. But they might be willing to pay something, even if not $2. If you had a lower ride price, they would stay around and enjoy a few more rides. And you could capture how much they benefit from this in your admission fee. Charging too high a price for rides leaves money on the table – lower the ride price and increase the admission fee.
Now let's leave Disneyland and return to digital recordings of music. Here, a customer listening to a song over the internet is like a 'ride', and the cost to our musicians' co-op in delivering this song to the customer is virtually zero. The Disneyland solution suggests that individual songs would be free, but with a subscription fee to sign in.
From that perspective, streaming services for music make a lot more sense – and not just for listeners, for the production side too! – than the iTunes model. Indeed, research (see this article from 2009 in The Economist) found that, at the time, the Apple model would be better for both the firm and consumers with an 'admission fee' and a much lower price per individual song (The numbers will have changed by then, but the economic logic remains).
So … there is something to be said for a pricing model that looks like streaming over a pricing model based on per album or per song, with no sign-up fee. And this is true for both listeners and for the production side of the market.
So why all the fuss over Spotify? Because of course we don't have a musicians' co-op that writes and records songs and aggregates them and delivers the package to consumers: we have songwriters and performers and labels and distribution companies, each of whom wants a better share of what customers are willing to pay for music. Fair enough: this was true in the days of radio and LP records too. And I would expect this to evolve – this is all very new after all, and in any new system there are bound to be conflicts over who gets paid what (the history of the arts and media has many, many stories like the current dispute over Spotify).
But in many cases a 'streaming' type of payment system is what has worked, albeit alongside (expensive) systems for single purchases – think of newspaper and journal subscriptions for example, which for most producers sell all-you-can-read subscriptions rather than selling everything by the article.
And that's what I think is wrong with so much that has been written lately about Spotify (which has replaced Amazon this month as the big-business bad guy in the arts). It's not really 'streaming' that is the issue – as I have tried to show above, there is a lot to be said for it. The dispute is about one firm and how revenues are divided, but that is too limited a view.
UPDATED: Good post from Joshua Gans on whether we get better outcomes with only a few big labels negotiating with streaming services, or many independent labels and artists each pursuing their own deal, including the ability to remove all content from the service, a la TS.
UPDATED (November 11): And more from Joshua Gans – another very interesting piece. An excerpt:
Bought music is a durable good. But, importantly, for the past decade (and it has really only been a decade) it has traversed the S-curve for market adoption of digitised music. What I mean by that is that digital music took a while to take off. Then with the iPod and especially with the iPhone/Android, music players grew to ubiquity. More recently, however, the growth in those devices — at least in the US — has tapered off. Bought music is a complementary good to this change. If I were to imagine a potted model whereby people get a new device and with it buy lots of their favourite music to go on it, during the rapid adoption phase we will see even faster growth in the complementary product (bought music) then when that tapers off there will be areduction in music bought. I am sure streaming services have had an effect but I would really like to see a careful study that established this as I think the usual technology adoption path is likely to be the bigger effect.
In other words, let's not overestimate the effects of music streaming; paid downloads were bound to taper off regardless.