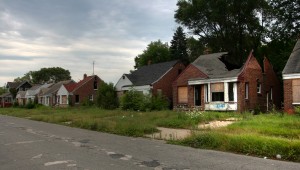 In the United States, most public funding for the arts happens at the local, rather than the state or federal, government level. And there are good reasons for that; this is a big, diverse, dispersed country, and local arts councils are best placed to respond to residents' tastes and cultural traditions.
What kind of city design best facilitates a lively cultural scene? I had always thought of density as key – lots of residents around a core give the opportunity for various amenities – culture, cuisine, shops – to generate income and interest, leading to pleasantly busy (and, in turn, safe) sidewalks and a happy citizenry. I still think that's true, but two articles I read this week made me realize another factor: density also contributes to less expensive provision of government services. Low-density suburbs are costly to maintain, since they need lots of street and sidewalk repair, policing and fire services, and transportation. When such areas suffer falling incomes, and falling property values, local government is put in a fiscal bind. In that situation, it cannot afford to invest much, if anything, in cultural life.
In Slate, Reihan Salam looks at suburbs, and how low-income suburbs such as, for example, those surrounding St. Louis, have no good sources of local government revenue, and that this can lead to government finance by police forces and the court system. I don't need to go over the possible outcomes here – we have all seen. Highly recommended article.
And Reuters has this sobering assessment of Detroit's finances. Detroit is, as Salam notes, much like a giant suburb – lots and lots of square miles of detached single-family homes. But servicing all those square miles is very expensive, and when residents leave, when property values are in the basement (so to speak), city government is in a terrible financial situation even with the most competent administrators, not one that easily allows for the local support of major, or even minor, arts organizations.