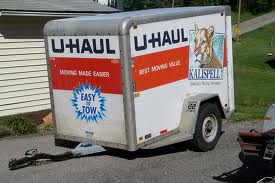 There lies a contradiction within us. As teachers, mentors, coaches, friends, parents, we encourage people to pursue their dreams, to strive, persevere, don't give up. We reward and praise determination, the kid who 'sticks with it.' And we should – these are excellent qualities in a person, very worth fostering. But at the same time we know that there are circumstances when, in fact, the time to 'stick with it' is past, when the costs of continuing to strive for success, in a career path, an artistic pursuit, a relationship, vastly outweigh the potential benefits. But so conditioned are we to think of quitting as a sign of weak character, that we can stay with projects long after they should have been put on the shelf. Even we economists often have trouble grasping that our sunk costs are indeed sunk, that it is time to move on.
In today's New York Times we hear from Bren Smith, a 'shellfish and seaweed farmer on Long Island Sound.' He is a former college student (as evidenced by his student debt), and is struggling to make a go of it in his farming business:
To make ends meet as a farmer over the last decade, I've hustled wooden crafts to tourists on the streets of New York, driven lumber trucks, and worked part time for any nonprofit that could stomach the stink of mud on my boots. Laden with college debt and only intermittently able to afford health care, my partner and I have acquired a favorite pastime in our house: dreaming about having kids. It's cheaper than the real thing.
His solution is that the government, and his fellow farmers, ought to do something, in fact a lot of things:
It's not the food movement's fault that we've been left behind. It has turned food into one of the defining issues of our generation. But now it's time for farmers to shape our own agenda. We need to fight for loan forgiveness for college grads who pursue agriculture; programs to turn farmers from tenants into landowners; guaranteed affordable health care; and shifting subsidies from factory farms to family farms. We need to take the lead in shaping a new food economy by building our own production hubs and distribution systems.
He also lauds the farmers' groups of the past who fought for 'stabilization of crop prices', i.e. higher food prices for the consumer. But there is another solution, one he does not want to consider, but that is held in the headline of the article (a headline he did not necessarily write, but that is the truest thing here): get out of this business. It is not a market or policy failure that it is hard to make a living as a seaweed farmer. That's a function of how much seaweed consumers want to buy, and how much is being supplied. The returns to this enterprise are simply not there. And it is very, very hard to make the moral case that consumers ought to pay more for food, and that someone else ought to cover his student loans, so that Mr Smith can pursue his dream of being a farmer.
He is in the Times in the first place because there will be so much sympathy; the little guy against a big, impersonal economy. But he doesn't need to be there, he has choices.
And this is where this becomes an arts story. Because it has always been that there are more young, and even not-so-young, people who dream and strive to make a living as musicians, painters, writers. And they are all encouraged to pursue their dreams. But we know that they all can't succeed – that what people are willing to pay for records, paintings and essays is not enough to allow everyone who wants to to make a career – or even a 'living wage' – out of this. That's not a function of the internet, or Amazon.com, or music streaming. It has always been so.
I have great empathy for those who so deeply want to succeed as an artist, who want to keep that dream alive. The plea from the editors of N+1 for publishers to treat their writers with decency is quite right. But not everyone who wants to be a writer is going to make it. And that's not a problem for arts policy to solve, for there isn't a policy solution to it. The living wage at being a musician or writer can't be guaranteed, can't be made to happen. It never could.
The good news is that there are other choices. The unemployment rate for college graduates remains very low, the long-run returns to a degree are high. There are a lot, too many, people in this country who are born into situations where the opportunities and choices are meagre. But that is not the case for people with education and a talent for writing and for art. They might not be in the jobs that were dreamt of as undergraduates. But there are many opportunities to make a difference in this world, to do people good.