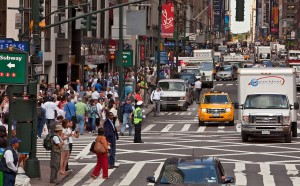 Yesterday I came across a ranking of the 'top 20 US cities for culture', from the real estate blog propertyshark.com (no, not one I usually follow, h/t Ted Gioia). The internet loves to produce listicles, and diminishing returns have long set in when it comes to ranking cities. But this one raises an important issue for researchers of the creative economy.
It ranks cities according to cultural venues (museums, libraries, theatres) per capita. Their reasoning:
And while New York City has an impressive number (2,693!) of such properties — considerably more than runner-up Houston, TX with 1,890 cultural venues — that doesn't necessarily propel it to our top spot. In fact, if we were to solely take into account the number of venues, Memphis, TN would be the least equipped major city in the U.S. for cultural and recreational activities, with merely 115 venues.

But a bigger population means more people are sharing the venues…
But let's think about that. In the city where you live, how much does the number of venues per capita matter to you, rather than, say, the number of venues that are easily accessed from your home? If you wanted to travel to take in some culture, would you prefer New York City, or Jacksonville, Florida, the latter of which has, according to this list, more venues per capita? Of course New York has more to offer. And those offerings are not diminished by the fact that they are shared by a very large metro population.
Now, a study from a real estate blog might seem like pretty small game. But let's think about something more influential.
In Richard Florida's game-changing book The Rise of the Creative Class, his appendices rank cities according to the number of 'creative class' workers, or even the 'super-creative core', as a percentage of all workers. Is this how we ought to measure the creative potential of cities? For large regions, that puts Hartford, CT, and Kansas City, MO ahead of New York City (pp. 246-7). I believe the numbers – that's not the problem. It's that looking to per capita, or per worker, doesn't capture the creative potential of cities. New York has a lot of non-creative-class workers, which pulls its index down. But why should that matter?
As with the propertyshark rankings of cultural venues, so with creative workers I would guess that the sheer number per square mile might matter a lot more in terms of the things that matter, namely the chance for creatives to meet and potentially learn from or collaborate with one another.
Increasingly, there is a lot of data out there, and a real interest in cities and their creative and economic possibilities. But that means we need to think carefully about the measures that best capture what it is we want to analyze. Total population data is really easy to find, but it is not clear it is really what we always want.