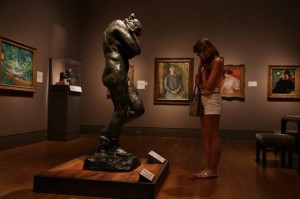 Scott Sumner reckons the cost to the City of Detroit in owning (or giving away to a nonprofit) the collection at the Detroit Institute of Arts is about $185 million per year. He obtains this number not through looking at the cost of maintaining the collection, and paying the necessary personnel and building costs, but simply through foregone interest, assuming that cash invested in financial instruments could yield 5% return per year, and that the art could be sold for $3.7 billion. If we lower the assumed 5% and/or $3.7 billion, then the $185 million per year figure also falls – the math is simple.
But the concept isn't. Let me give an example. A couple I know just recently sold their home in Vancouver, Canada. They had become 'empty-nesters', and considered moving to an apartment. They owned the house outright, having paid off over time a 30-year mortgage, bought for a low price in 1970. The average house price in metro Vancouver is now $670 thousand. They had become used to the pleasure of having no mortgage payments to make, but were now facing the prospect of paying rent to a landlord. Could they afford the expense? After all, except for property taxes and maintenance, they could live 'for free' in the house.
But that's a mistake. Living in a house in Vancouver, even with no mortgage, is very expensive. That's because you have, on average, $670 thousand dollars of capital tied up that could otherwise be earning a return elsewhere. There is an opportunity cost to having your capital invested in home-ownership, even when you have no mortgage. And that must be taken into account when comparing renting vs owning (as this handy calculator from the New York Times does).
And so, in thinking about the ownership of a significant collection of art by Detroit (or any city), the opportunity cost of the capital should be taken into account, along with all the other costs and benefits of preserving the collection in that place.
Does that mean they ought to sell the art? I'm not saying – I don't have special insight into how people of that city value having the collection. Should they consider all the costs and benefits in making the decision? Absolutely.