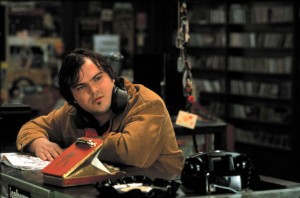 I used to love going to record stores when I was a teenager. I couldn't buy much – a back-of-the-envelope calculation tells me it would have taken me 3 or 4 hours of work at my Saturday job at the Oasis Car Wash (it's still there!) to afford one LP – but it was enjoyable to browse, and make the occasional carefully selected purchase. When my friend Mike and I would make the drive from Vancouver to Seattle we would always make a point of going to the neighborhood around UW where there was a handful of used-record shops.
So I am not completely unsympathetic to those who hope for a revival of the record stores of old, with stacks of vinyl. But this story from the Chicago Sun-Times, 'Retailers bring back the scene with Record Store Day' strikes me as iffy. Buried in the story of indie record stores making a comeback, expanding floor space, hiring staff, is this:
Independent record stores, while growing, still represent the underdog regarding the ways consumers purchase music today. While digital sales accounted for more than 60 percent of recorded music revenues in the U.S. in 2013, according to the London-based International Federation of the Phonographic Industry data, physical sales accounted for 30 percent, or $1.35 billion.

Where those physical sales take place: Largely at mass merchants like Walmart (14.1 million units sold in the first quarter of 2014, according to Nielsen SoundScan); chains (7.5 million units); non-traditional CD merchants like Starbucks (8 million); and independent record stores (4.1 million units). All outlets posted recent declines in sales, but if there is a silver lining for local indie shops, it's that their declines (16.6 percent) are much less than chains and mass merchants (24 percent each).
Sales at indie stores declined 16.6 percent. The time frame isn't clear in the story, but still: a decline in sales by 16.6 percent. In other words, the anecdotes about successful stores are not illustrative of the larger truth about industry trends. More and more we shop online, not just for downloads but also for disks.
This is not a bad thing! Online shopping for records and books gives buyers a huge selection at good prices. It's good for music listeners and book readers. Reporters covering record stores and book stores tend to focus all their attention on the entrepreneur trying to make a go of running a store while neglecting the much larger story of the vast degree to which music and literature has become more accessible for customers. Why has what we listen to, what we read, taken a back seat to laments for the decline of brick-and-mortar shopping? There has never been a better time to obtain music recordings and books.