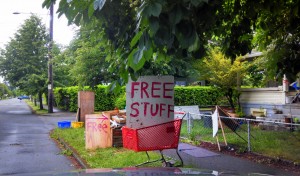 At Slate, Matt Yglesias reports on attendance at a WNBA game in DC, wondering why the stands are not full:
Now it's easy to tell a story where the demand just isn't that price-responsive and so the revenue-maximizing price doesn't generate sellouts. But this is what price discrimination is for? Where's the senior discount? Where's the kids discount? And heck, just give tickets away for free. I'd be trying to find every girls sports organization in town and give them blocks of free tickets. You'd make some money at the concession stand, you'd make the game experience more enjoyable for the other paying customers since there'd be more people cheering, and it'd be an investment in building a future fanbase by getting kids into the arena when they're young. The closest they seem to have to a price discrimination strategy ismoderate discounting of large groups buying over 15 tickets.
I've often wondered more or less the same thing about Wizards games where they routinely don't come close to selling out in recent years and thought proprietors of low-quality NBA pricing could learn a lot from airlines who try very hard to avoid flying half-empty airplanes. But the men's team always comes close enough that it doesn't actively detract from the fan experience, so I figured maybe they know what they're doing. With the Mystics, though, even though they're clearly aware of the basic concept that you charge less money for a less-popular product they really don't seem to have grasped the idea that the marginal cost of filling a seat is about $0. You've gotta do something to get people in there, cheering and buying chicken fingers.
He's right on the marginal cost of filling a seat being next to nothing, and that's going to be the case for the majority of arts organizations as well, save for very crowded museums and festivals. And he's right that the point of price discrimination is to try to fill those empty spaces while not giving all the seats away for free, but charging a price to those who are in fact willing to pay.
But the fact is that arts (and sports) organizations can't always fill the house even by giving away tickets. Attendance at a concert or museum is costly to the customer even with free admission, because there are costs of time and travel to consider. If someone gives me a ticket to a play, I still have to consider the cost to me of using my evening at the theatre rather than elsewhere, and the time of getting to the theatre and back. And sometimes it just isn't worth it. Ask yourself: how many cultural and recreation activities are available in your town, with no admission fee, that you simply do not attend? If, like me, you are only allotted 24 hours in a day, there will be many. Even physical goods come with a storage cost, such that when offered "free" goods we often turn them down – they are not worth the space they would occupy.
Okay, none of the above counts as a brilliant new insight. But there is a lesson in there. The point of strategic pricing is gain what revenue you can from those who value what you present highly enough to be willing to spend their time with you. Lowering prices across the board, or use of price discrimination strategies, can increase your audience, and perhaps your revenues, up to a point. But strategic pricing cannot solve all revenue problems. Because it remains that the majority of the local population will not attend your exhibitions, even if the admission price is zero.