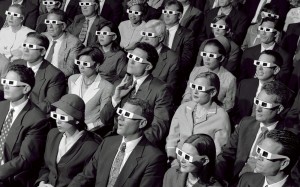 At the Freakonomics blog, thinking about how to generate revenues from creative goods when digital copies are so readily available:
Products – especially digital ones – are often very easy to copy. But experiences can be highly copy-resistant.  Just think of music: it's easy to pirate a song, but it's very difficult to effectively pirate a live show.
The Los Angeles Times reports on a package deal to fans waiting for World War Z:
The package will include an advance screening in RealD 3-D of the Brad Pitt movie at select theaters nationwide on June 19 — two days before its worldwide release — along with one HD digital copy of the movie when it becomes available, a pair of custom RealD 3-D glasses, a limited edition full-size movie poster as well as a small popcorn.

Not surprisingly, the Mega Ticket comes with a mega price of $48.
Interesting to me is how profitable this is. If you already own the rights, the cost of holding a showing two days before official release, an HD digital copy, a "limited edition" poster, and a small popcorn (they couldn't bump this up to a medium?) are all at very low marginal cost.