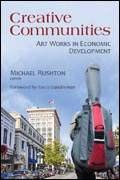 I'm happy to report that Creative Communities: Art Works in Economic Development has been released by Brookings Institution Press.
Some background: In 2011, discussions with the Research and Analysis branch of the National Endowment for the Arts led to the idea for a symposium on "The Arts, New Growth Theory, and Economic Development." A call for original research papers was issued, and on May 10 last year the symposium took place, hosted by the Brookings Institution and sponsored by the NEA. Immediately after, we set to work selecting papers for a publication, with significant review amongst the authors and NEA research staff, and now we have the finished volume.
It contains nine original studies (plus an editor's introduction, and a foreword by NEA Chairman Rocco Landesman), covering topics such as galleries and neighborhood development, regional arts policies, conditions that foster entrepreneurship in the arts, linkages between the arts and new media, and evidence on the relationship between investments in the arts and personal income.
It is not a book of advocacy as such – the aim is to consider what we know, and to move the research program forward on the question of the arts and economic development, a topic on which there is still much to be discovered. There is a lot of innovate thinking between these covers – happy reading!