Yes, I know. Apples are apples and the arts aren't sports.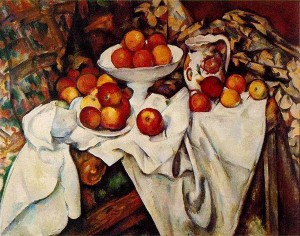 I've been writing and giving talks about what the arts and sports have in common and what our industry can learn from the sports industry for over a decade now. I still receive a fair amount of resistance to the comparison from my fellow arts workers (sports fans are primarily interested in competition, not aesthetics; the sports industry is bottom-line oriented and so panders to its audience; etc.). But interestingly, I don't receive much resistance from audience members, who tend to find the invitation to think about the relationship between their sports viewing habits and their arts viewing habits rather compelling.
To be clear, my goal in comparing arts and sports has to do with illuminating the differences between the arts experience and the sports experience, not comparing the arts event to the sporting event. As I have written in earlier posts, what I mean by the arts experience is the total phenomenon of arts-going, including not just the moment of reception but also what happens to us in our pre- and post spectating worlds.
So here we go: Imagine the Super Bowl culturally situated and institutionally produced in the same way as, say, an opera or a production of a Shakespeare play. In the weeks leading up to the game, instead of scores of pages of pregame analysis, data, and discourse in your local newspaper and online, you get one 800-word preview article (maybe). Instead of abundant radio and television coverage, you get silence on the broadcast bands. Instead of social interaction constructed around the upcoming game—social interaction filled with sports talk of all manner and open to a wide variety of people—you get small talk about anything but sports. On game day, you sit in a dark room, quiet and still. And, after the game is over? Instead of yet more free-flowing conversation about the event, again filled with sports talk of all manner and open to a wide variety of people, you get more silence (except for the one review that appears in the lone remaining local newspaper).
Under these circumstances, would the Super Bowl be the Super Bowl?
I don't think so. As any sports fan knows, the real fun is in talking about the game the next day. That's why we like watching sports, because we know how to talk about them and we love the rush that comes from arguing over meaning in a democratic context.
The experiences described above that surround the Super Bowl help the audience to prepare, to process, to analyze, and ultimately to interpret the game. The average sports fan devotes many more hours preparing to watch the game (reading stats, analysis, and opinion in newspapers and online, listening to sports-related talk radio and television, talking to coworkers and friends) relative to the hours spent actually watching it. The average sports fan also finds ample venues to participate in social interpretation of the game—those opportunities for the analysis of and debate about its meaning and value. Sports culture is filled with these pre and post-game experiences; indeed, they are a 360 degree, 24/7 reality of American daily life.
Arts culture? Not so much. The distinction here is obvious—we don't have the same attitude or approach to being an arts fan as we do to being a sports fan. We rarely carry the energy of an art-experience into our work environment, because we rarely (if ever) feel knowledgeable or empowered enough to debate the meaning or value of an arts event.
I readily acknowledge that sports spectatorship—with its emphasis on competition and tribal affiliations—serves a set of individual and collective impulses arguably distinct from those serviced by our contemporary definition of serious art. (Though I also take the opportunity to note that many forms of Western art, including theater, began in a competitive, tribal environment.) Competition does breed a particular type and level of engagement, as is evidenced by the success of contest-based reality shows and their ilk. And it's clear that the commercial basis of sports—all the money that can be made—is  key to the production of all those cultural materials that surround the sporting event itself. We have 20 pages of sports writing in the newspaper because it brings in money. I know.
And yet, I can't help but think about the reaction I get from lay audience members when I bring up the sports analogy. People like the comparison, I think, because they like their experience with sports and they don't see why that kind of analytical pleasure can't cross over to other types of cultural participation, including the serious arts.
Most people enjoy both sports and arts. But they spend way more time engaged with sports. I think that's because the sports industry is built on a strong ethos of hospitality. People are welcomed into the meaning-making process through all of the surrounding experiences I've been describing here. And they are encouraged to talk about that experience through the wide array of opportunities to engage in social interpretation that our culture celebrates.
Maybe we should stop drawing attention to why arts events and sports events are different and start focusing on what might be similar in terms of human experience.
I believe that Arts Talk should be as common and as democratic as Sports Talk. Our industry goal should be to construct an interpretive culture about arts-going that feels familiar and ordinary and whose boundaries are permeable and expansive. I have some ideas about how to achieve that goal through the deployment of hospitality and productive talk. I'll be writing much more about both in upcoming blogs.