New York City Center Opening Night Gala / New York City Center, NYC / October 25, 2011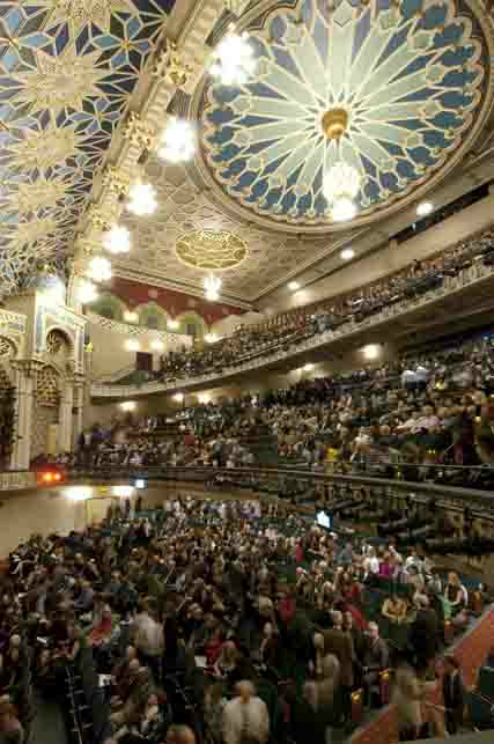 City Center renovated, view from house left
Photo: © Aislinn Weidele / Ennead Architects
Last night's celebration of the renovation and restoration of the New York City Center assured the theater's aficionados of dance, music, and drama that they would still be spared having to "walk a mile for a camel." Before it became an arts center "for the people" (meaning affordable), the building, called the Mecca Temple, was a center for the Ancient Arabic Order of the Nobles of the Mystic Shrine. It was not a house of worship, however, but instead a highfalutin clubhouse for a fraternity of Freemasons aiming to do good through charitable works and to enjoy each other's company. Its rituals involved exotic costumes and props. Its decor was based on the concepts of "Arabia" captured in the Moorish Revival style. Hence the camels on the site's walls.
Subsequently obliterated by a thick coat of All-Purpose White, the camels–once taking their riders on prosaic journeys–are now re-imagined as the mounts for more ecstatic pilgrimages in a pair of dreamy pastel-hued murals at either end of the lobby on the mezzanine level.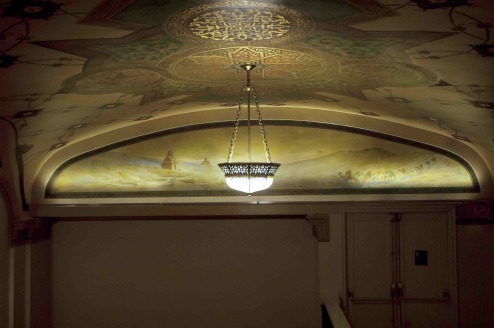 City Center, Grand Tier lobby, with the new version of the camels
Photo: © Aislinn Weidele / Ennead Architects
At first glance a visitor will notice that the City Center has been made visually more handsome–and striking–all the while wholeheartedly, and with tactful subtlety, respecting its old look, which was admittedly hokey. While architectural changes have been executed for urgent practical reasons, much of this refurbishing has been accomplished by a massive paint job. From the ceiling of the outer lobby through the auditorium itself, the patterning and palette of Moorish decor has been used as an inspiration. Repeated geometric designs are now larger and bolder, while the palette of burgundy and a deep blue just tinged with green has been intensified. Both modifications contribute to the illusion of stained-glass windows set alight by the sun. Touches of gold have been added, while the proscenium has been darkened with slate gray, creating a frame of mystery around what happens on stage. Inside the auditorium, seating and carpeting echo the prescribed palette.
The only misstep is a clumsy and unfathomable video installation in the inner lobby, perhaps an attempt to add the visual arts to the house's offerings. I'd say everything else was a success, intelligence and taste having been used to avoid innumerable pitfalls. Admittedly, I'm one of the no doubt few people who reveled in the City Center's shabbiness. I still remember the day that Robert Joffrey, trying to escape doing the interview he had promised me, took me on a long tour of the dusty, gloomy backstage realm and suddenly halted to say, in wonder, "Can you imagine all the things these walls have witnessed?" Yes, I could: Balanchine and his New York City Ballet, just to begin with.
But progress is unstoppable. The house has been made more comfortable for performers (improved backstage accommodations and a top-notch sprung stage floor) and for spectators (a lighted and heated marquee, improved sight lines, seating with more leg room and more booty room, expanded restroom facilities, and a second elevator).
The new look was designed by Ennead Architects, took more than half a decade to execute, and will end up costing a reported $57 million. Since the City of New York was absorbing nearly half that amount, it seemed only reasonable that Mayor Bloomberg should get to open the gala evening by conducting the orchestra of the house's Encores! series in the "Star-Spangled Banner." This being the national anthem, the audience–packed with splendidly attired 1%-ers–had to stand up (correct) and applaud (incorrect, but common practice). Still, though he added a brief, amusing speech, the Mayor should probably not quit his day job.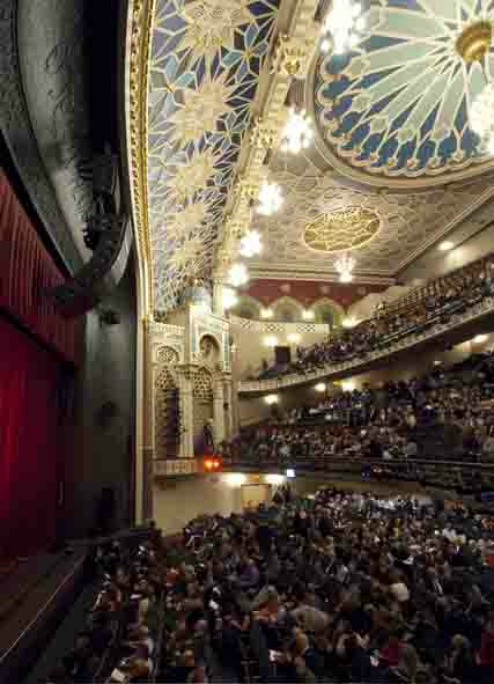 City Center renovated, view from house left, with front of stage
Photo: © Aislinn Weidele / Ennead Architects
The stream of top-notch entertainment that followed, introduced by commentators often as starry as the artists, was adeptly put together by the Broadway choreographer Kathleen Marshall. Each item was terrifically done, so I'll just report them in order of appearance. Here goes:
Robert Battle, Judith Jamison's successor as artistic director of the Alvin Ailey American Dance Theater, introduced an excerpt from Ailey's Pas de Duke. Linda Celeste Sims and Matthew Rushing danced it with the kind of musical acuity, sexiness, and sheer know-how that only veteran performers can achieve.
Alex Bernstein, Leonard's son, speaking for the City Center's classical-music scene, gave us the violinist Joshua Bell, a one-time child prodigy who has actually fulfilled his early promise, combining an energetic attack with a honeyed tone. Then came the mezzo-soprano Denyce Graves singing "Mon coeur s'ouvre à ta voix" from Samson et Dalila, convincing her hearers that great emotions are within ordinary people's reach.
An admirably self-effacing Sara Jessica Parker pointed out, correctly, that the City Center was best known for its dance attractions. As evidence, if any was needed, Wendy Whelan and Ask la Cour of the New York City Ballet (long housed at City Center), performed the celebrated duet from Christopher Wheeldon's After the Rain. Whelan was all fragility and flexibility; la Cour made a reverent Prince of Tenderness.
Keeping things in the family, the actor Matthew Broderick (Parker's spouse) spoke for musical theater, introducing three dynamic singers–Donna Murphy ("I Happen to Like New York"); Brian Stokes Mitchell ("It Ain't Necessarily So); and Patti LuPone ("Everything's Coming Up Roses").
Brian Williams, TV newscaster extraordinaire, extolled the City Center's ever-growing outreach program and interviewed two young students aiming for careers in the arts (Tessa Horn and Makaela Martinez) who had benefited significantly from professional artists' visits to their schools. He survived the danger all actors fear–being upstaged by children–but just barely, so all three came up roses.
For a finale, a chorus of singers who have appeared in the house's Encores! programs, sang "Take Care of This House." The orchestra, which had done yeoman's duty throughout the program, playing onstage, came in for its well-earned share of the applause.
When the City Center is looking for its next project, it might usefully try fulfilling the job of a "people's theater," which it once was. For the first performance I saw there, I sat in a front and center orchestra seat for $1.25, which my modest adolescent's allowance covered several times over. I remember this because I was seeing the New York City Ballet for the first time and, while I had succumbed to a few childish crushes, it was the first time I really fell in love.
© 2011 Tobi Tobias