American Ballet Theatre: Opening Night Gala / Metropolitan Opera House, Lincoln Center, NYC / May 16, 2011
Gala! Of course there were little speeches before the curtain–from Rachel Moore, American Ballet Theatre's Executive Director, resplendent in an origami-influenced emerald gown; Kevin McKenzie, the company's Artistic Director; and Carolyn Kennedy, whose girlish awkwardness has become part of her charm, following her mother's example of supporting the arts. Then a tasting menu of familiar love-story pas de deux for ABT's principal dancers and a pair of obligatory yet very well-deserved nods to the company's corps de ballet.
The ensemble assembled for a pair of all too brief excerpts that book-ended the program. These were drawn from the big-deal item of ABT's spring season at the Met, Alexei Ratmansky's The Bright Stream, to the score Shostakovich composed for a Soviet-era production. Ratmansky, who has just signed on for an extra decade as ABT's Artist in Residence, used the lively music but created new choreography to it in 2003–for the Bolshoi Ballet, during his tenure as head of that company. Two years later, the Russians presented the production in New York–to much delight.
Regrettably, the excerpts shown at the gala were so tiny (and the participants so many), that this preview did a disservice to the rollicking program-length work, which is set, as was the original version, on a collective farm. (In other words, not near a castle, a rural cottage, or a haunted lake.) First-time viewers must have been hard put to figure out from the excerpts what was going on. But I wouldn't for the world have missed the sight of Susan Jones–a diminutive woman of a certain age subject to embonpoint, former ABT dancer now an indispensable ballet mistress–turning incisive cartwheels in a billowing red dress.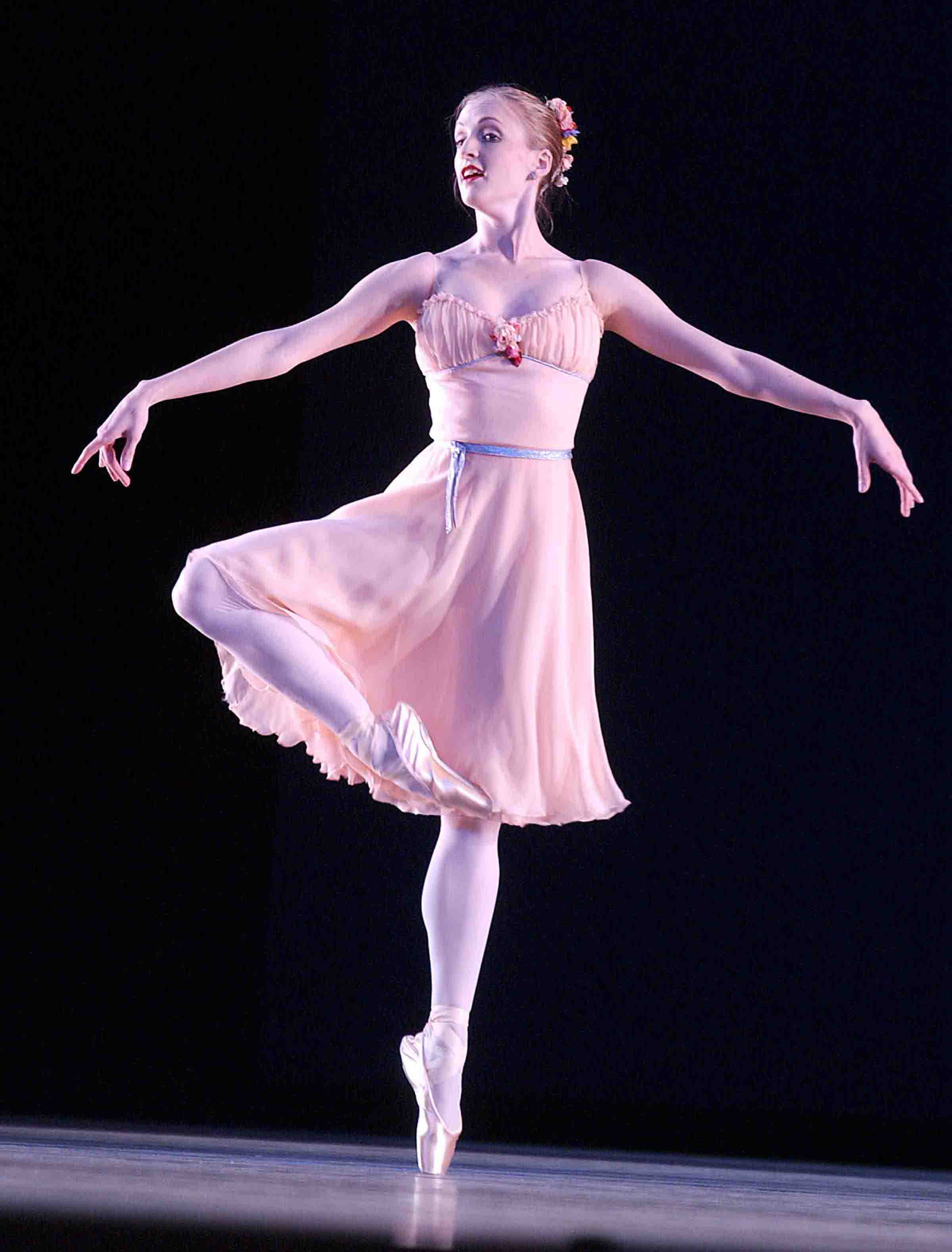 Top Marks: Gillian Murphy in Balanchine's Tchaikovsky Pas de Deux
Photo: Jack Vartoogian
The most ravishing dancing of the evening was done by Gillian Murphy and David Hallberg, performing Balanchine's Tchaikovsky Pas de Deux. Consummate professionals, consummate classicists, and strong, clear technicians, the two gave a deliberate, almost solemn, rendition of choreography that was flawless in its polish.
This is obviously quite different from the tone Balanchine intended in 1960 when he made the piece for New York City Ballet. Back then it looked like a bagatelle tossed off by genius. Violette Verdy and Conrad Ludlow, the originators of their roles, danced it with great élan, as a playful romp full of verve and spontaneity. The piece was clearly made for Verdy's effervescence, her wit, and her unparalleled musicality. It was full of surprises, like the moment Verdy took off from one side of the stage and hurled herself, horizontally it seemed, over the huge gap that separated her from Ludlow, on the other side–and landed in his arms in fish-dive position. You'd hear the spectators gasp and laugh in delight, even before they thought to applaud.
But I liked the Murphy/Hallberg reading too, for its flowing, creamy dancing, for the way Murphy, in the slow-motion ending of the adagio, seemed to rise upward into Hallberg's embrace to arrive at a fish-dive position (the precursor of the one at the ballet's finish); and for the solos: Hallberg, always flawlessly placed, being gentle and buoyant; Murphy deft and animated in her allegro work; Hallberg riding the air in long leaps, then Murphy explicating Balanchine's disquisition on piqué turns and punctuating the coda with effervescent flying pas de chat. It's rare to find dancing you can call perfect.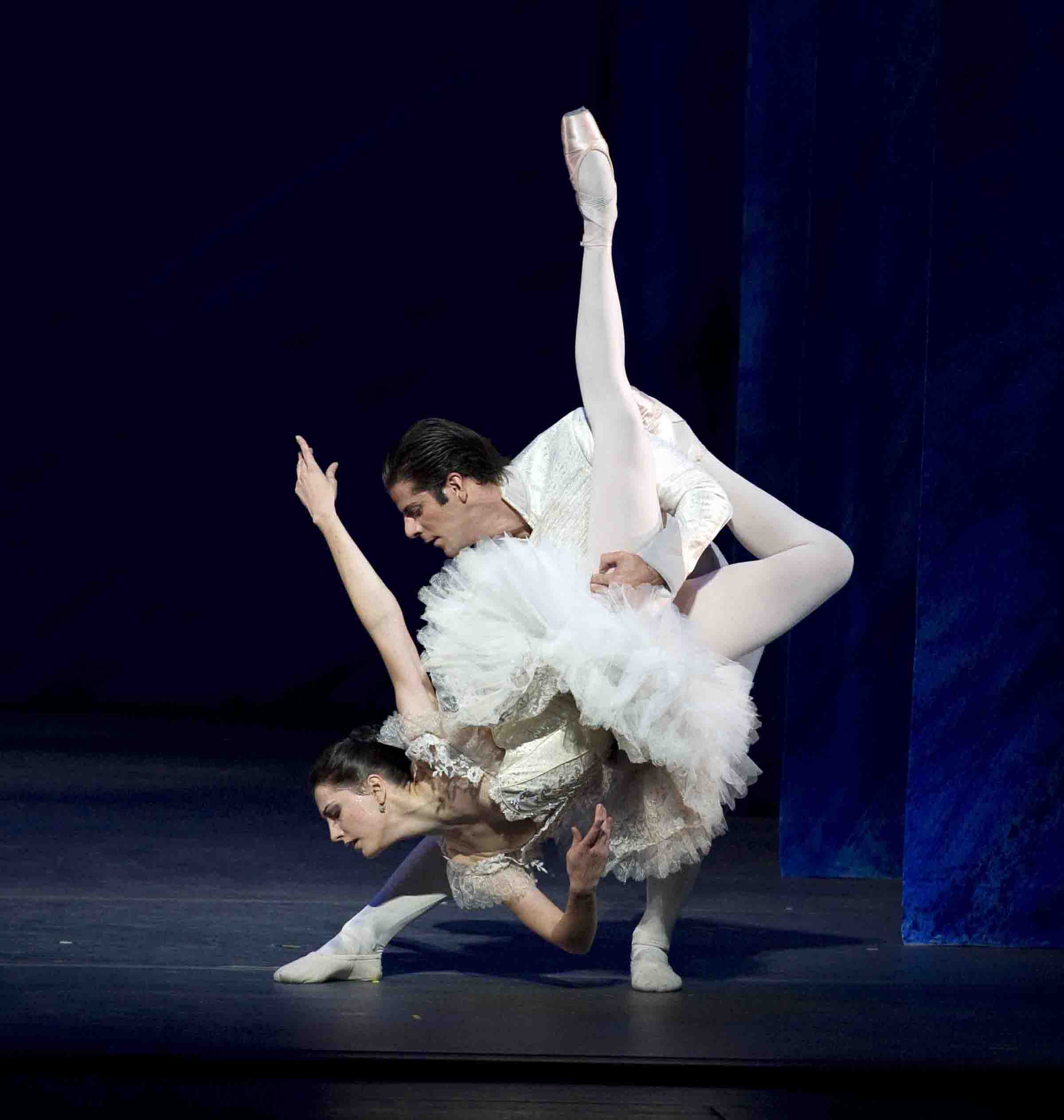 Being Beauteous: Veronika Part and Marcelo Gomes in the grand pas de deux from Ratmansky's The Nutcracker
Photo: Geme Schiavone
Veronika Part has enraptured ABT fans in the way Sara Mearns has City Ballet's audience–through the irresistible appeal of a way of moving so luxuriant she reveals the very essence of dance. Not just academic classical ballet, which is simply her artistic language, but dance itself.
With the adept and empathic Marcelo Gomes as her partner, Part performed the grand pas the deux from the Nutcracker that Alexei Ratmansky created for ABT last year. Through a few of the missteps and hesitations she's prone to, she made it evident that she wasn't likely ever to achieve the cool perfection that Murphy and Hallberg had just demonstrated–and that it doesn't matter.
In this performance Part was at her most tender, like a child on Christmas morning, awakening to joy, or an adolescent awakening to romantic love. Individual steps and phrases flowed into each other like speech transmuted into song. Remarkable lifts were executed not bravura-style, but as part of the pair's characterizations. In the ballet, Part's role embodies the child heroine's idyllic dream of what she might become and experience as a young woman. Dancing this role, Part makes you believe that the dream–absurdly simple, sweet, and innocent–might actually come true, even if you've already grown up.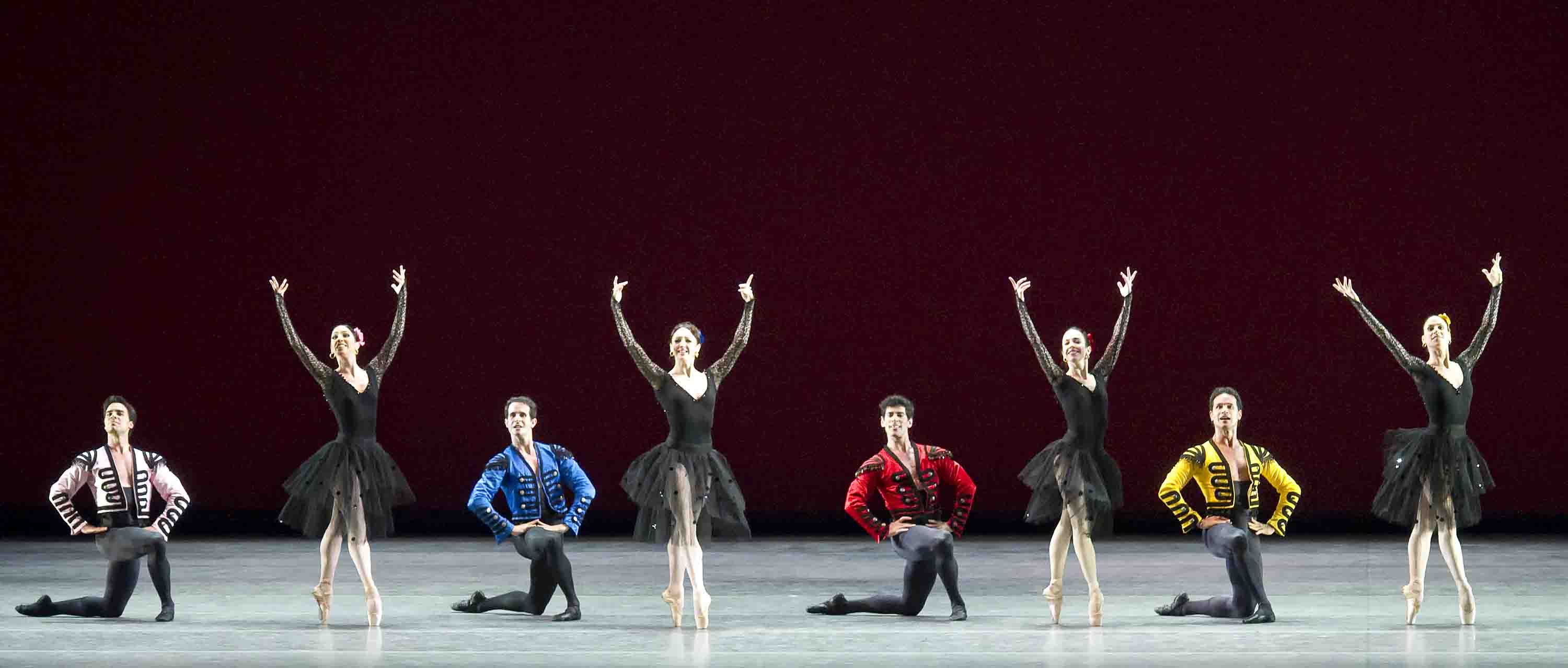 ¡Sí Cuba!: Jose Manuel Carreño (second from right) and friends in Georges Garcia's Majisimo
Photo: Gene Schiavone
An all-star, no-star octet of Hispanic dancers, seven of them born and trained in Cuba, danced Majisimo, choreographed by Georges Garcia in 1965 for Alicia Alonso's Ballet Nacional de Cuba. Set to music from Massenet's Le Cid, the piece is structurally naive, but it made its point: American dance has been conspicuously enriched by Cuban artists, who typically mate technical acumen with human warmth. The cast: From ABT, Jose Manuel Carreño, Paloma Herrera, and Xiomara Reyes; from San Francisco Ballet, Lorena Feijóo and Joan Boada; from Boston Ballet, Lorna Feijóo and Nelson Madrigal; and Reyneris Reyes from Miami City Ballet.
Carreño, surely the best beloved of ABT's dancers, could be the poster boy for the appealing "Cuban style." Here, apart from a brief solo moment, rather than performing as a star, he played a modest–and endearing–role as a member of a congenial team. He will appear in his more familiar guise–prince of the proceedings–at his farewell performance on July 30. He'll be Prince Siegfried in Swan Lake, partnering not one, but two of his fortunate ballerinas, Julie Kent and Gillian Murphy, as Odette and Odile respectively. Be there, prepared to cheer and weep.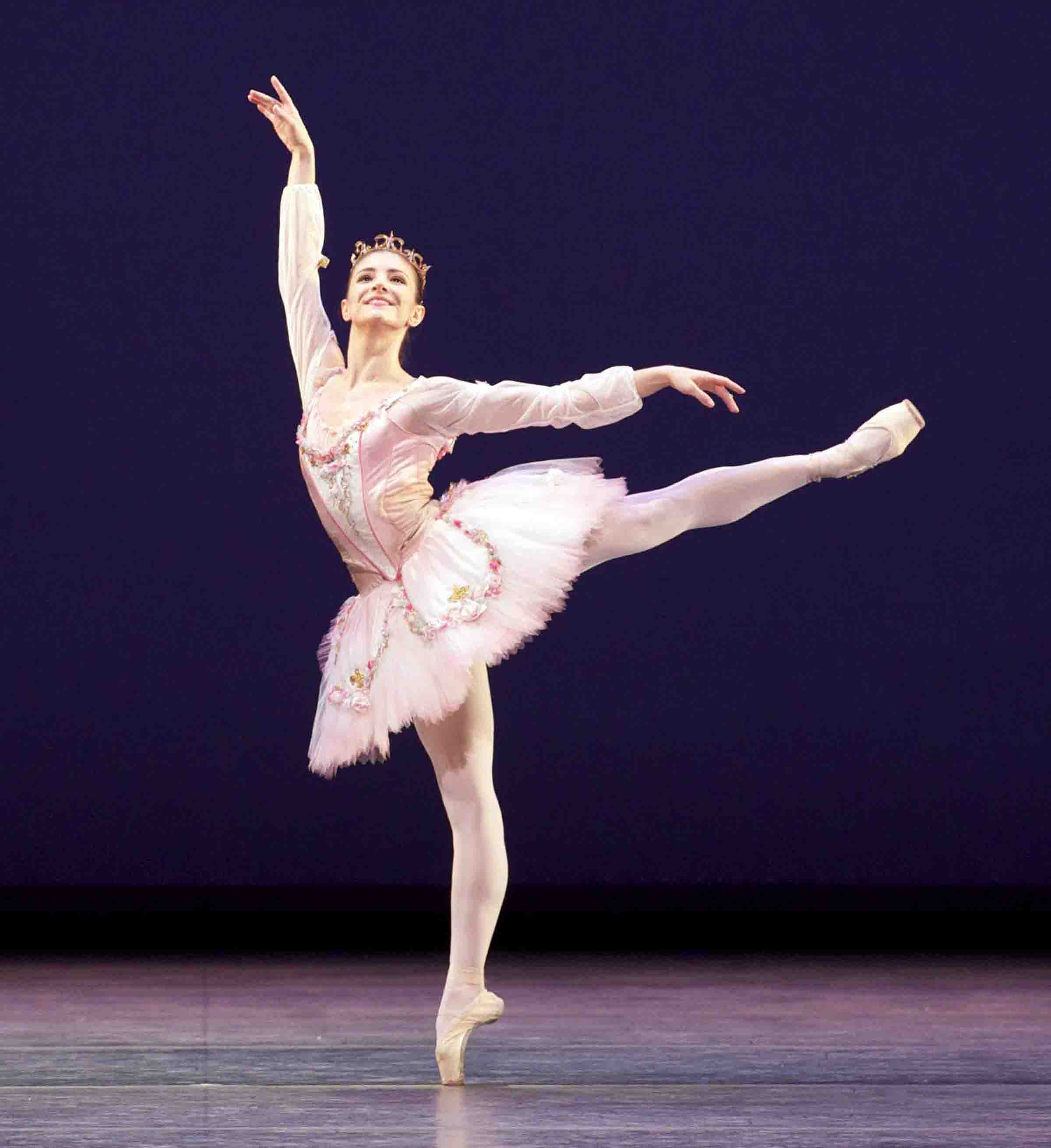 Sweet Sixteen: Alina Cojocaru in the Rose Adagio from The Sleeping Beauty
Photo: Gene Schiavone
Wearing incredibly soft pointe shoes, properly shy and girlish, the petite Alina Cojocaru, a guest from the Royal Ballet, performed the Rose Adagio from The Sleeping Beauty, abetted by four local princely cavaliers. Ripped out of the context that would identify her as the 16-year-old Aurora, heiress-apparent to a fairy-tale throne, being introduced to the quartet of regal suitors from which she's expected to choose a mate, this celebrated pas de cinq made a mere gymnastic thrill of its climax. The four balances in unsupported attitude that Margot Fonteyn famously prolonged when the Royal Ballet made its American debut at the old Met started a tradition. Here's Dame Margot upholding her own tradition.
Cojocaru handled the technical challenge credibly, though not incredibly. (Her forte is not technical dazzle but, rather, lyricism, musicality, and sensibility.) Still, she managed to hold one balance long enough to suggest a soap bubble suspended in the air and finished with a flourish, thrusting her free leg straight behind her with such a rush of energy, it seemed to blaze like the tail of a comet. She made all the doings musical and even snuck in some subtle acting–revealing a growing emotional confidence in her relationship to the suitors, even a flicker of flirtation, despite the fact that Aurora is even more of an innocent than the Juliet who hasn't yet set eyes on Romeo.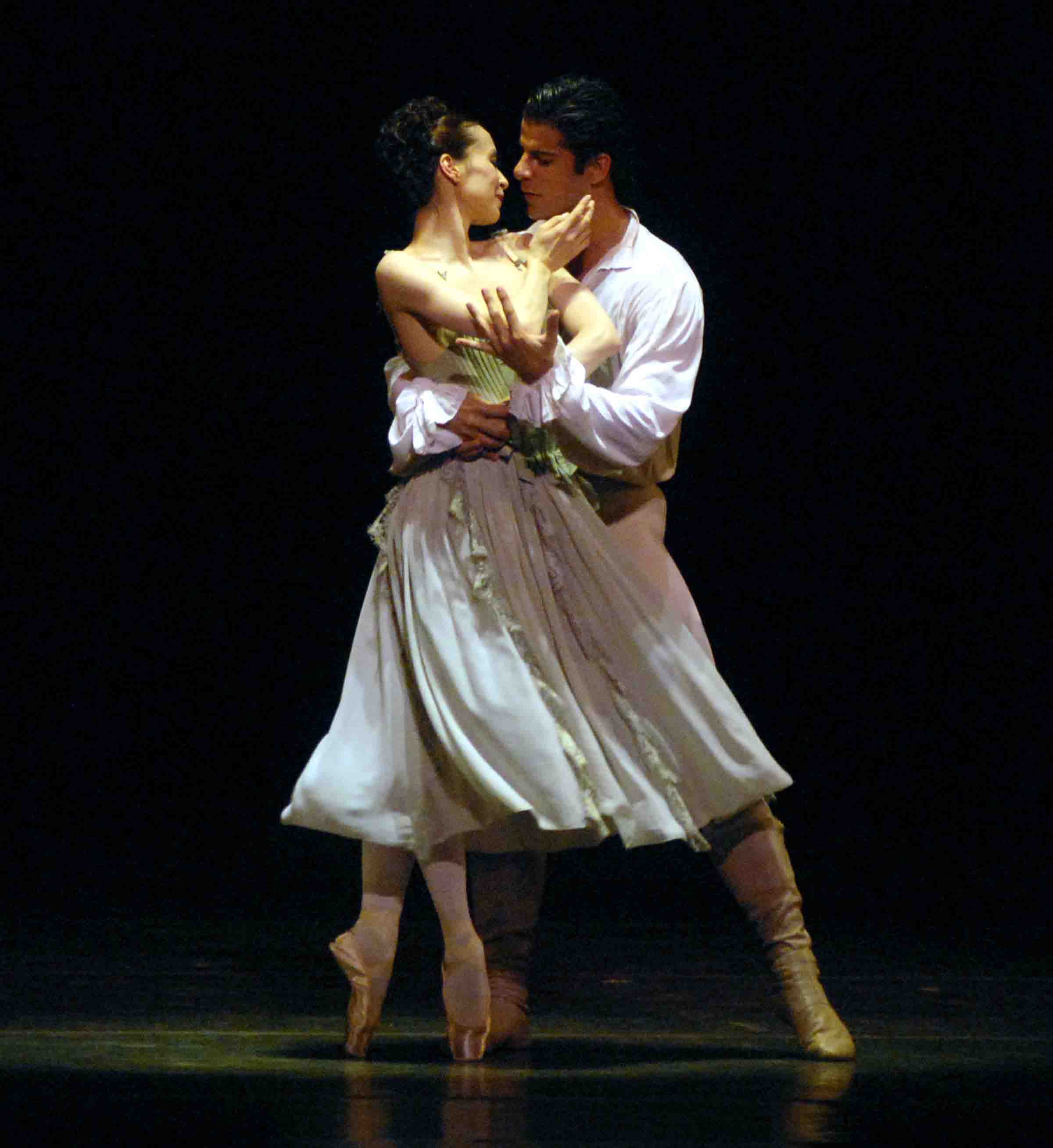 Dangerous Liaisons: Diana Vishneva and Marcelo Gomes in MacMillan's Manon
Photo: MIRA
In contrast to Aurora, the Manon of Kenneth MacMillan's eponymous ballet has no virginal impulses whatsoever. Au contraire. Diana Vishneva, a principal with the Mariinsky Ballet and ABT as well, and the marvelous Gomes gave a potent rendering of what you might call a first-lust pas de deux. They made every one of the choreographer's impossible lifts, meant to be equivalents of physical passion, look credible, even beautiful. (When they don't come off, as happens with lesser dancers, all you can see is the shame and danger the exploits impose on the performer–the slipping, the groping, the fear, if you will, of falling.) At the gala, all went well.
I wish I believed more in Vishneva's characterizations. Although they're unquestionably multifaceted and intelligent, they seem to be constructed, not charged with actual feeling. They're so logically conceived and so well performed, physically and theatrically, surely it would be easier to surrender to them, to accept the beauties of what this fine dancer can do without dwelling too much on what will never be. I'm just not there yet.
There was more, much more: The Act II ("White Swan") pas de deux from Swan Lake, danced by the promising Alexandre Hammoudi and the ever-more-capable yet still soulless Paloma Herrera; Jessica Lang's ridiculous Splendid Isolation III, in which Irina Dvorovenko and Maxim Beloserkovsky were upstaged by yards of cloth; the Act III ("Black Swan") pas de deux from Lake, in which Michele Wiles, whose career has unfolded as a journey from no drama to melodrama, was partnered by Cory Stearns, who was coping as well as he could; and the Act II duet from John Neumeier's Lady of the Camellias, in which Julie Kent played an appealingly wan Marguerite to Stearns's Armand. Perhaps the "small plates" scheme, so popular with diners-out, is no longer the best model for a ballet gala.
Pre-professional students from ABT's Jacqueline Kennedy Onassis School looked quite accomplished–I'd recommend only greater sharpness of attack–in Raymond Lukens's Karelia March, set to music by Sibelius. The most gifted, persevering, and luckiest among them will go on to ABT II and then to the parent company. Their path is challenging and its results uncertain. Put this list of their names in the bottom of a desk drawer and look at it five years from now: Kimberly Buesser, Amanda De Oliveira, Ellie Greenhouse, Gabrielle Johnson, Seika Paradeis, Brianna Steinfeldt, Alison Stroming, Cassandra Trenary, Paulina Waski, Fernando Duarte, Beau Fisher, Max Isaacson, Shu Kinouchi, Lucius Kirst, Alex Kramer, Connor Redpath.
© 2011 Tobi Tobias