New York City Ballet: Susan Stroman's For the Love of Duke / David H. Koch Theater, Lincoln Center, NYC / January 28, 30M, February 3, 4, 5M, 6M, 2011

For reasons that still remain unfathomable to me, New York City Ballet commissioned yet another piece from Susan Stroman, the choreographer who has won every award in the book for her Broadway productions. (If they invented a Pulitzer prize for choreography, I bet she'd be the first to snare it.)
The new item, Frankie and Johnny . . . and Rose, given its premiere on January 28, is now joined to Stroman's Blossom Got Kissed, made for City Ballet in 1999. The two pieces, under the umbrella title For the Love of Duke, are connected simply by being danced to Duke Ellington songs performed on stage by the David Berger Jazz Orchestra. They also have in common a superficial take on human experience and no take whatsoever on how to use, let alone expand, the classical dance vocabulary.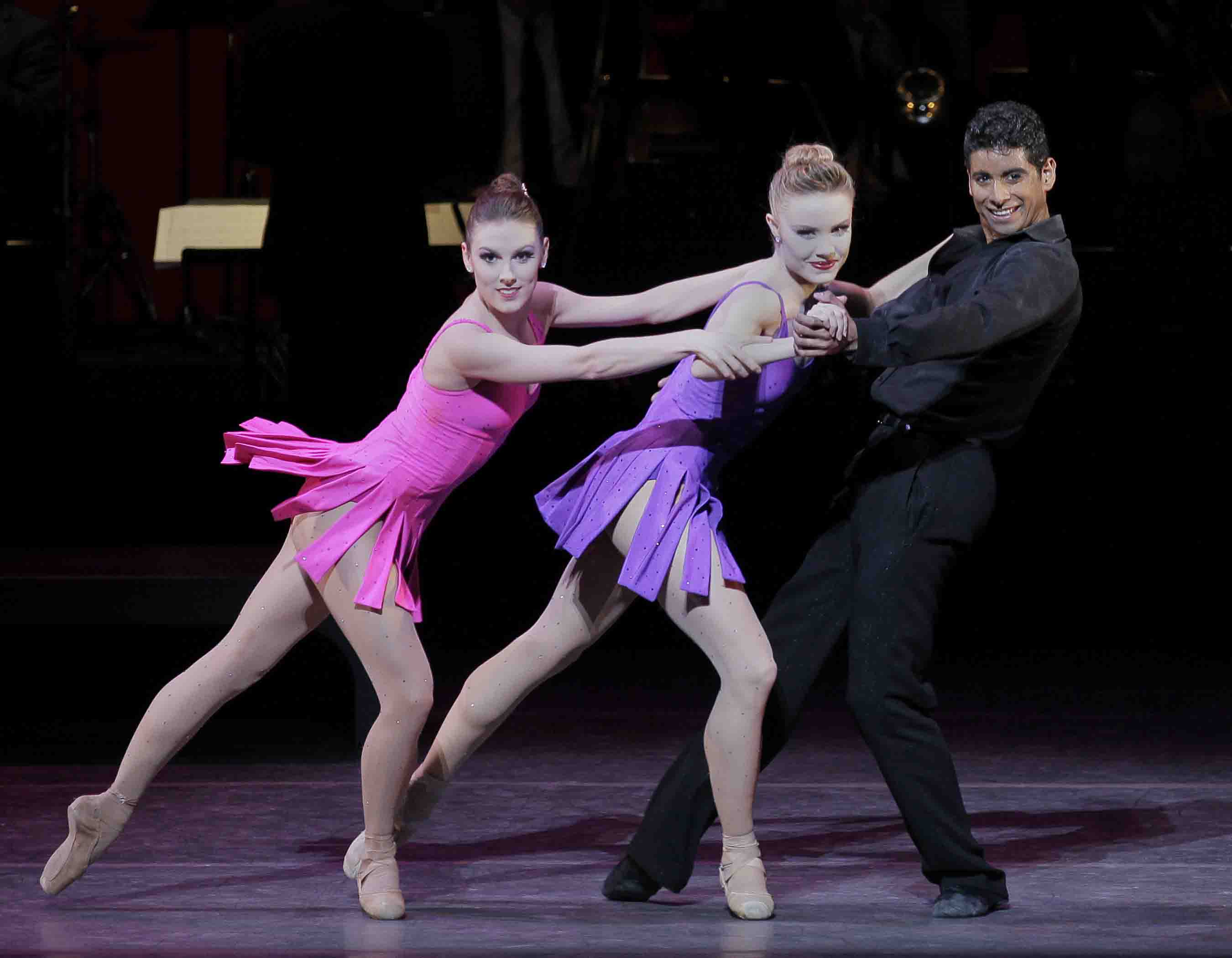 Three's a Crowd: New York City Ballet's Tiler Peck, Sara Mearns, and Amar Ramasar in the Frankie and Johnny . . . and Rose section of Susan Stroman's For the Love of Duke
Photo: Paul Kolnik
Anyway . . . Tiler Peck, who has developed into the most photogenic , vivacious, and technically proficient of City Ballet's women, is Rose, in love with Johnny (Amar Ramasar), who is not entirely convinced he's in love with her. Once Frankie (Sara Mearns, an earth-goddess type) appears, he's smitten. The choreography doesn't clue us in to why our Johnny prefers one women to the other; it makes them seem exactly alike–a neat trick, I must say, with high-profile stars like these.
The characters' routine romantic vagaries take place on and around a longish bench in front of the orchestra, with the protagonists shoving underneath it the person they currently need to have out of the picture. Mearns gets the guy–for a while–but Peck, who gets stuffed under the bench in the process, reappears to assert her claim. Her comeback is short-lived; Ramasar and Peck push her under the bench. Eventually a ménage à trois situation evolves, with the women in catfight mode, while Ramasar is delighted happy to have both chicks at his disposal. The ladies, now furious, team up to kick their fickle beau out of sight and stride off haughtily. (Call this slapstick if you will, but it's not very funny.) Finally Ramasar surfaces–to be joined by a woman from the Blossom part of the program who pops up to connect the two episodes.
Peck, Mearns, and Ramasar do their best according to the instructions they've been given, which apparently disregard the fact that dancers need to do most of their acting with their bodies, not their faces. Stroman's idea of Johnny has Ramasar looking absolutely bug-eyed, a fool no woman of parts would want to date. Peck and Mearns go pretty much blank, performing impeccably but with an "I'm just doing my job" subtext. Since the job of these women, whom we think of as ballerinas, includes repeated swift excursions into a doubtlessly claustrophobic hidey-hole and wearing sheer flesh-colored tights strewn with tiny spangles, they deserve our admiration all the more.

Blossom Got Kissed aims to describe the troubles and triumph of a ballet-schooled ingénue in an over-fluffy, powder blue tutu. The problem? She can't fit in with seven showgirls who've got rhythm (this means they can move to jazz and attract snazzy look-alike boyfriends). The solution? Same as the one the ballet master proposes in Black Swan. (Will that movie never go away?)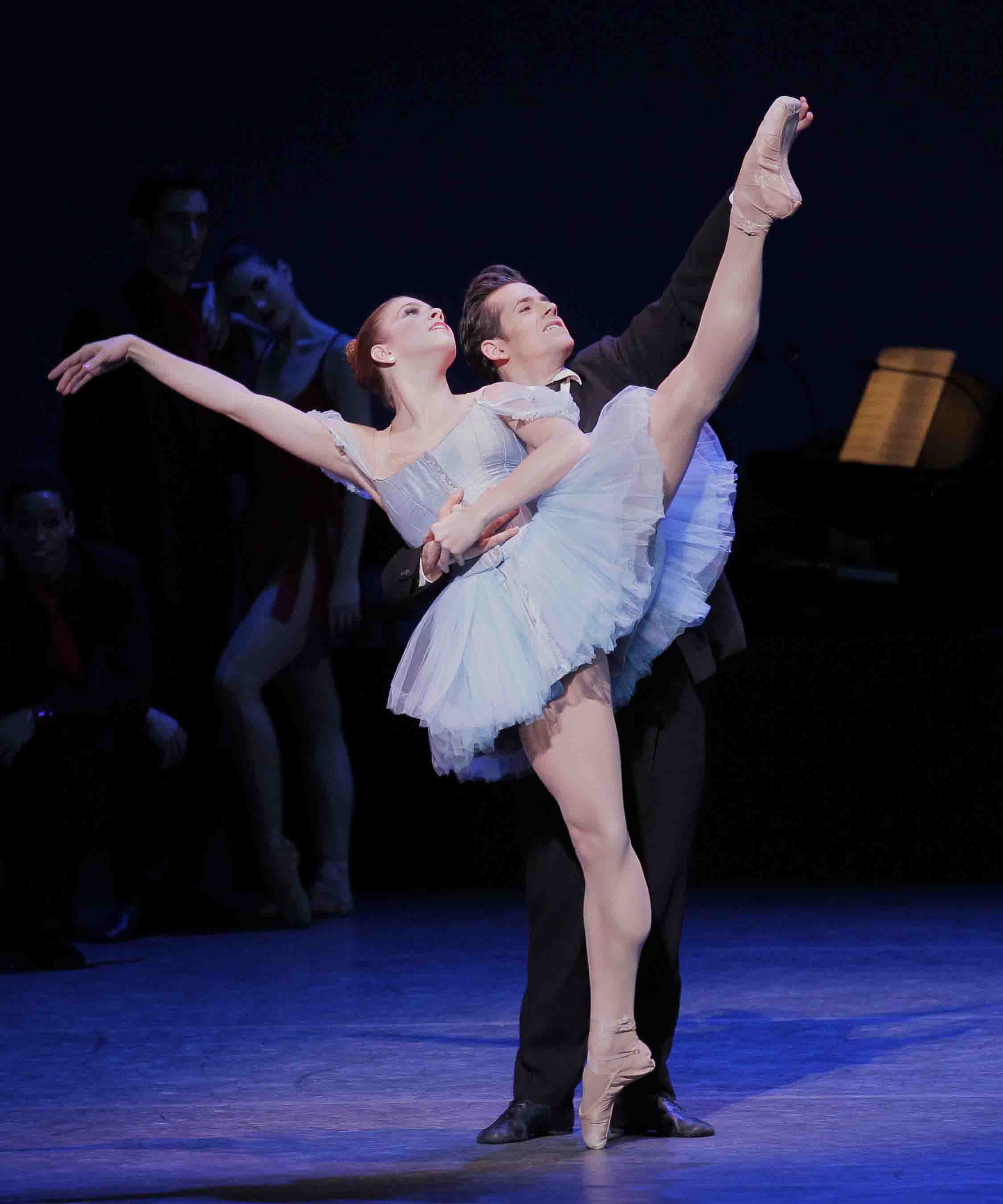 Prelude to a Kiss: Savannah Lowery and Robert Fairchild in the Blossom Got Kissed section of Stroman's For the Love of Duke
Photo: Paul Kolnik
Disguised as a member of the jazz orchestra, Robert Fairchild emerges to partner Blossom, who, slowly but surely, melts in his arms. Having banished the misfit's awkwardness, this latter-day prince nobly concludes their duet by chastely kissing her hand. "Awakened," she sheds her tutu for one of William Ivey Long's sharply cut screaming vermilion practice tunics that the other girls sport. On the first curtain call, Fairchild leans Blossom at a precarious angle to the floor, and gives her the real thing: a lusty kiss on the lips.
The awfulness of all this was compounded by the fact that, as Blossom, Savannah Lowery gave one of the most grotesque performances I've seen in the years I've been watching City Ballet. Her movement style seemed genuinely clumsy, not "pretend"–even after Fairchild's ministrations. Add to this brash self-presentation, a hefty figure, and hair dyed a color beyond human range–all evident these days when Lowery performs in other ballets–and you see that City Ballet may need to take a closer look at the casting and mentoring of its dancers, to say nothing of choosing its choreographers.
The premiere of For the Love of Duke was part of the City Ballet's "New Combinations" evening, an annual event. Stroman's offering was preceded by wonderfully rendered performances of Alexei Ratmansky's Concerto DSCH and Christopher Wheeldon's Polyphonia.

© 2011 Tobi Tobias