Ballet Diary No. 5: School of American Ballet Workshop Performances / January 5 and 8, 2010 / Peter Jay Tharp Theater, Lincoln Center, NYC
Note: This is No. 5 in the series "Ballet Diary"–comments on the 2010 spring seasons of New York City Ballet and American Ballet Theatre, along with related performances. To read previous pieces in the series, click here: No. 1; No. 2; No. 3; No. 4. The completed "Ballet Diary" series will comprise nine essays.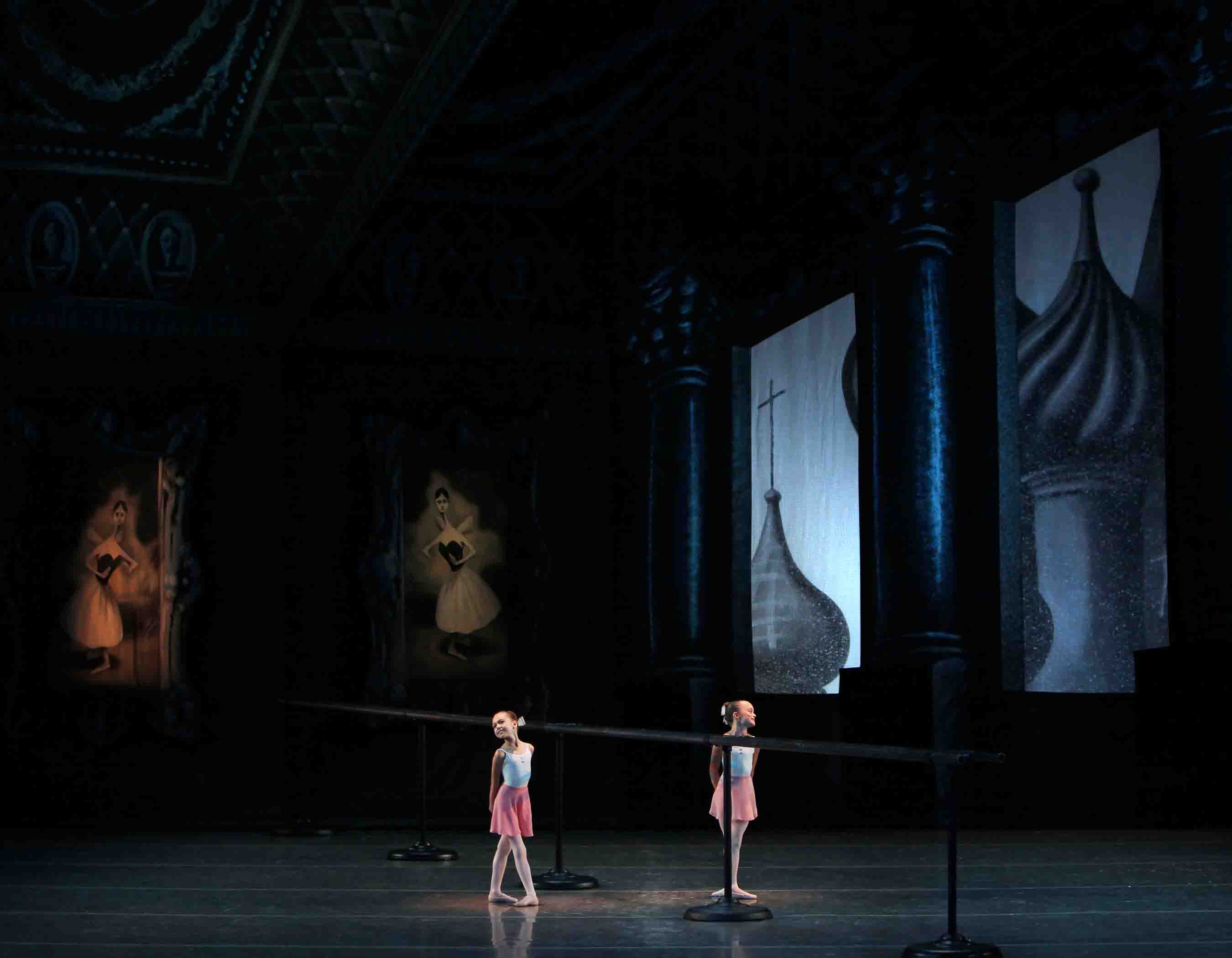 Aspirants: School of American Ballet students in Christopher Wheeldon's Scènes de Ballet
Photo: Paul Kolnik
The School of American Ballet is in the top echelon of conservatories that train promising young people for what the great 19th-century Danish ballet master August Bournonville remembered his father calling "the most glorious career in the world." At its annual Workshop Performances, the school presents a selection of its students in a program that almost always features choreography by George Balanchine, since SAB is, after all, the official academy of New York City Ballet. This year was no exception. In three performances–two on June 5, one on June 8–students for whom high school is merely an extra-curricular activity gave spirited renditions of Balanchine's Valse Fantaisie and Bourrée Fantasque.
Staged by Suki Schorer with her customary élan, Valse Fantaisie (to a now lively, now romantic Glinka score) was the most wonderful item on the program. A pair of lovers accompanied by a quartet of women sweeps through the space swiftly and lightly, creating a vision of the exuberance that may accompany joy–especially in the young. The women's pale tulle skirts waft behind them as they leap, swirl around them as they turn, making you think of clouds sent scudding across the sky by the breezes of a perfect spring day.
Attending the matinee and evening showings on June 5, I saw two different casts of principals, all four dancers being adequate and interesting. Both men, Peter Walker (born buoyant) and Spartak Hoxsa, were suitably limber and fleet, very likely destined, by anatomy and perhaps temperament, for "dreamer's" roles, such as James in La Sylphide and the Poet in Les Syphides. Physically (and, no doubt, emotionally) they have some years of growth ahead of them, but they've been given all the right ideas about dancing–moving on a large scale, cleanly and with assurance, leaving uncertainty and affectation behind.
Claire Kretzschmar, Walker's partner, was thoroughly musical, with a lovely leap. She looked as if she were effortlessly clearing hurdles made of whipped egg whites, knowing the hurdle couldn't hurt her if she failed and crashed into it and knowing, too, that she'd never fail. Hoxha's partner, Bianca Bulle, was very competent and self-possessed; she does need to relax her face, though, so that her beauty is not a weapon but an invitation.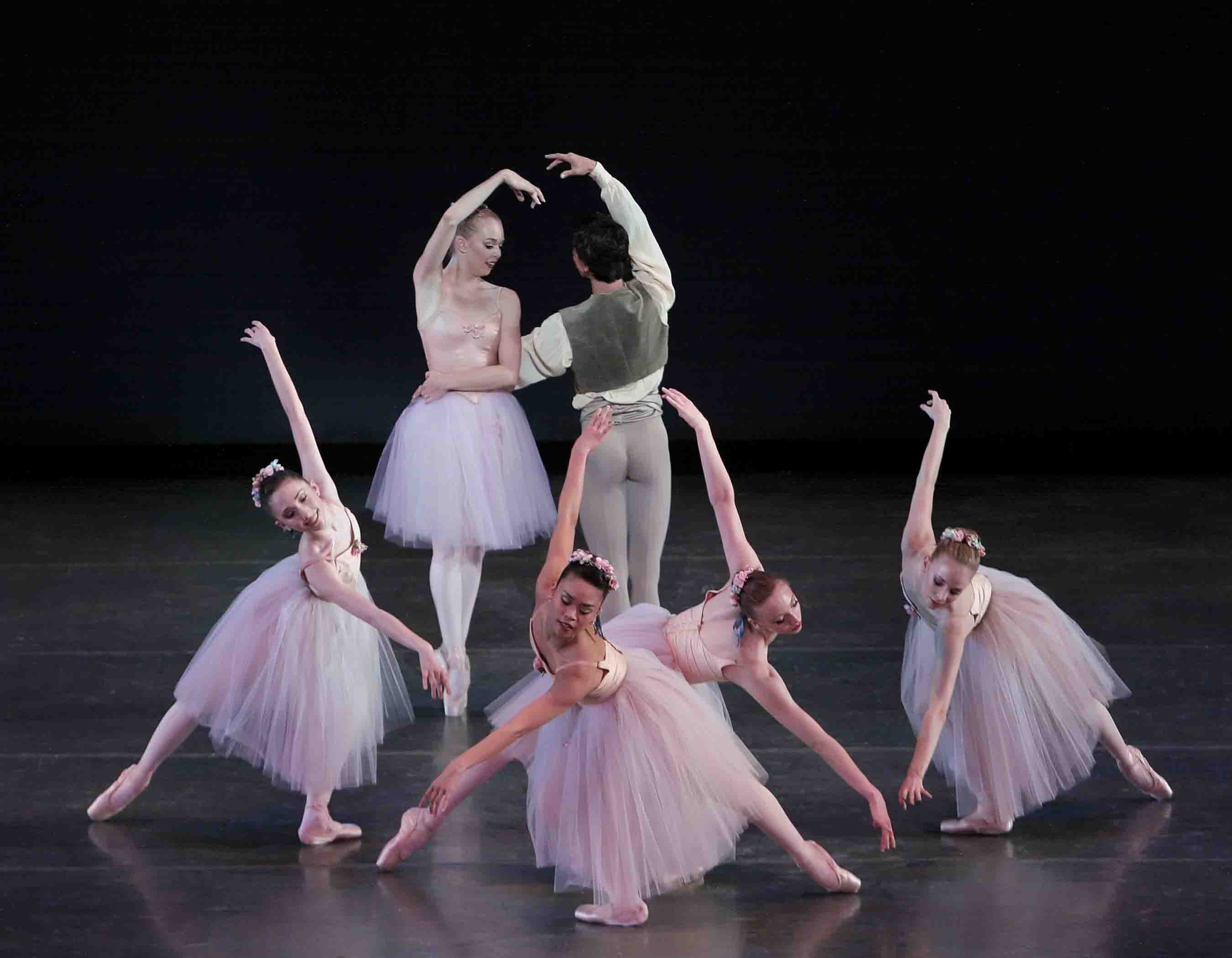 Windswept: SAB students in Balanchine's Valse Fantaisie
Photo: Paul Kolnik
Schorer was unquestionably the most significant contributor to the production. Under her staging and coaching, the dance seemed to be exuded on a single breath. Eliciting your rapt attention from the very start, it appeared to take no time at all; when it ended–its spell broken by the familiar ritual of applause, bows, flowers–all you wanted was to see it again.
Susan Pilarre's staging of Bourrée Fantasque was fine, apart from an exaggerated emphasis on the quirkiness of the angled, off-balance moves of the first section. These are rakish enough without the performers pushing the point home. Otherwise the dancers' youthful vitality was exhilarating, both here and in the third movement, a Broadway-worthy finale that assembles the ballet's full cast and has them doing things like space-cleaving leaps in large crisscrossing phalanxes. If Workshop's dancers lack the gift of stillness, which would make the fireworks, by contrast, even more dazzling, it's simply because of their age. Only one of them has turned 20; they will acquire composure as they mature.
The middle section of the ballet is romantic and enigmatic; Chabrier's score creates–perhaps even indulges in–the mood. In a dream-world ballroom, ravishingly dressed in midnight colors (thanks to Karinska's original designs), a yearning man and woman continually thread their way through an ever-shifting maze of eight undifferentiated women (representing Fate, perhaps). The would-be lovers lose, find, and lose each other once again. And again. As it's presented here, the situation is so generic, I've often wondered if Balanchine, much given at times to the theme of doomed love (Serenade, La Valse, Scotch Symphony), was possibly being ironic here, suggesting that, absent a subtext, he could produce this sort of material by the yard.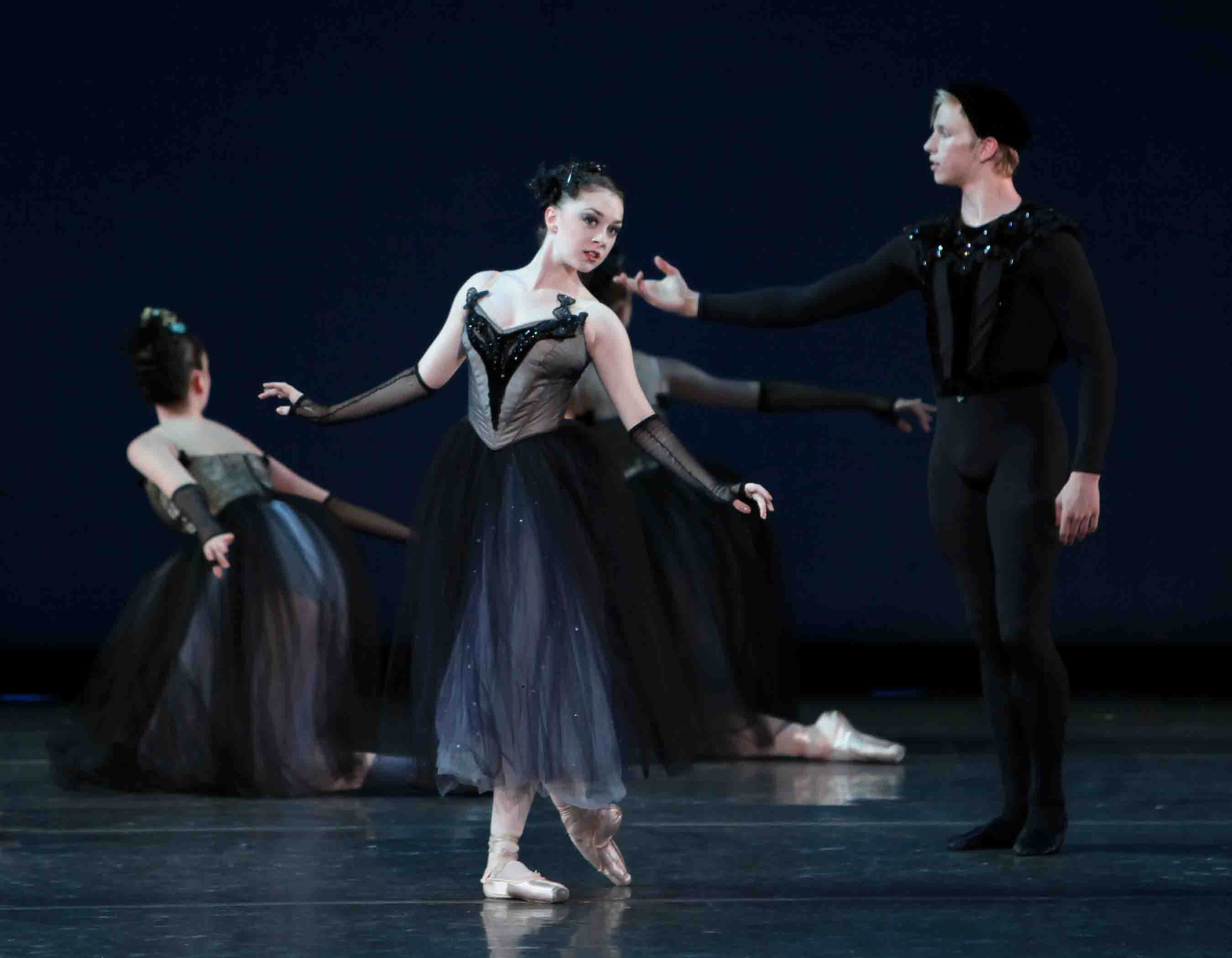 At Midnight: SAB's Jillian Harvey and Chase Swatosh in Balanchine's Bourrée Fantasque
Photo: Paul Kolnik
Jillian Harvey was stunning as the quietly impassioned woman in this section. There is nothing in her build or technical strength that guarantees she'll be a leading dancer one day. It's her perception of who she is in this role that is so striking and so moving. She's made a story for her character–or, at the very least, taken her coaching deeply to heart–and this story suffuses every move she makes. Though it is not told outright, it fires our imagination. Harvey may never become a ballerina, but she is already an artist.
The two Balanchine ballets–neither of them, mind you, thought to be among the choreographer's most significant achievements–made Christopher Wheeldon's ponderous and self-conscious Scènes de Ballet, which opened the Workshop program, look as if its maker belonged to a lesser order of dance creators.
Wheeldon's ballet, originally made for the Workshop Performances of 1999, borrows its name from the Stravinsky score to which it's set. It aims to depict the development of a classical dancer from childhood to the cusp of professional status. It's a very prettified version of the tale, which I found saccharine though others will undoubtedly think it charming.
The ballet's heavy décor suggests a studio in old Russia–a reference, perhaps, to Balanchine's beginnings–and uses twin ballet barres that stretch diagonally down the stage floor to indicate the partition between reality and mirror image, an ever-present factor in a dancer's life. Just about all the ensuing choreography respects this divide and maintains the old theatrical device of having two dancers seem to be just one body and its reflection.
Wheeldon exploits the endearingly tiny, fragile look of the youngest children, opening with a pair of girls in pastel tunics who probably haven't yet learned their multiplication tables. To these wisps of promise and possibility he methodically adds, level by level, pre-teens, teens, and fully developed late adolescents about to sign their first contracts. He arranges this youth squad in studied, picturesque displays, all necessarily involving the imaginary mirror that bisects their space. A few of the formations are clever, even appealing; however, there is no room for real dancing to be going on. What's more, while the hierarchy of the bodies of different ages and degrees of mastery is clear, the very spirit of dancing is ignored.
© 2010 Tobi Tobias