Juilliard Dances Repertory / Peter Jay Sharp Theater, NYC / March 25-29, 2009
Consider what I'll call the minor leagues of dance performance–the shows put on by the best schools and junior companies honing advanced-level students who are talented; absurdly young, considering the skills they've developed; thoroughly rehearsed and coached; still ingenuous enough to lay their lives on the line for these events so essential to their upcoming careers as full-fledged professionals. Of the groups in New York alone, think ABT II, Ailey II, Taylor 2 (these first three have a busy touring life), the New York City Ballet-affiliated School of American Ballet, and the group from Juilliard that I saw just the other day in a program named Juilliard Dances Repertory. The showings produced by these institutions turn out to be not minor league at all and not merely showcases of the stars of the future, but usually very satisfying dance events in themselves.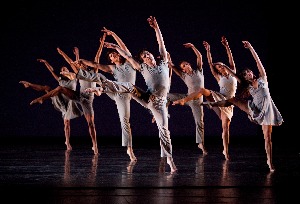 Mark Morris's Gloria
Photo: Rosalie O'Connor
The Juilliard program opened with Mark Morris's Gloria (1981; revised 1984) to the eponymous Vivaldi score, staged by Megan Williams, an unforgettable Morris alum. Back in '81, I saw the premiere and was duly astonished by the genius of the work that illuminated the old Dance Theater Workshop auditorium, then a grungy black hole of a theater. Without any arty posturing, the choreography evoked the idea of humankind's capacity, despite its physically and spiritually crippled aspects, to aspire to glory. It conveyed its subject in such pared-down yet infinitely inventive ways, with such insightful musicality and command of structure, it looked as if Morris had reinvented dancing. Nearly three decades later, that startling newness hasn't worn away.
Of course the Juilliard dancers were at a certain disadvantage. The piece wasn't created on them; they lack the extreme diversity of body type and the strong and varied stage personalities that derive from that, so important to the early Morris ensemble. They also have the air of trying to live up to a model they've never seen. All this is inevitable in such a situation but, despite it, they were fearless and beautiful.
In a signature image, they ran at daring speed to crash to the floor, prone, with such force they skidded forward and then propelled themselves on their arms alone, dragging the rest of their now-inert body, and, a moment later, stood exultantly erect, arms reaching for the heavens, fingers waving with the adolescent exuberance of cheerleaders shaking their pompoms for their team or, just perhaps, for the greater glory of God. They had grasped a secret Morris has continued to examine, in myriad ways, throughout his career: the fact that the plebian and the sacred are one.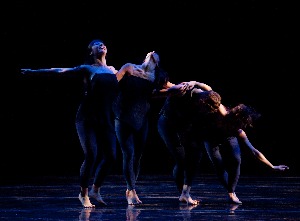 Lar Lubovitch's North Star
Photo: Rosalie O'Connor
Lar Lubovitch's 1978 North Star, to Philip Glass music, is the most telling example of this choreographer's treating a bevy of bodies as a single, magically fluent organism. Dancers clad in loose black garments cling loosely to one another on a night-dark stage, illuminated only by slim shafts of down-light. They join as a group, then as two quartets, to waft fluently like seaweed in an ocean that can turn turbulent or tender. A vehemently spasmodic solo–seemingly for a prophetess destined, ominously, to be ignored or scorned–punctuates the pacific mood for no discernable reason, but it balances the piece with some welcome rootedness and weight.

North Star was very well staged by Peggy Baker and John Dayger; the Juilliard dancers did them proud. In an age when "edginess" and inscrutability reign in dance, it must be a treat for them to be simply, liquidly, romantically lyrical.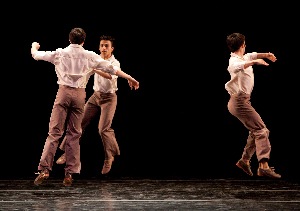 Twyla Tharp's The Fugue
Photo: Rosalie O'Connor
Twyla Tharp's original company was all female, and the tough-spoken choreographer ironically referred to the group as "a bunch of broads doing god's work." Her 1970 The Fugue was originally choreographed for three of these women (Tharp, Sara Rudner, and Rose Marie Wright); today it is often given to a trio of men. The Juilliard performances, staged by former Tharp dancers Jennifer Way and Tom Rawe, alternated the genders on alternate evenings.
I got to see the guy version, which I've always found somewhat disappointing, because it lacks the thrill of women attacking material that is as tough and emphatic physically as it is mentally. (This material consists of 20 intricately manipulated variations on a 20-count theme. The Fugue has no score beyond the percussive beat of the feet in heavy-heeled shoes on the electronically amplified stage.) The Juilliard men, especially, were too tempered and even-toned; lacking the deadpan ferocity the choreography requires. The men wore workaday shirts and trousers, but I recall the original Tharp femmes as more exotic in black garb and calf-high leather boots that meant business.
Still the dance is a marvel. You can almost hear Tharp's brain ticking away while her sense of theater gives the brilliantly engineered material color and excitement.
Only the final number on the program was a mistake. Batsheva Dance Company's director Ohad Naharin's From MAX and THREE (excerpts with a bit of reworking from two of his earlier pieces, plus a section in which the dancers lined up to take their turns performing unimpressive party tricks) was hardly a "premiere," as it was advertised, from this Juilliard alum. It seemed to exist just to put a very large number of dancers on stage, perhaps charitably to use students who didn't get to be in the other pieces. Well and good, I suppose, but Naharin missed the opportunity to do something authentically spectacular with this crowd. The performers just looked crowded, underemployed, and in some cases, perhaps with the least experienced, at a loss to know what they were supposed to aim for.
Still, three significant pieces out of four is more than most professional companies offer at a single repertory performance in these tarnished times. As for the Juilliard students' freshness and eagerness to get things right, these qualities should be bottled and sold as an elixir.
© 2009 Tobi Tobias