New York City Ballet: The Nutcracker / New York State Theater, NYC / November 28, 2008 – January 3, 2009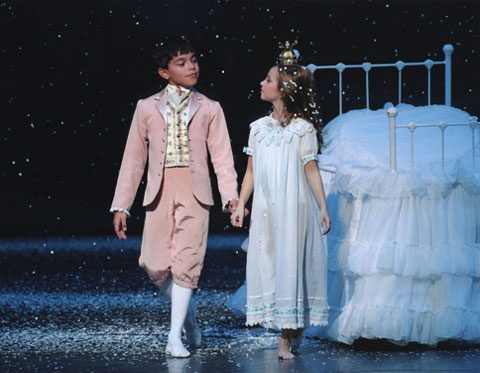 School of American Ballet students in New York City Ballet's The Nutcracker. Photo by Paul Kolnik.
Marie awakens to witness startling transformations. The Christmas tree grows to gargantuan size. The toy soldiers, neatly arranged in a case in the drawing room grow to her own height and come to life to battle the mice. The bed that Drosselmeier's nephew earlier offered Marie for her broken Nutcracker magically scoots away as if of its own volition to be replaced by a life-size bed, and the Nutcracker, now grown as well, charges into battle to protect the terrified Marie. The changes of size and awakening to new powers hint at the physical and emotional processes of puberty, during which a child can seem to grow in body and soul overnight.
The full article appeared in Voice of Dance (http://www.voiceofdance.org) on November 26, 2008. To read it, click here.