This article originally appeared in the Culture section of Bloomberg News on August 6, 2008.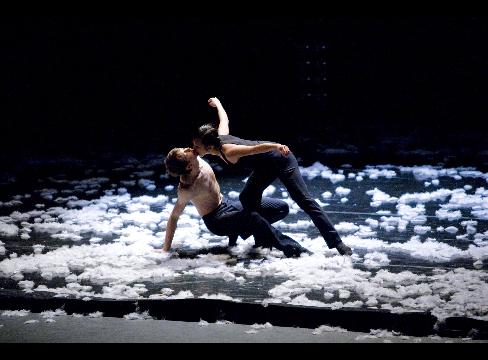 Hubbard Street Dance Chicago dancers take part in a performance of "Extremely Close" in Philadelphia on Oct. 20, 2007. The company will be performing at New York's Joyce Theater through Aug. 16, 2008. Photographer: Rosalie O'Connor/Hubbard Street Dance Chicago via Bloomberg News
Aug. 6 (Bloomberg) — Dressed for courtship in a formal jacket open to reveal biker shorts with suspenders, knee guards and high-top sneakers — all black — a suitor manhandles the object of his affections and indulges in grotesque movements on his own. A woman in white, the object of his awkward yearnings, feels obliged to imitate this dolt of a suitor — while revealing what every woman knows: Venus has finer feelings than Mars.
Hubbard Street Dance Chicago, making a rare appearance in New York at the Joyce Theater, chose a sure thing with this piece, Ohad Naharin's amusing "Passomezzo," set to old ballads, primarily "Greensleeves." The company had some very different fish to fry as well.
The group was founded in 1977 by Lou Conte, who choreographed much of its theatrical, jazzy early repertoire, then added pieces by others that were also more crowd pleasers than high art. Over time, the repertoire grew increasingly sophisticated, to a point in the early '90s when Twyla Tharp chose the group as a custodian of her work.
Since then, with Jim Vincent succeeding Conte in 2000, Hubbard Street has mixed prominent dance-makers, many of them with a middle-European orientation, with a smattering of its own people and a few daring choices.
The 22-member company is robust, engaging and miraculously attitude-free. The dancers make their rapid-fire, high-energy moves look natural, not effortful. No doubt this is why choreographers are drawn to it.
`Extremely Close'
Naharin's piece was the most sophisticated item on the program, but 28-year-old Alejandro Cerrudo's "Extremely Close," to music from Philip Glass and Dustin O'Halloran, was the freshest and most promising. It's performed on a carpet of white feathers, which go flying as the dancers move and stick to their flesh, curling like tiny angel wings, as they sweat.
Against a dark background, an architectural set of three square white panels moves upstage, downstage and cross-stage, revealing and hiding the dancers. The set seems to define the lightning shifts of emotion — felt but not articulated — that come with shifts of place and time.
Cerrudo, a dancer with the company, still has a lot to learn about creating a flowing dance phrase unthwarted by traffic-cop gesture. Yet he's clearly aiming for the qualities that give dance its emotional power. He's that rarity among today's emerging choreographers — a practitioner with a singular imagination.
`Bardo'
The program, one of two, opened with Toru Shimazaki's "Bardo," where dancers in stylishly ragged clothes move to a propulsive beat, courtesy the Dead Can Dance. Their arms are frenetically busy, but the motor for their force lies in the chest and pelvis. First they seem to be a primordial community; eventually, pairs of human lovers (who may even have souls), doing some spectacular lifts in which the supporting partner is lying on the ground; then just a faceless crowd of mass impulse again.
The evening concluded with Vincent's "Palladio," to Karl Jenkins's score of the same name. It contains much running around, provocative coupling and costumes to match, and an elaborately draped overhead hanging that collapses (as a decadent society might) when the ballet ends. What it has to do with the sublime 16th-century architect Palladio, venerated for structures demonstrating simplicity, harmony and calm, escapes me.
Through Aug. 16 at 175 Eighth Ave. at W. 19th Street, Chelsea. Information: +1-212-242-0800; http://www.joyce.org.
© 2008 Bloomberg L.P. All rights reserved. Reprinted with permission.